Spirit of Speyside Whisky Festival 2015
http://www.spiritofspeyside.com
Spirit of Speyside Whisky Festival 2015
Report and photographs by Bruce Crichton

After hiding my money offshore, I headed to Dufftown. Having fallen out of my boat many times, the Spirit of Speyside Whisky festival was just what I needed and after days of great whisky, food, music, kiwis, wallabies, Doctor Who, Captain Slow and a squad from Craigellachie, here is my account of it.

The report aims to give a rough guide and may contain factual errors, for which I apologize in advance. Tasting notes are subjective and comment is added from experts present during note taking. To shorten the report, I refer the reader to past reports and tastings if a whisky re-appears. I also assume the reader is familiar with widely available bottlings mentioned. Cask samples and discontinued releases tasted are described briefly, as these may not be available to buy. Water was added to most drams, given their alcoholic strength and readers are invited to judge for themselves how much a particular whisky requires, if any. The whisky is 40%abv, if the strength is not otherwise indicated and chronological order is broken, where appropriate, to provide a comparison for the reader, along with possible serving suggestions.

A big dram at the Whiskyshop Dufftown

The festival began on Thursday afternoon as Whiskyshop Dufftown (WSD) owner Mike Lord poured a big charity dram of Glenlivet Founder's Reserve, a non-age statement (NAS) whisky that will replace the 12 year old standard bottling. This was a cheery dram with fruit salad chew bars on the nose and the taste of banana foam sweets giving way to wine and oak on the finish, reminiscent of the 12 year old. The money raised from this went to Fibromyalgia UK. (Rumour has it that thrill-seeking sharks get into cages to get close to Mike and see what he is like in his natural habitat.)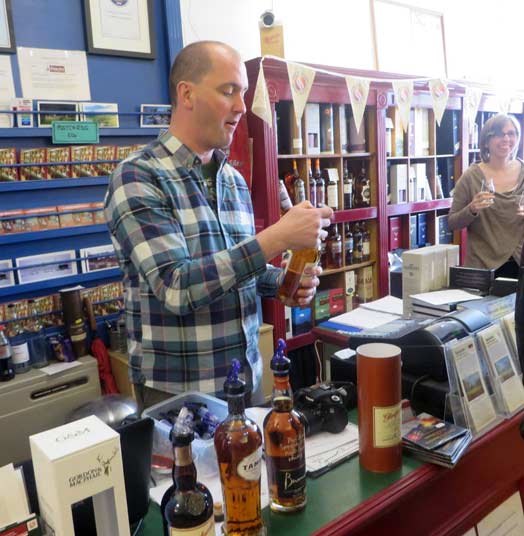 Mike Lord at the Whisky Shop Dufftown preparing with attention the bottles for the whisky tasting

The first whisky from the informal 'It all started with a big dram' tasting was a 1993 Gordon and MacPhail (G&M) 'exclusive' Mannochmore, at 48.8%abv, that had been matured in a refill bourbon cask that yielded 195 bottles. Bottled for the WSD the day before, the tasting notes had been prepared very quickly and consisted mostly of types of orange so my suggestion of Fry's orange cream was probably more useful than the possible alternatives of Dale Winton or men in bowler hats and sashes, playingthe flute. The distillery was built in 1971, becoming the backbone of the Haig's blends and was later refitted to make it bigger than sister distillery Glen Lossie. The finish to the whisky was very long and spicy.
Glenfarclas 17, at 43%abv, smelled sweet with notes of chewy highland toffee. Mike finds this more subtle than others from the distillery's core range while I found the taste of blood orange chocolate. The first release of Tamdhu 'Batch Strength', at 58.8%abv, was the most thought-provoking whisky of the session, prompting discussions about NAS whisky and questions about how it compares to Glengoyne cask strength, also owned by Ian Macleod. Mike does not find any young whisky notes in this and found no real nose from the very oily spirit. Brown sugar was, perhaps, the most obvious taste present and the reader is invited to compare Tamdhu and Glengoyne back to back.
Benromach 10 year old '100 proof', at 57%abv, is the popular 10 year old before it is diluted from near cask strength. Lots of smoke is present on the nose and is well balance by the bourbon and sherry casks used for maturation. This was a great whisky, well worthy of careful study in the reader's home with no obvious need to add water. To end, there was a bonus dram of the WSD exclusive Caol Ila, reviewed last spring and described in more detail later.

I was there with Berry Brothers and Rudd
Presenting whisky at 46%abv, if not otherwise indicated, for Berry Brothers and Rudd (BBR) was Jonny MacMillan who managed to adapt his act to cope with the absence of Boisterous Aberdonian, his regular foil. He began with a slide comparing a 1974 single cask Glen Grant to a thinly disguised bottle of Haig grain whisky with the former being unchilfiltered and coloured and the latter not. Not merely that, but the Haig has had lashings of David Beckham added. Another comparison was Led Zeppelin and 1 Direction, with one member crossed out and Jonny is hopeful that more members of 1D will be crossed out soon.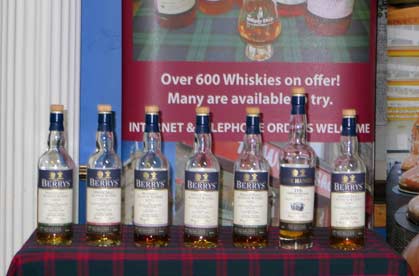 The line up from BBR
I found a 1999 Dufftown absolutely enchanting, surprisingly so, given that I'd never previously had a great Dufftown younger than I am. Sherbet, shortbread and vanilla were present on the nose with the taste being sweet and chewy. Best with 1 drop of water, the finish was warm and long. A 1996 Auchentoshan prompted Jonny to remind us that the distillery's name is Gaelic for 'made from Glasgow tap water' and pointed out that this is not his style of whisky. I added to this that there seems to be a fine margin separating great whisky from merely good whisky with this distillery and, perhaps, choice of cask is of paramount importance as I find the 'Valinch' bottling to be terrific. All the same, this was still a pleasant dram with cream, vanilla and spice notes.
As an interesting aside, Jonny showed a slide of 1909 prices and drew particular attention to the 1885 Talisker. Moving on, the next whisky was a 43 year old, 1970 Ben Nevis 'Single blend', at 44.7%abv, so called because it was made from a single malt and single grain whisky from the same distillery complex and blended at birth. The rarity value price of this whisky did cause a twit in the audience to balk at the price but, really, this was the first 'I was there' moment of the festival and it was soft on the nose with notes of fruit syrup and banana and custard yoghurt and some slight bourbon on the finish.

As we tasted a 1991 Strathmill, at 51.2%abv, serendipitously, in the audience, there was Stuart Robertson, currently manager of Dalmore distillery and previously manager of that distillery, in Keith. This had fizzy sherbet and Parma violet notes with delicious sweetness throughout.

Our fourth dram was a 1997 Deanston, at 54.1%abv, and I must admit to being surprised that Jonny did not say this was Gaelic for 'Monty Python filmed nearby'. Jonny did say that this is his favourite from the newly released single casks. Oily and viscous, this had slight bourbon on the nose and was very chewy.
The eleventh release of 'Blue Hanger', at 45.6%abv, had minty toffee on the nose and taste, along with vanilla with a light smoke that grew at the end. BBR endeavour to make each batch taste different and this one may well have had some peated Bunnahabhain as a component. It paved the way ideally for a 1987 Bunnahabhain, effervescent as it was, being light and sweet with a spicy finish.
The Doctor and the Captain of Douglas Laing

With his regular assistant Romana away with the Tardis and K9, Jan Beckers brought Graham Dunnet of Douglas Laing with him to the tasting and began with a 1994 'Clan Denny' North British grain whisky, at 51%abv. This had Jan and I recounting a previous tasting encounter with a nincompoop who, despite being English, did not appear to comprehend the English language. No matter, this tasted of both vanilla and syrup and led Jan to say that he finds grain a whisky a dessert on its own. He found lemons on the taste and, proving that it was not just his Strepsils giving him that taste, I found lemon cheesecake. This one is best rolled on the tongue to achieve striking results.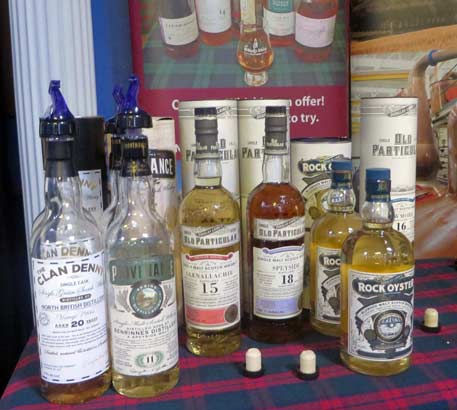 The Line up from Douglas Laing

A 2004 Provenance Benrinnes, at 46%abv, did not taste like a Johnnie Walker whisky to this writer, with notes of cream crackers, spice and light pepper. Jan believes this is a breakfast dram and found fresh green apples. Unwisely, he said that his body was a temple and a whisky festival report writer present quipped that it had clearly been sacked by Mongol hordes long ago.
A 15 year old 'Old Particular' Glenallachie, at 48.4%abv, had been matured in a refill sherry butt that Jan believes was made from American oak, explaining the relative lack of colour in the whisky. Interestingly, Jan remembers the days when this distillery's whisky was bottled exclusively for his native Belgium. Dry and crisp, the whisky had both malt and cereal flavours followed by apples and shortbread on the finish.

Old Particular Speyside 18 year old had also been matured in a refill sherry cask and was darker in colour than the Glenallachie. I found spice and oak with some dried fruit and that it went nicely with blood orange chocolate, something Ulf, Swedish whisky fan sitting beside me, went along with. Jan said that the chocolate transformed the whisky and the combination tasted like Crepe Suzette. However, after discussion, Jan drew the conclusion that he would probably have preferred the whisky paired with Maya Gold, dark chocolate with orange so the reader is invited to purchase the bottle and the chocolates and see which of the two match up the best.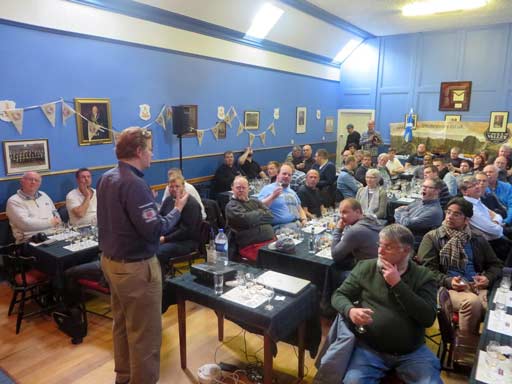 Jan Beckers at work!

'Rock Oyster', at 46.8%abv, is a new release, the latest in the company's series of what would have, in more sensible times, been called a vatted malt. Graeme took over as captain at this point to tell us that this whisky consists of malts from the islands of Orkney, Jura, Arran and Islay. The dominant taste was of soft, creamy cheese and, again, the reader is recommended to roll this on the tongue for the best experience. Graeme gets some gentle peat from this while Yorkshire's Phil Yorke got great complexity and Jan was put in mind of a walk on the beach with salty air. Another of this series, the 'Scallywag' will soon be bottled at cask strength, just as the 'Big Peat, from the same range, is bottled at cask strength, for the Christmas market. To end, Old Particular Bowmore 16 year old, demonstrated, with time, classic Murray Mint notes while Graham got butterscotch. The nose was slightly salty with a little peat and more smoke on the taste before a subtle finish.

Whisky fair and in-store tasting highlights, in no particular order

A new release from the Speyside distillery at Drumguish, 'Beinn Dubh', pronounced 'Bee and Doo and meaning 'Black Mountain'', at 43%abv, was fruity and smooth. Unlike the 'Cu Dubh' that contained whisky from the same distillery, this has only a slight addition of caramel and the taste is real, not synthetic like the 'Black Dog'. Most of the whisky's colour comes from maturation in port pipes. Interestingly, the 18 distillery's 18 year old expression sold out in under a year. More about the company later.

'Dream Drams' Longmorn 12 year old, at 57.3%abv, from a refill bourbon cask, was particularly creamy and tasted of digestive biscuits. Their latest bottling was a 20 year old Tobermory, at 55.2%abv, that was both salty and coastal on the nose and taste and gave a tremendous sense of luxuriousness.
MacPhail's Collection 8 year old Glenrothes, at 43%abv, replaces the old 40%abv bottling. Chewy and fresh, it was soft and creamy and ideal for a session, as are whiskies from this range in general. From the same company, Connoisseur's Choice 2000 Aultmore, at 46%abvm, was light with cereal and grassy notes while Neil Simpson detect a slight touch of peat.

At the Glencadam stall, the Brechin distillery's 14 year old Oloroso finish, at a standard 46%abv, tasted mostly of Turkish Delight and was awesomely easy to drink. The 15 year old had malt and cereal notes while a bonus dram of the 21 year old in celebration of the birth of Princess Charlotte had cream cheese and spice flavours with a long finish. Also, the distillery has launched a handy collection pack of miniatures.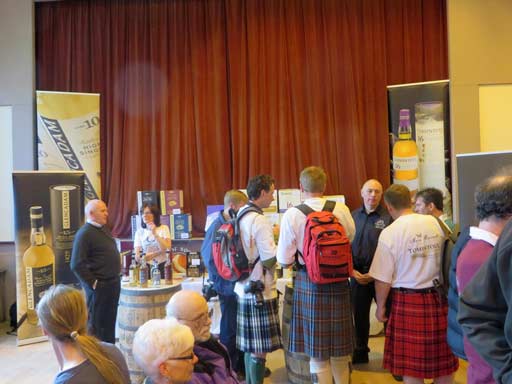 Glencadam and Tomintoul at the Whisky Fair
Adelphi's 'Private Stock' blended whisky was like a light Christmas cake in a glass with brandy butter added. A 17 year old Benrinnes, at 57.2%abv, proved to be the wildfire hit of the fair, with word spreading very quickly. There was light vanilla and hints of salt. Interestingly, the writer Charles MacLean gets 'Parma Negra Ham' on the taste and so do I, except for the 'Parma Negra', obviously.
Benriach 10 year old, just released at 43%abv and not to be confused with the 'Curiositas' did need a single drop of water but this revealed thick green apples of the kind that needs the bite strength of an alligator to actually eat but was delicious in liquid form, something that is apparently characteristic of Benriach at a relatively young age. Glendronach 15, at 46%abv, had subtle and warm sherry notes and would be interesting to taste, back to back, with the aforementioned Glenfarclas 17. This whisky has won many awards recently and deservedly so, on this evidence.
Wemyss have re-released their range of blended malts at 46% and with no age statement. 'The Hive' was particularly sweet with honey and wine while the 'Peat Chimney' was slightly misnamed with the taste of highland and island peat, rather than Islay peat and was sweeter than the name would indicate. A 1995 'Stem Ginger' from Mortlach, at 46%abv, sold out quickly that weekend but comes recommended to the reader who comes across a straggler of this or of the 'Pastille Bouquet' from the same company and same distillery. The taste is self-explanatory, given Wemyss method of naming the whisky after the dominant tasting note and I add only that the nose revealed the taste of soft, melt-in-the-mouth fruit pastilles.

Adelphi Tasting with Antonia Bruce
Introducing Antonia, Mike Lord noted that Adelphi have been at every one of the whisky festivals he has presented as WSD owner and we began with a 1990 Bladnoch, at 55.3%abv. The distillery is currently mothballed and has been since about 2009. As Antonia said she found it 'farmyardy', I detected fruit salad chew bars and, as she did the bead test, I took a photo that she described as 'artistic'.

Suddenly perplexed, I wondered who was I and what had I done with the real Moist Von Lipwig, Albert Spangler and Ethel Snake? Having slipped into the pyjamas of perplexity, I avoided the dressing gown of despair and changed into the jeans of jubilation to destroy the reader's sense of time and knowledge of the correct tense before moving on to an excellent 19 year old Glen Grant, at 55.7%abv. This had buttery sponge and Pink Lady apples on the nose with vanilla and buttered toast and/or crumpets to taste. The finish was warm, long and delicate with coconuts detectable.
A 1992 Longmorn, at 51.8%abv, had apparently given the best bead test results from all the casks the company had and Antonia noted that this distillery survived the infamous Pattison crash by maturing quickly, hitting the ground running, as it were, and becoming highly prized by blenders. Antonia found spices and ginger on this while I tasted raspberry ripple and cream sponge with sherbet. There was also chewiness and raisins while water revealed strawberry refresher chew bars.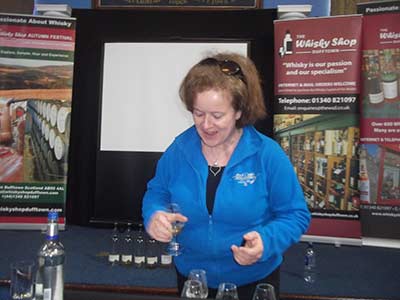 Antonia Bruce making the show

A 2007 Glenrothes, at 67%abv, was the latest in a series of young whiskies from this distillery that Adelphi have released. The aim of this bottling was to achieve 'young jolly whisky' and Antonia got the smell of erasers, fruitcake and dark treacle. I found Bovril, as I so often have done with Adelphi Glenrothes, and water quelled the fire to reveal fruitcake, syrup and toffee sauce with a dry finish. This one is best to sip, rather than roll on the tongue, unlike others mentioned earlier.
1996 Bowmore, at 57.2%abv, had been matured in an American oak sherry cask and had salted fish together with Murray mints on the nose. Antonia thought it was like a Caol Ila and finishes like a Springbank, in its oiliness, while I found it reminiscent of Longrow, distilled, of course, at Springbank. The addition of water revealed vanilla and smoke.

Unconventionality from Cadenheads.

3 generations of the Watt family arrived in Dufftown and, since one of them was Mark Watt, we decided to have a Cadenhead's tasting with some cask samples and 'Small batch' releases that have sold out.
A work-in-progress sample of a 12 year old blend, at 46%abv, had fruit syrup and cereal notes. A solera system is planned for this blend and Mark intends to create an everyday whisky with this. In this sample was 14 year old Glen Scotia and 2001 Auchroisk. A future batch will have 14 year old Mortlach.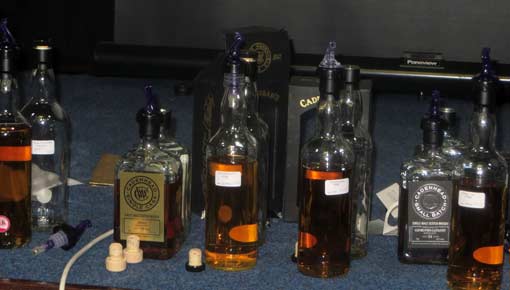 An unconventional tasting of Cadenhead with "unconventional" bottles

An entertaining theme emerged as Mark played music and film clips from the year that his chosen whiskies had been distilled. A 1996 Arran, at 50.9%abv, prompted Mark to wish all new distilleries well, especially those that would sell him casks. There was fruit salad, syrup and honey on the nose with Mark describing it as 'clearic and Ribena', similar to my description of it as tasting like blackcurrant Fruitella. Mark has apparently worked in a bar in Japan that had 27 Arrans and this was surprising to me as I and the other members of the audience had no idea he had ever been to Japan, let alone been in a bar there.

A 1978 'Authentic Collection' Miltonduff, at 45.6%abv, was sweet and delicate with a little smoke and soft vanilla with refreshers. This was a very 'Ballantine's' dram and, hence, is recommended to the reader to be drunk along with Minstrels while watching a Hammer horror film or possibly a spaghetti western. Interestingly, Mark believes he is responsible alone for the so-called 'Angel's Share' in Campbeltown and this indicates that he has scaled back his whisky consumption recently.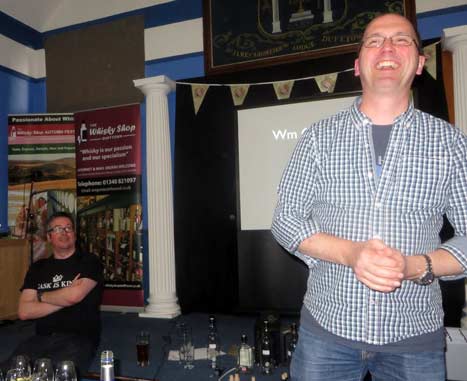 Mark Watt and Mike Lord having a good time


1988 Dufftown, at 52.1%abv, should be released as part of the 'Authentic Collection' in July. Mark found woodiness and quoted me as saying 'not often you get a Dufftown that is very Bell's'. This, however, had peach syrup notes and some juicy fruitiness. 1990 Glenrothes-Glenlivet, at 55.7%abv, was introduced by Elton John's 'Sacrifice' which Mark commented on, saying that it was one of the few Top of the Pops 2 clips you can still show. A 'Small Batch' release, this had 'huge sherry' on the nose and 'more massive sherry' on the taste followed by 'huge sherry' on the finish. There was, however, no Bovril character on this, something prevalent in young sherry-matured whisky from this distillery.

From 1984, Lionel Richie's 'Hello' is a 'pulling song' and was used to introduce a Caol Ila, at 54.1%abv. 'Footloose' was also mentioned as Mark believes he drinks better than he dances. This was Bowmore-like on the nose with mints and salted fish. The taste was rich and soft followed by smoke and sweetness with chewy fruit sweets.

Tannochbrae Gala Dinner

A sumptuous feast was served at the Tannochbrae restaurant, ideal for connoisseurs of fine food and enormous gannets alike, which was handy. Each course was paired with a whisky from 'Malts of Scotland' and there was an enchanting selection of music played by Robin Laing and described later, including 'Magic Ship of Dreams' for the company's Thomas Ewers who could not be with us, that evening.
An 11 year old Miltonduff, at 53.6%abv, from a sherry hogshead was fresh, sweet and very thick, almost A'Bunadh-like. Water lightened it considerably. A mystery 'Images of Dufftown' malt, at 53.2%abv, was possibly a Pittyvaich, making it very rare indeed. 'Images of Islay', at 53.2%abv, was very clean, with a Bowmore-like nose but with hints of bacon and a south Islay taste. A 12 year old Bruichladdich, at 58.4%abv, from a sherry hogshead brought to mind Benriach's 12 year old Sherry matured bottling and tasted of Turkish Delight.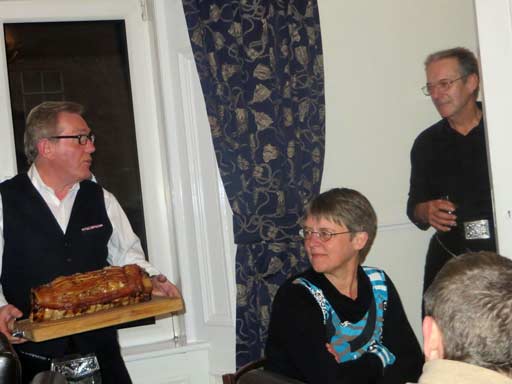 At Dufftown, there is not only good whisky, but also good food!


A 1990 Bladnoch, at 52.1%abv, had been matured in a refill sherry hogshead and Robin described it as 'history in a glass'. It was heartening to know that I was not the only one present who thought of 'The Wicker Man' when tasting this and I found strawberry chewits on the nose with the addition of water softening it to make ideal to accompany a desert. 'Fruit crumble in a glass' was the way I described it.
The final dram was a 24 year old Imperial, at 48.1%abv, matured in a bourbon barrel. A classic 'Ballantine's Dram', there were lemon curd and banana custard yoghurt notes with vanilla and refreshers. Robin found pears and honey and the words 'stuff of legend' were highly appropriate, on this occasion.

Speyside distillery tour

Sunday morning brought a trip to the Cairngorm Hotel in Aviemore where a bus picked us up and took us to the Speyside distillery at Drumguish, near Kingussie, one of several tours hosted that weekend.
The 'Spey' whiskies had been making a big impact on the festival that weekend and the distillery is now owned by John Harvey McDonough, known for the 'Chairman's Choice' series and CEO of Harvey's of Edinburgh. Speyside was opened by George Christie in 1990, having been built by hand by a dry stane dyker over the course of many years.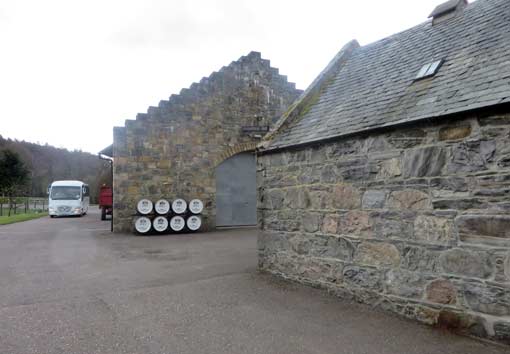 Outside view of the Speyside Distillery


Speyside has no warehouse on site with the spirit filled into tankers, transported to Rutherglen, in Glasgow, and filled into casks at 63.5%abv. Each mash uses 4.16 tons of barley and the distillery operates 5.5 days per week with 2 shifts per day producing 600,000 litres of alcohol, an impressive feat for an apparently small operation. As we walked round, there was a story from Sandy Jamieson, distillery manager, about old workers drinking wash with disastrous trouser consequences. Fermentation lasts an average of 60 hours and the spirit produced is floral. Around the site were some remade Octave casks and a small still, made in Rothes and used in Sark to distill gin which will be used for making spirit again. As an aside, Speyside also appeared in BBC's television series 'Monarch of the Glen' as the fictional 'Lagganmore' distillery. Also, the manager's office had originally been a mill that closed in 1965.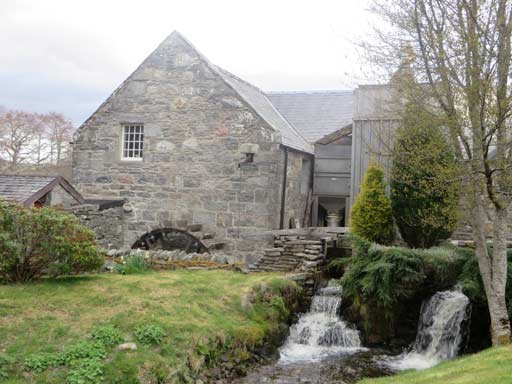 Another view from the distillery

We were joined for the tasting by John McDonough and Patricia Dillon, managing director of Speyside distillers. From Country Durham, John is a fascinating character with many stories, stories I decided to enjoy and listen to while tasting my whisky, rather than scribble them down in a frenzied fashion. The original John Harvey, of Harvey's Bristol Cream fame, had traded sherry and whisky but was nearly wiped out by the infamous Pattison crash and later proved much more successful in the sherry business.
At 46%abv, the 'Tenne' had spent 8 years in bourbon casks then 6 months in Tawny port casks. Tenne is the Latin for Tawny and this name has been used since Tawny Port has a monopoly on the name. A very moreish dram, Patricia thinks this is a good introduction to whisky in general and I found that a spot of water opened it to reveal delicious fruits and sweetness. Always first fill port casks are chosen for this as there is nothing left in the cask after that.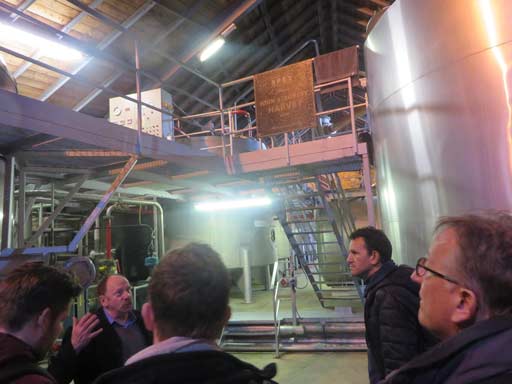 Inside the distillery

The 12 year old had refill bourbon characteristics and some lemon cheesecake on the nose. I found vanilla, almonds and some slight pepper to taste with the finish being delicate. With this, for the first time ever, I found myself being able to describe something as a breakfast whisky.
On Christmas day, the 'Chairman's Choice' whiskies are chosen and they last until about May. This session's Chairman's Choice had a high proportion of 17 year old whisky matured in both bourbon and sherry casks, giving it the taste of shortcake and caramel. The 'Royal Choice' was first bottled at 40%abv but is now bottled at 46% and comes from vintage sherry casks. Patricia found toffee notes on this and I tasted the sauce from a great sticky toffee pudding, drawing the conclusion that it is Speyside's after dinner luxury dram and is probably best tasted then, even though it is excellent before lunch.

No bristling from Morrison and Mackay

Introduced by Mike Lord as 'probably the next James Bond, suave and debonair', Peter Mackay wasted no time in presenting a 'Strictly Limited' 2006 Craigellachie, at the standard 46%abv, that had been matured in 2 bourbon casks. With excellent timing, a squad from the village of Craigellachie joined our table and later posed for a picture with Peter. The nose had lemon curd with light, golden syrup with lemon and vanilla on the taste, plus a little sharpness perhaps indicating that this whisky is a component of the popular Dewar's blends. Dewar's is a Perth-based blend and Peter told us that he had just been at the Perth whisky festival that had lived up to the reputation of Perth and said it was best to leave it at that. Peter is pleased that Dewar's have launched their own series of single malts, including Craigellachie, and believes that the distillery's spirit has a light, grassy character.
As an aside, Peter told the audience that his father had launched the now legendary collector's item 'Black Bowmore' and was told at the time that £90 for a bottle was too expensive, something he is no doubt laughing up his sleeve about and the interested reader will do well to get a nip of it in a pub for that amount. His father also said that he could kick rugby drop goals from his own half of the pitch so Danny Maguire added that New Zealand's Zinzan Brooke can do that as well. (Some reader may recognize Danny, who was in the original series of Star Trek as a tribble).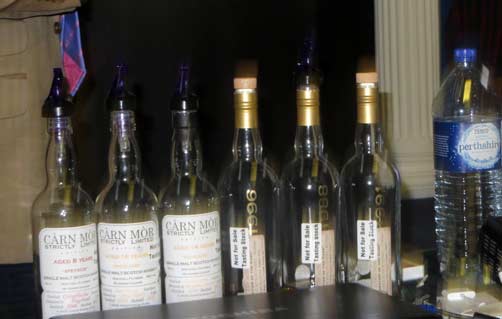 The Carn Mor line up for the day

Moving on to the next Strictly Limited bottling, a 1998 Ben Nevis, matured in a Fino sherry butt had the characteristic strawberry chewits on the nose, with a creamy taste and a very soft finish. Peter is a big fan of Ben Nevis but I think this is because he is a secret alchemist. At any rate, he and his company have consistently bottled the best whiskies available from this by no means reliable distillery.
Returning to Perth blended whisky, Peter talked of Matthew Gloag, of Famous Grouse, and his 'Pintail' sherry casks used to mature whisky. He recommends this particular sherry to be served at 8C and pointed out that the Palomino grape is used for both Fino and Oloroso sherry. (This grape probably gives better results than using a horse or a Mexican-American boxer who appeared in 'Taxi' with Tony Danza). A further story about a 'sherry condom' caused this writer to dissolve with laughter. Peter wondered if he should copy the showmanship of a famous master blender by using a water pistol but I said that he doesn't have a moustache and doesn't look like he holidays on the face of the sun so it wouldn't work.

A 2000 Strictly Limited Fettercairn offered a rare chance to taste whisky from this distillery not saturated with caramel. Even allowing for that, it had been matured in casks stamped 'organic' making it most unlike any other Fettercairn ever produced. The nose had fruit gums and fruit salad chew bars with peached, syrup, vanilla and coconut notes. At the finish, vanilla burst through and lingered.

A Celebration of the Cask (COC) 1996 Arran, at 52.6%abv, had been bottled a fortnight before, having been matured in a refill sherry puncheon. Peter and I agreed that a first fill cask would have overpowered this one with the nose having light fruitcake and soft toffee. Rolling on the tongue gave the best results and the reader who obtains a bottle is invited to compare it to the distillery's official cask strength bottling. Apparently, even the people of Perth can tell the finer qualities of this so this should be considered praise. In a historical context, Peter drew our attention to the fact that Arran distillery was built at a time of very low confidence in the Scotch whisky industry, 1995, a year when Bowmore was selling 35,000 cases per year, as opposed to the 200,000 they sell now.
A 1988 North British COC, at 60.7%abv, smelled of golden honey and syrup. Very light, there was soft, delicate bourbon on the taste while Peter found butterscotch. Water revealed vanilla on the nose and there was creamy toffee to finish with. A final dram of 1988 COC Longmorn, at 57.4%abv, had fruit cream sweets on the nose while Danny got fudge on the taste and Peter got buttered shortbread. I found that a single drop of water unlocked the taste of millionaire shortbread on the finish.

Music night with Robin Laing

To accompany his music, Robin had chosen BBR Clynelish, reviewed in the Autumn 2014 report, Malts of Scotland Bruichladdich, reviewed earlier, Benriach 18 year old peated 'Dunder' Dark Rum finish and Glendronach 18 year old Tawny Port, both at 46%abv, a Glen Moray 'Santa's Christmas Stocking' from the Scotch Malt Whisky Society and the WSD Caol Ila. The 'Dunder' had subtle smoke, peat and chocolate on the nose with rum and raisin ice cream and rolling it on the tongue revealed smoked fish. There was treacle and smoked bacon to finish with. The Glendronach tasted of stewed fruits and many other kinds of fruit although, by this time, my palate had virtually collapsed. The Caol Ila is still surprisingly sweet and light, ideal for a nightcap, and may win over those who otherwise do not like peat in their whisky.
Between songs, Robin recounted singing a song about Burke and Hare to TV's Hairy Bikers and was annoyed he was not allowed to sing about Deacon Brodie. Noting that this was the best audience he'd had all day, Robin was pleased to see a lot of new faces as this meant he could tell old jokes. Robin was appearing at Bruichladdich's open day, a few weeks after the festival, and the theme for the day was to be 'Country and Western'. With that, he had 'whiskified' Janis Joplin's 'Mercedes Benz' with a new verse about the Highlander Inn and played 'Whiskey Lullaby', a song recorded by Alison Krauss and Brad Paisley.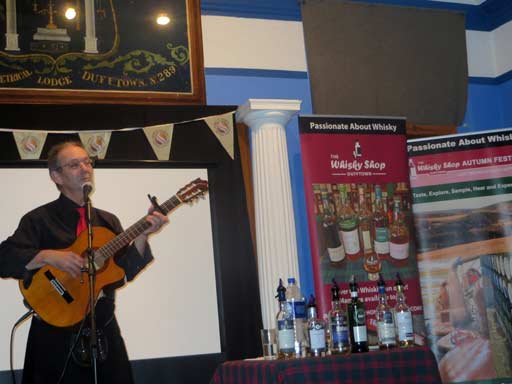 Robin Laing singing at the festival

Robin's next album will be titled 'Whisky and Death' and he played a new song about old whisky. Also, he told the audience that his definition of a whisky collector is a sad individual who doesn't have enough special occasions in their life.
As usual, highlights from Robin's performance are available on both Facebook and www.youtube.com.
After that, the festival continued for another day but not for me. I was heading down the road. On the Monday, there were attractive tours of Glen Moray, Glenglassaugh and Knockdhu distilleries with tastings from Laphroaig distillery and Gordon and MacPhail's as well as the winners of the WSD competitions to announce at the drams party. If anyone was on any of these events and would like to tell me about what I missed, please feel free to sod off and, with that, I'd like to thank everyone involved in organizing and running the festival and, in particular, Mike Lord and his wife Val, Vicky and Kirsten at the Whisky Shop, Warren, Gemma, Kat, Simon and the rest of the crew, Claus for the proofreading, Steve Oliver, the Tannochbrae, the Coffee Pot café and the Cairngorm Inn in Aviemore.
I'm off to sell my Hoover as it's just collecting dust and I'll see you all again at the Autumn Festival.