Spirit of Speyside Whisky Festival Spring 2013
http://www.spiritofspeyside.com
Spirit of Speyside Whisky Festival Spring 2013
Report and Photographs by Bruce Crichton
eight of hand afoot, the Spirit of Speyside Whisky festival was just what I needed and after many days of great whisky, food, music, joke-pinching and geographic inaccuracy here is my account of it.

This report is a rough guide and may contain factual errors, for which I apologize in advance. Tasting notes are subjective and comment is added from experts present during note taking. To shorten the report, I refer the reader to previous reports and tastings if a whisky re-appears. I also assume the reader is familiar with widely available bottlings mentioned. Any cask samples, discontinued releases and fill-your-own (FYO) tasted are described briefly, as these may not be available to buy. Finally, any water added was, literally, one drop and whiskies were 40% abv, if the strength is not otherwise indicated.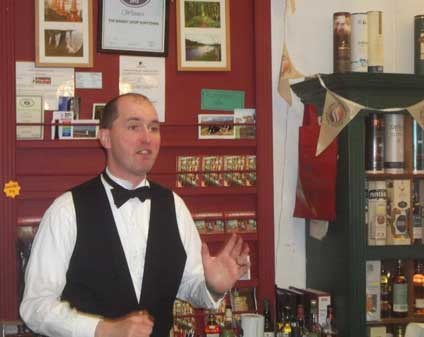 Mike Lord at Work

'It all started with a big dram' at the Whiskyshop Dufftown
Opening the festival on Thursday afternoon was Whisky Shop Dufftown (WSD) owner, Mike Lord who had put in several 35-hour days in preparation for the event. Mike had obtained 3 FYO releases from nearby distilleries and we began with 2002 Glen Moray, at 58.5%abv, from a first fill bourbon cask. This had smooth vanilla and lemon/citrus notes that softened and lightened with water. Also from a first fill bourbon cask was an 18 year old Glenlivet, at 56.8%abv that was smooth and velvety with delicious toffee/butterscotch notes. Again, it softened with dilution.
Finally, a 1993 Glendronach, at 59.2%abv, taken from a sherry butt had thick heavy treacle flavours and many other notes usually associated with sherry maturation

Mates of the Museum
Later, the 'mating' brought together old friends and new over a few civilized drams and Tomintoul Whisky Castle owner Mike Drury presented 3 single cask whiskies from his exclusive collection, beginning with one from Speyside Distillery, reviewed in the Autumn 2012 report and some 30 bottles were for sale to raise cash for the museum. (The remainder of the cask is bottled as 'Cairngorm Dew'). A sherry-matured Signatory 1995 Glenrothes, at 46%abv, had rhubarb crumble and sherbet on the nose with licorice and dark chocolate flavours. It is also available at cask strength and that was reviewed last autumn. A 15 year old bourbon cask Caol Ila, at 58.1%abv, had a big peat punch, just as a classic Islay malt should have.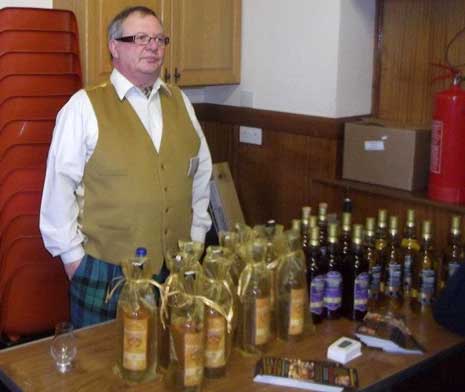 Mike Drury and some bottles at the Mates of Museum night
Longmorn and Benriach bus tour Friday began with a historic bus tour, amazing attended by both Moist Von Lipwig and Albert Spangler, and we arrived at Longmorn distillery where Ann Miller was our guide. Built in 1894, Longmorn had been recently expanded and modernized and the distillery's day job, as it were, is to provide 'top dressing' malt for the prestigious Royal Salute and Chivas Regal 18 blends.

8.5 tons of sweet, un-peated malt are used per mash and the tuns and washbacks are all made from steel, the latest technology from the brewing industry, apparently. Mashes take 4.75 hours, down from 6, with fermentation taking 2 days and washbacks having been increased in number from 8 to 10 as part of a modernization program. Production is 7 days a week, for 50 weeks of the year. Interestingly, 4 wash stills are in one part of the building and 4 spirit stills in another part rather than having them paired. The stills have exterior condensers speeding condensation and producing better spirit. The stills are heated by steam today but were heated by coal 20 years ago and the spirit is cut at 65.72% alcohol.
Though it's not open to the public, Longmorn is kept spotlessly clean should any visitors be taken round.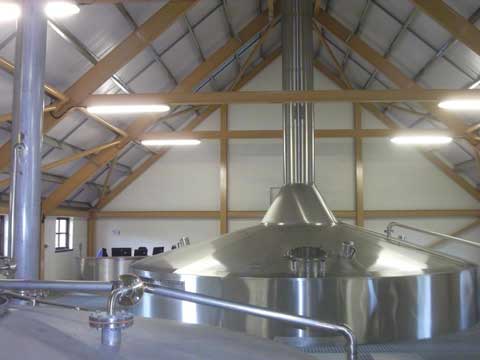 The shiny mashtun at Longmorn

Apparently, Hamish Proctor, like most distillery managers, is a keen salmon fisherman and it's ensured that the water used is cooled before being returned to the stream it came from to prevent them being poached before they're caught.

Tasting the official Longmorn 16 year old, at 48%abv, I found grassy and floral aromas with vanilla, fresh fruits and toffee flavours that lightened with water. A vatting of sherry and bourbon casks, this bottling appears to have found its feet after a shaky beginning and Ann pointed out that, from the beginning, Longmorn's whisky was always prized by blenders as it was only ever them who tasted it. By comparison, the 1997 'distillery edition', bottled in 2011, had fruity sherbet on the nose that transmogrified into banana and custard yoghurt on dilution. It was light and creamy with some honey and syrup notes before a long, warm and peppery finish. (This bottling was in the course of selling out over the festival weekend.)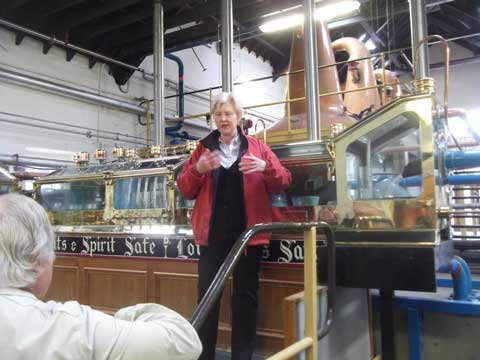 Ann Miller in the Still house of Longmorn

A short journey down the road brought us to Benriach distillery where warehouse manager Ewan George greeted us. (Details are in the autumn 2012 report.)
Interestingly, we saw water being filled into a tun and a plank of wood in place for viewing the mill, for health and safety reasons. We were shown the floor where some 15 tons of barley were malted as a trial last year with excellent alcohol yield, apparently. It costs twice as much, at least, for the distillery to malt its own barley as it does to buy in their malt. Benriach don't peat their own barley, however, as that would mean flushing before reuse. 125,000 litres of spirit produced last year was triple distilled and is worth watching out for in the future. (Benriach acquired the Glenglassaugh distillery in March 2013).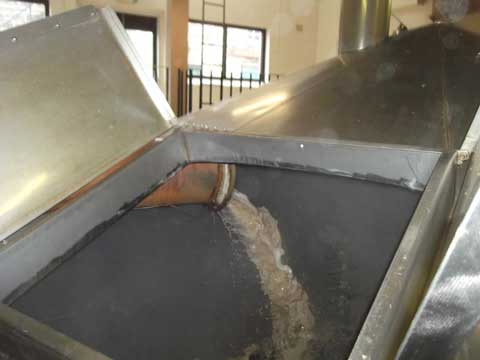 The BenRiach Mash Tun

Rummaging through the warehouse, Ewan pointed out that Benriach matures quickly in bourbon casks and some peated spirit has been filled into quarter and octave casks. Among the cask samples were some 1994 3rd fill ones that had been vatted and then re-racked into 1st fill casks in 2009 and these will probably be used for the 16 year old bottling or perhaps given another 4 years and used for the 20 year old release. A 1994 cask re-racked into virgin oak was legendarily smooth despite being about 58%abv. A 1975 3rd fill sherry butt was about 54%abv and Ewan has found that larger casks hold their alcoholic strength better with this one being a possible single cask release in the summer, tasting of pineapples and tropical fruits. An upcoming 1997 single cask release, re-racked from bourbon to marsala wood had strawberry sorbet on the nose while. Some 1995 peated spirit had also been transferred to a port pipe in 2010, giving it soft smoke and velvety notes and may also be released as a single cask, something to look forward to, no doubt and thanks once again to Ewan for his insight.
Berry Brothers and Rudd Tasting with Doug McIvor
Doug began with the history of the family-owned firm established in 1698 in St James Street, London, by a widow though not much else is known about her. The business began by buying and selling coffee, tea and spices. In an epic oratorical journey, it was noted that many posh clubs began as knocking shops, that coffee scales to weigh customers date from 1765, that the director's room was, between 1842 and 1845, the Texas Embassy, that the Cutty Sark brand was originated in 1923 by the company, giving rise to the phrase 'The Real McCoy' and many other tales too numerous to record in a notepad or a festival report.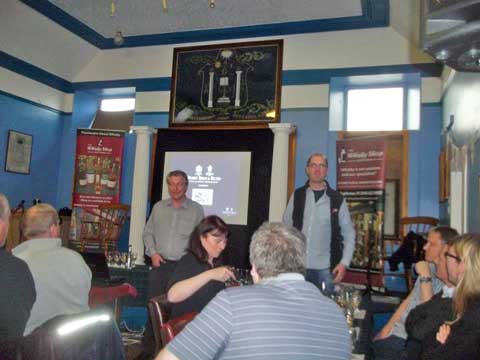 Doug McIvor at the Berry Brothers & Rudd Tasting

Even more entertaining was Doug himself as he said that he had grown up in a tropical part of Scotland, otherwise known as Hamilton, at which point the hall echoed to the sound of my shrieking laughter which no doubt perplexed the audience, perhaps 3 of whom could have gotten the joke. Doug had, as a young man aspired to be the popular Irish comedian Dave Allen known for his delivery from a comfy chair with a glass of whisky in one hand and a cigarette in the other. Berry Brothers' whiskies are not coloured or chilfiltered and they bottle whiskies that they themselves like to drink, mostly single casks and, occasionally, 2-3 casks in one bottling. (The alcoholic strength is 46%abv, if not otherwise indicated). Interestingly, the company speaks of the maturity of the whisky, rather than the age, with Doug recalling a 4 year old, sherry matured, Ledaig that sold out overnight, so good was its balance. Doug looks for colour, clarity and viscosity in his whiskies and wonders how long he can chew the whisky for. In his view, a refill hogshead best shows a distillery's character. The first whisky was a 1988 Invergordon that tasted of ginger, spice and vanilla and became creamy with a drop of water. By contrast, a 1992 Littlemill, at 54.9%abv, was like a tuck shop full of fizzy sweets on the nose with a crisp and malty taste and a long, creamy and warm finish.
A 1994 Braes of Glenlivet (Braeval) was effervescent and sweet with Doug reckoning it to be the fruitiest Speyside whisky. He also gets 'kid's sweets' while I found banana and vanilla, with Parma violets while a 1992 Caperdonich had cereal and grassy aromas with the taste of apples and other fruits together with a sweet, silky finish. A 1997 Clynelish, from a refill bourbon cask, had characteristic vanilla, cream and honey notes followed by more honey, fruit and a hint of salt.

The original bottling plan was intended to be two thirds at 46% and the rest at cask strength but this was reversed due to customer demand. A 1974 Glen Grant, at 49.3%abv, was taken from a sherry cask and was the kind of Scotch that legends are made of. Velvety and luxurious, it had rich coffee, treacle and many other flavours associated with sherry maturation followed by an extremely long finish with toffee and caramel. While we tasted, Doug recounted a story of whisky reviving gerbils during a miner's strike. We closed with batch 6 of Blue Hanger, a vatted malt named after William Hanger, Lord Coleraine, and bottled at 44.6%abv. (The first 3 batches of this were composed of Glen Grant and Glenlivet blended together, apparently.) It began with some smoke and slight rubber that drifted away with time and tasted of fruitcake and shortbread with Stuart Kerr finding it salty at the end.
Scottish Classical Music with Paul Anderson and friends.
Aberdeenshire fiddler Paul Anderson returned to Dufftown, this time with friend Norman Conboy on guitar and young ladies Katie and Annie in tow to sing a number of traditional Scottish songs. This was a fine, cheery and relaxing evening with many of the guitar and fiddle tunes bringing to mind Mike Oldfield's Tubular Bells and the soundtrack of The Wicker Man film. Some of the music was pipe tunes adapted for the fiddle. Again, a lot of the music played was written by James Scott Skinner, the first Scot to record music and who, at the age of 12, played for Queen Victoria. Paul himself recounted being inspired by a dram and a braw summer's night to write 3 tunes and reckons he has written nearly 400 tunes.
Katie and Annie have been 'Young Burnsians of the year' and sang 'Parcel o' Rogues', 'Sands of the Shore', 'Love and Freedom' and 'Way off in the Distance', amongst others.
After the girls bade us farewell, the men returned to play a number of jigs, waltzes and reels, including the mournful 'Farewell to St Kilda' about the inhospitable islands evacuated in 1930 and ending with the 'Orange Blossom Special' and an encore entitled 'Hens Merch Ower the Midden'.

Saturday Morning Whisky Fair
Highlights of the fair include: Cadenhead's 'Creations' Invergordon 21 year old, at 46%abv that was minty, light and creamy while a 14 year old Auchentoshan, also 46%abv, was described by Mark Watt as a 'morning whisky' with fruit salad chew bar smells and a crisp, smooth taste.
Gordon and MacPhail's 'MacPhail's Collection' 2004 Bunnahabhain and 8 year old Highland Park, both at 43%abv, were superb low-budget drams with the first being very sweet with fizzy fruits and the second being light, sweet and very smooth. Interestingly, a peated Bunnahabhain is being released very soon.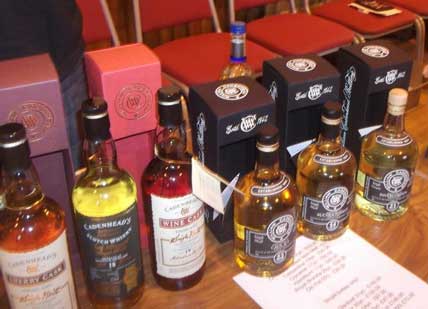 The Cadenhead's selection

'Dreamdrams.co.uk had a delicious 20 year old bourbon cask Highland Park, at 51.2%abv that no home should be without and a marvelously sweet Tobermory 17, at 59.5%abv. Their 19 year old sherry matured Bunnahabhain, at 49%, reminded Stuart of plum duff while I found both coffee and treacle.
Adelphi Liddesdale 21 yr, at 46%abv, was lighter than previous 18 year old batches and I found it sweet, delicate and moreish. Lighter than the previous batch, it tasted of treacle, syrup and licorice. A delightful 21 year old Glen Keith, at 53%abv, from a refill bourbon cask had fruit salad chew bar flavours, with vanilla sweetness and a very long finish.
A Connoisseur's Choice 1999 Balmenach, at 43%abv, was deliciously creamy, complex and spicy while 2001 Tamdhu, at 58%abv, was from a refill sherry cask. So smooth that it can be consumed neat, this had satisfying wedding cake flavours.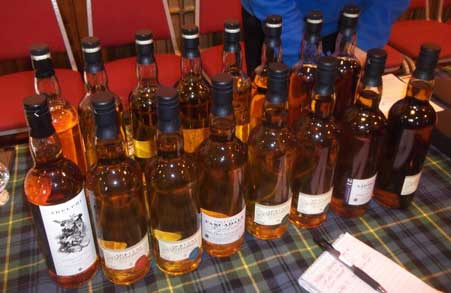 and the Adelphi selection

I refreshed my memory with the widely available Old Ballatruan from Tomintoul, at 50%abv, and found the quality reassuring. By comparison, the new 10 year old bottling, at 50%abv also, was thicker and more solid with a sweet smokiness and a nose to linger over. Master distiller Robert Fleming told me that 4-5 weeks production goes to the Old Ballantruan and, again, no home should be without this little gem.

Undisputed Springbank
Mike Lord, who can strip a shoal of piranhas to the bone in 15 seconds, introduced Cadenhead's Mark Watt as the undisputed expert on Springbank distillery and we began the tasting with that in mind.
(Cadenhead's have a sub-office in the Royal Oak pub in Dufftown).
Hazelburn 12 year old, at 46%abv, was matured in sherry casks. I found the nose to be light and malty with a taste of fruit syrup. For best results, add a drop of water to the whisky and there will be a long, spicy finish. Interestingly, distillery legend Frank McHardy worked at Bushmills distillery in Northern Ireland before returning to Springbank and perhaps gained insight into the triple distillation process when he was there. Mark has also tasted a sample of the first run of Hazelburn that was not triple-distilled.
Mark commented on the difference in culture between Cadenhead's and his previous employers with his current company being far more relaxed than his old one. It had taken him 281 days to sell his first bottle and the company makes whisky to sell when times are tough so that, when times are good, it's a dawdle.
Campbeltown distillery Glen Scotia owns the brand name 'Glen Gyle' so whisky from Glen Gyle distillery is bottled as Kilkerran. (Kilkerran whisky uses barley that has 12 ppm of phenol.) A bourbon cask sample had very light honey and syrup with a lightly peaty, smoky finish. (A sherry cask release is on the way.)
Springbank 15 year old, at 46%abv, had been fully matured in sherry casks and it smelled lightly of peat and refreshers. It also tasted salty and crisp with raisin flavours. Mark finds the mouth-feel of this tremendous and thinks that chilfiltration would remove this completely.
Springbank uses barley that is 12 ppm phenol, in contrast to Mike Lord's recent experiments that peated his own barley to 3 million parts per million, more than twice the level I've ever been able to achieve.
The upcoming 1999 Springbank 'Local Barley' was made with Tomintoul peat and was also fully matured in sherry casks, making it rich and sweet, given time to develop in the glass. Mark thinks this is a 'reflective dram' and finds chocolate notes and coal dust in the finish. This was great stuff but would have been better named as simply a 1999 vintage and any local barley batch would be better in bourbon casks so that the expert taster can tell the difference between batches. As we tasted, Mark told us the tale of malt disastrously made with Campbeltown peat that's full of sand and which turned to glass in the kiln.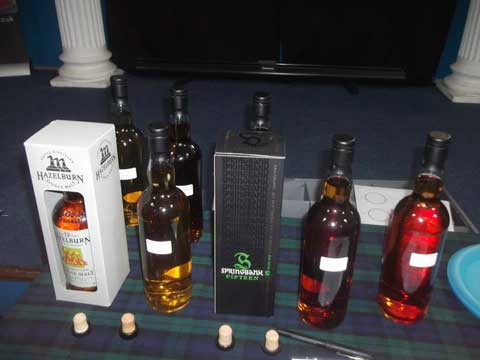 Some of the lateste and future Springbank releases

A preview sample of the next release of Longrow Red, probably to be bottled at cask strength, offered an exciting balance of peat and wine. With time, the peat creeps up slowly and stealthily on the tastebuds. This had been matured for 5 years in Cabernet Sauvignon red wine casks and, indeed, Springbank do not finish, as such, they give their whiskies a second maturation as colour changes quickly but the flavour needs time to catch up and then marry. Finally, watch out for a 2001 Cask Strength vintage Longrow.

Scottish Liqueur Centre Whiskies with Peter Mackay
This series of whiskies at either cask strength or 46%abv began with a 1996 Carn Mor Mortlach, from a hogshead, to my mind, the natural home for Mortlach. Honey and fruit syrup vapours preceded the taste of malt, biscuits, shortbread and honeycomb and the finish was particularly long and crisp. (It sold out over the long weekend.) Peter found a 'Strictly Limited' (SL) 15 year old Dailuaine to smell like apple sponge pudding while Christian, from Norway, found some orange chocolate. Thick and chewy, a drop of water made it fizzier and made the finish peppery.
A bourbon cask 1994 SL Miltonduff sparked a round of discussion with Peter and the audience as he found raspberries and recommended raspberry cranachan. I found sherbet 'dibdabs' and light, crispy vanilla. Peter does like to see if he can describe a whisky in word and, with that in mind, my description of this is 'Ballantines' as much of the flavour profile from Ballatines Finest is in this dram.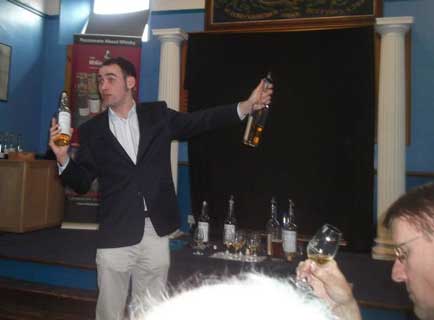 Peter MacKay of the Scottish Liquor Centre

Maintaining the current whisky boom, the centre is waiting for planning permission for a distillery at Bridge of Earn, near their home in Bankfoot, Perthshire. A 1989 Celebration of the Cask (CotC) Girvan, at 52.8%abv, was awesome with light honey, bourbon and butter sauce on the nose and vanilla with toffee sauce on the taste and a silky finish. A 1989 CotC Tamdhu, at 54%, smelled of fruit jellies and was warm and full-bodied, softening on water to give pineapples and a prickly, long and warm finish.
An SL 2005 Ledaig was a real find. Distilled at Tobermory, this would pass easily for a classic young Islay, tasting as it does of smoked fish with a salty finish while water reveals some minty notes.

Tannochbrae Gala Dinner with Robin Laing
Saturday night meant a welcome return the Tannochbrae restaurant where Allan and Susie delicacies were accompanied by whiskies from Mike Drury with new music and some poetry from the great Robin Laing. Whiskies for the evening included the Caol Ila, Glenrothes and the 'Cairngorm Dew' from earlier in the festival and a 'MacDonald's Ben Nevis, at 46%abv, that Mike thought was like a Bunnahabhain and paired well with our meat while his own cask strength Tomintoul, finished in tawny port for 2.5 years, was sweet and fruity. Mike finds that Tawny port makes a whisky meaty and describes this as fruity roast beef. The reader is invited to compare this to the distillery bottle, finished in ruby port pipes.

Douglas Laing and the de-merger
Jan Beckers returned to Dufftown, having tired of his life of espionage – he is a mint spy – and told us of his company's latest developments. The day before the festival, Douglas Laing had split in two with Fred Laing, keeping the name 'Douglas Laing' and a number of brands while brother Stuart had formed 'Hunter Laing' taking other brands with him, most notably the 'Old Malt Cask' (OMC) series.
A 1992 Clan Denny Port Dundas, at 55.7%abv, from a refill hogshead had vanilla and warm butter on the nose with some biscuits and cereal. The closed Port Dundas distillery needed a lot of money to be updated and production was instead shifted to the Cameronbridge plant in Fife. This whisky had been distilled from wheat while; by contrast, Edinburgh's North British distillery uses maize.
A pale 10 year old Provenance Mortlach, at a standard 46%abv, smelled of acid drops, refreshers and pears while Jan found it fresh and fruity. In the immediate future, Provenance releases will be older than before to fill the gap left by the OMC and 'Old and Rare' ranges.
Launched in 2011, the 'Director's Cut' (DC) range is, in effect, the OMC range at cask strength though the name is trademarked in the Far East and America so it is not available there. Some casks have been split between the OMC and DC ranges. Jan found our 1982 Caperdonich, at 50.9%abv, quite beefy and pointed out that some very old whiskies can be flattened by the addition of water while I reckoned that it tasted like fish cooked in vanilla sauce. The finish was dry with a little dark chocolate.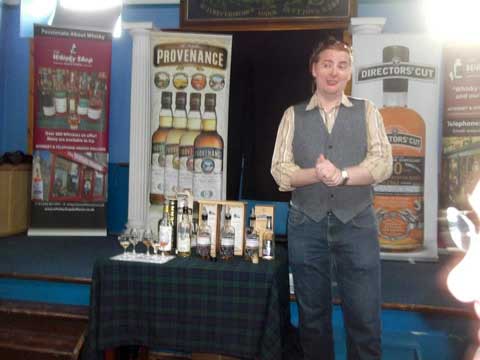 Jan Beckers from Douglas Laing

1996 DC Springbank, at 58.2%abv, from a sherry butt, was tremendous and I found salt, smoke, sherry, dark chocolate and a hint of fish on the nose. I could also taste coffee, toffee, treacle and wedding cake before a little smoke and burnt sugar to end with on a very mouth-coating dram. In contrast, a 15 year old DC Bowmore, at 52.2%abv, had come from a refill hogshead and had refreshers, salt and Murray Mints on the nose with smoked fish and vanilla flavours. Phil Yorke found notes of Earl Grey tea.
To end, we had 'Very Big Peat', at 46%abv, which is simply a gallon bottle of the popular 'Big Peat' blended malt. A testament to the skill of the blender, the peat is smooth and creeps up slowly as you go on with the taste and an audience member thought it to be an end of evening dram.
There followed a rather surreal episode as one nincompoop read the words 'Scotch Whisky distilled at North British Distillery' and announced indignantly that it was ambiguously named, possibly making him think that it was possibly Japanese but I brought him down, just in time, with a flying tackle to stop him annoying the rest of the crowd leaving a crater that can be seen from space.

Adelphi Tasting with Antonia Bruce
A packed house greeted Adelphi's Antonia Bruce as we began with a 1989 Clynelish, at 52.1%abv, which tasted of warm golden honey with a lovely waxiness characteristic of the distillery. The finish was very sweet and long and it passed its bead test magnificently, a sign of age. In a little history lesson, Antonia recounted the founder of Clynelish, the Duke of Sutherland, and his role in the highland clearances before telling us that Clynelish whisky was prized by blenders in the days of 19th century writer Alfred Barnard.
1986 Highland Park, at 47%abv, had heather, honey, salt and some smoke before serving up butter, toffee notes. Orkney peat comes from heather, apparently, and this gives it sweetness. Antonia told us stories of a cat sitting in the maltings floor at the distillery and of soldiers swimming in the washbacks during world war 2. A 27 year old Longmorn, at 53.2%abv, smelled of bourbon and buttered toast. This tasted of nuts; cereal and honey with a lingering peppery finish and was a dram to inspire poets and songwriters.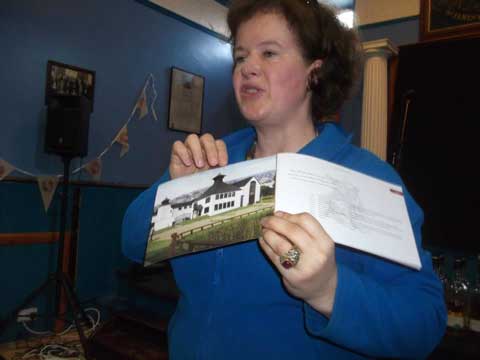 Antonia Bruce promoting not only Adelphi, but Ardnamurchan distillery as well

Antonia found a 21 year old Glenrothes, at 55.5%abv, explosive, having come from a refill sherry cask. There were fruit salad and syrup flavours while the Norwegian posse in the audience got red apples and the finish was long and fresh. Finally, a 1987 Bunnahabhain, at 44%abv, brought maraschino cherries and a little smoke to the mind of Antonia. The relatively low strength worked in its favour, making it gentle, luscious and velvety. Antonia got muscovado sugar at the end and this whisky is recommended with some 'Maya Gold' chocolate. As Antonia received a round of applause, she thanked Mike for inviting her, despite her waffling though my suggestion that she try pancaking instead was, on reflection, just a bit daft.

Robin Laing and Travel Retail Whiskies
Along with his popular songs and new edition of the 'Whisky River' book that now includes Roseisle distillery, Robin treated us to 6 whiskies exclusive to travel retail outlets. The best of these were the sherry matured Bowmore 100 proof with it's rich sherry and smoked fish flavours where peat broke through at the end and the An Cnoc 'Peter Arkle' travel retail edition, at 46%abv, which was spicy with aniseed and an attractive maltiness. Also tasted were Singleton of Dufftown 'unité, Aberlour 15, at 43%abv, Dalmore 'Valour' and Highland Park 'Einar'. As well as a number of his popular whisky-themed tunes like 'Whisky for breakfast', 'Special Sipping Whisky', 'Monkey Shoulder', 'A'Bunadh' as well as reading a few poems and playing the unfamiliar 'Guernica', a song inspired by Picasso's painting of the same name.
As usual, highlights from Robin's performance are available on both Facebook and www.youtube.com.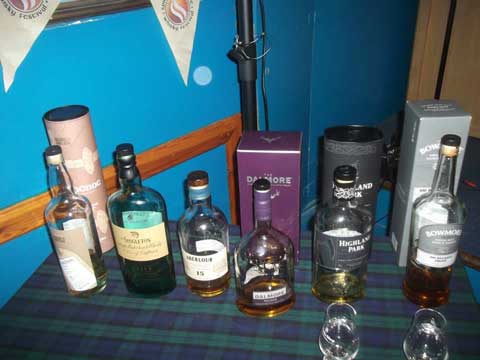 the drams served at the Robin Laing tasting

Balvenie Distillery Tour
Down at Balvenie, David Mair was our guide for the limited edition tour that is described in detail in my Autumn 2010 report. (Tours can be booked by contacting the distillery directly.) Balvenie malts a fraction of its own barley and David suggested there may be a 'Farm Reserve' release in the future, using this malt. Balvenie is a component part of the Monkey Shoulder blend, ironic, given that malt turning machines have been in place for 40 years, preventing the repetitive strain injury the whisky is named after though some Russian visitors decided to try turning the barley by hand, just for fun. The tour continued to the warehouse where Tun 1401 batch 9 was in place and where there is the chance to draw cask samples to fill your own 200 ml bottle from either first fill or second fill bourbon casks or from a first fill Oloroso sherry cask. Members of the online 'Warehouse 24' club are given the chance to draw some whisky from a 1974 refill bourbon cask and, with that, we headed to the tasting room. Our vertical tasting began with the widely available 'Doublewood' 12 year old that seemed lighter than of yore. The 14 year old 'Caribbean Cask', at 43%abv, had spent 5 months in rum casks, giving it burnt sugar notes along with spice and vanilla with the rum dominant by the finish. The 17 year old 'Peated Cask', at 43%abv, was the last limited release from Balvenie and the sweet, light smokiness flirted with the tastebuds before vanishing, leaving a creamy finish behind it. The new 17 year old 'Doublewood', at 43%abv, had spent 8 months in sherry casks and it's sweet, fizzy and chewy. The 21-year-old Ruby Port finish, covered extensively in my Autumn 2008 report, had spent 3 months in the port pipe and David noted that port can be matured for 30 years so the cask's effect on maturation of whisky can be very powerful.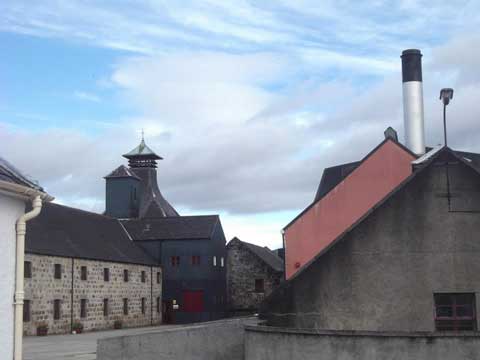 The Balvenie Distillery

We ended with the 1974 cask sample and David found strawberry oak and a hint of smoke while I found it particularly luxurious and cannot recommend this tour highly recommended tour enough and congratulate any reader able to obtain a bottle of this whisky, whenever it's released.

Diageo's hidden secrets by Donald Colville
Diageo's malt whisky brand ambassador Donald Colville brought along some personal favourites for the tasting. Donald is the 'face of the friends of the classic malts' and began by enticing several members of the audience to listen to their whisky glasses thereby demonstrating what you can get adults to do.
The festival bottling of Mortlach, at 48%abv, was invitingly rich and reminded me of the burnt sugar on the top of a crème brulee and it had a sweet, buttery taste. Donald is partial to non-age statement (NAS) bottlings as he thinks age can be a hindrance for a blender. He also warns of nose fatigue with whiskies and cures this by moving around from one whisky to another. Tasting the Cragganmore 21 year old, at 56%abv, was again a pleasure, having reported on it for the autumn 2012 festival and I inadvertently sparked a surreal interlude that began with silk pyjamas and ended with a burning wicker man. (I leave the reader to imagine the rest of what went on in the hall.)
A 1976 'Rare Malts' 23 year old Inchgower, at 55.6%abv, had foam bananas and syrup on the nose with light bourbon and toffee tastes. This range began in 1995 but has been superseded the special releases done each year. Inchgower is a Bell's whisky and, apparently, those distilleries are rather 'higgledy-piggledy' while J&B distilleries are far more orderly. Donald noted that a wood shortage in the 1970s and 80s struck the whisky industry and casks were filled at a higher alcoholic strength while American oak holds its alcohol content better than European oak does.
The new Talisker Port Ruighe (pronounced Portree), at 45.8%abv, is finished for 'as long as necessary' in Port pipes and its sweet and fruity and an ideal accompaniment for salmon. The new Talisker 'Storm', at 45.8%abv, is outselling the 10 year old and is Donald's favourite from the distillery. This is young whisky in heavily charred casks with the charring opening up the wood to give a tremendous intensity of flavour. The 25 and 30 year old versions will become permanent additions to the range while the 57 North will continue to be a small batch release.
As we tasted Donald's own Islay whisky festival 'Feis Ile' bottle of sherry matured Caol Ila 11 year old, at 60.4%abv, he treated us to his company's vision as they have built new distilleries, upgraded others and expanded the total capacity by several million litres and done so flexibly so as not to be forced to close should a downturn hit the industry. The future is assured for a number of small distilleries such as Oban, Lochnagar, Dalwhinnie and Glenkinchie as these are important visitor attractions; indeed Oban is their third biggest selling malt whisky. One final note is that Port Ellen, closed in 1983, is running out and it does get increasingly expensive to maintain old casks as time goes on.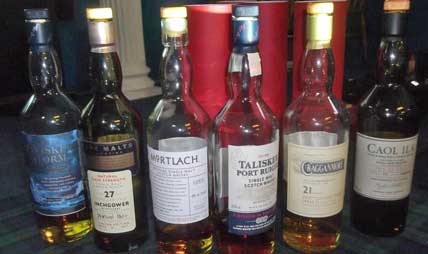 The Diageo's whiskies tasted during the evening

Creations for Cadenhead's by Mark Watt
Cadenhead's Mark Watt had recovered from an embarrassing incident where his liver had attempted to claim political asylum in Uruguay to preview his Creations range. (Well, it has been persecuted for years). The collection is taking shape and will be available worldwide while, currently, the company only sells whisky through its 10 outlets worldwide. Mark told us that he once been a bar in Sweden with adult movie star Ron Jeremy and I reckon this probably happened when Mark got lost on the way to Japan.
A 1994 Craigellachie, at 54.4%abv, will be in the 'Small Batch' range that will consist of 2-3 casks per bottling and, in this case, 1 bourbon and 1 sherry cask. I found vanilla and glace cherries while Mark got smoked ham and a chewy finish. Water unlocked both bourbon and sherry cask characteristics. Festival regular Danny Maguire found that water made it very mouth coating which cheered him up after his surfing trip to Nepal had inexplicably gone awry and he was savagely mauled by a shoal of mackerel.
A 1989 Cameronbridge grain whisky was 50% in the sample bottle but will probably be released at 46%abv. Mark doesn't think this is a session whisky, tasting as it does of butter, biscuits and vanilla, and reckons that just a couple of these is best at a time. Grain whisky was the subject of a debate in the early 20th century and one famous advert of the time said that Cambus grain had 'not a headache in a gallon'. Mark, however, will never find out if this is the case because he never drinks as little as that. He did recount a Danish convert to grain whisky who left with a case of it though Mark is unsure if he paid for it. Cadenhead's do have a large stock of grain whisky, mostly Cameronbridge and Invergordon.
A preview sample of a 20 year old blend, scheduled to be bottled at 46%abv, inspired Mark and I to recycle each other's jokes and still manage to get laughs. Composed of Mortlach, Bruichladdich, Invergordon and Cameronbridge, it had banana yoghurt notes as well as spice and sherry and the audience thought it deserved to be bottled at 50%abv. A 1970 Glenlivet-Minmore, at 53.5%abv, had coffee and treacle thick enough to play rugby on as well as dry leather and wedding cake. However, 1 drop of water did make it 'bowf', according to Mark and Danny. When bottled, this will represent a considerable bargain and retail for a small fraction of the price of a 1980 vintage distillery bottling.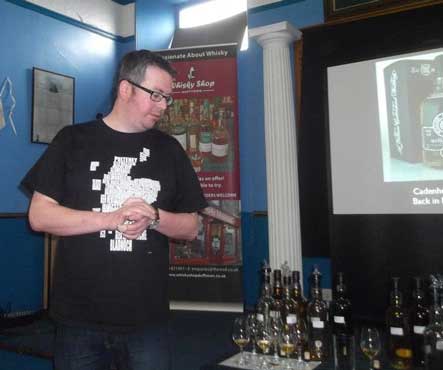 Mark Watt presenting his creations

We then cleansed our palates with a 1998 Bowmore, which had mints and soft peat and became effervescent and sweet with water. A 1988 Highland Park was taken from 2 sherry butts and had light peat, big sherry and a slight leatheriness to it. Mark said that it, if it were any bigger, you'd need a fork and knife for it while Danny got the taste of rich tea biscuits.
The drams party closed the festival with Mike announcing Berry Brother's 1974 Glen Grant won the Speyside challenge while Wemyss 1997 Clynelish 'Fresh Fruit Sorbet' had won the 'Rest of Whisky' challenge. It was left to vegetarian Val to announce that Glendronach 12 year old was voted the best whisky to drink with haggis while Glenfiddich Rich Oak 14 goes best with bacon.
With that, I'd like to thank everyone involved in organizing and running the festival and, in particular, Mike Lord and his wife Val, Vicky and Kirsten at the Whisky Shop, to Claire and Claus for the proofreading, to Rene, Glo, Steve and everyone involved with the 'Mates of the Museum'.
I'm off to read 'The Illustrated History of Catsuits' by Sarcophagus Moriarty, and I'll see you again at the autumn festival with an improved grasp of sartorial elegance and tastefulness.