Autumn Speyside Whisky Festival 2012
Report by Bruce Crichton

After reading 'Bungee Jumping for Crocodilians' by Torquemada McGeachie, I headed to Dufftown. Now with added bounce and snap, the Autumn Speyside Whisky festival was just what I needed and after several days of great whisky, food, music, dastardly upstaging attempts, uncharacteristic mercy, fancy dress, health and safety and the spectacular end to a legendary unbeaten streak, here is my account of it.

This report is not a definitive guide and may contain factual errors, for which I apologize in advance. Tasting notes are subjective and comment is added from experts present during note taking. Also, I make the reader aware that it's nearly impossible to present a tasting and report on it so notes are necessarily brief. To shorten the report, I refer the reader to previous reports and tastings when a whisky re-appears and have also assumed the reader is familiar with widely available bottlings mentioned. Any cask samples tasted are described briefly, since these are not available for the reader to buy. Finally, any water added was, literally, one drop and whiskies were 40% abv, if the strength is not otherwise indicated.

Whiskyshop Dufftown's own bottled whiskies
Warming up the festival on Thursday night was Whisky Shop Dufftown (WSD) owner, the invincible Mike Lord who was presenting his new range of mystery malts. (Mike has held own while standing on his head in a land where no human eye has ever set foot and that's not easy said or done.)

The three malts are designed to be easy drinking session whiskies. The 10 year old Speyside was a vatting of sherry and bourbon casks and was notably fruity in taste. The 21 year old, from a different distillery, came from refill sherry casks and had the taste of fizzy sweets. Both of these whiskies, in this writer's view, were probably components of a popular blend associated with the town of Dumbarton. The 10 year old Islay, at 43%abv, was amiably smoky though no toffee or mint notes were noticeable.

Also recommended and still available at the time of writing are the WSD exclusive 1994 Imperial and 1994 Benrinnes, both reviewed in Autumn 2011, and the WSD 1999 Adelphi Cragganmore, at 53.3%abv. Taken from a refill sherry butt that had Refresher sweets and Parma violet aromas, with a rich and velvety taste and classic sherry maturation notes, while the finish brought to mind Christmas cake and brandy butter.

Mates of the Museum
As usual, the 'mating' brought together old friends and new over a few civilized drams and Tomintoul Whisky Castle owner Mike Drury presented 3 single cask whiskies from his exclusive collection. The first of these was from Speyside Distillery and some 30 bottles were for sale to raise cash for the museum. A 1995 Mortlach, from Gordon and MacPhail (G&M), had been matured, unusually, in an Amontillado sherry cask and had a fruit syrupy nose while a Signatory 1995 Glenrothes was from a particularly dark sherry butt that gave it classic sherry flavours like rich fruitcake and toffee and a particularly long finish.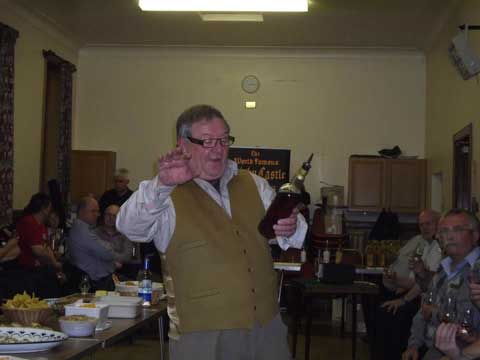 Mike Drury making his show
Tamdhu and Benriach bus tour
Our expert bus driver Charlie took us to the recently reopened Tamdhu distillery where Sandy Coutts was our guide. Now owned by Ian MacLeod, the distillery was built in 1897 before being extended in 1973 before being closed by then owners, Edrington, in 2010 but transferred to the current owners in 2011.

The once-famous Saladin maltings are now defunct but the distillery retains a thousand ton malt storage capacity that is very handy in winter. 11.85 tons of very slightly peated malt are used per mash and production of 4 million litres of alcohol is possible though current production is about half that. The new malt used is also slightly more heavily peated than that used by the previous owners.

A 74 hour fermentation takes place and six rather squat stills aim to produce a character that Sandy describes as 'fruity and fragrant' while a computer screen was available that showed the profile, temperature and filling status of the stills. The vast bulk of the spirit is filled into casks away from the site with some going to customers, some going to blends and the rest for single malt bottling.

Casks are filled at 69.8% alcohol, which has become the new norm for most distilleries, up from the previous norm of 63.5%. This saves space and casks, some 18000 of which are on site at any given time. Tamdhu is mostly filled into bourbon or refill sherry casks and, in the future, possibly 2 months production per year may be given over to producing heavily peated spirit.

Looking to the future, Ian MacLeod will be introducing 12 and 18 year old expressions next May and we rounded off the tour with a taste of the old, Edrington-released, non-age statement (NAS) bottling that was rather bitter and slightly winy, being only interesting in a historical sense as this release has long been discontinued. Much more like it was the G&M 2001 cask strength Tamdhu, reviewed in the Spring 2012 report, that is so smooth that a bucket of it can be consumed neat and with the greatest of ease.

With that, we bade Sandy farewell and headed to Benriach where warehouse manager Ewan George took us round the resurgent distillery that produced 2.2 million litres last year, up 600,000 from the previous year. About 500,000 litres of this were unpeated spirit and 200,000 litres were peated spirit for their own use and the rest going for blending and customers. Ewan noted that the distillery was opened in 1898 and closed in 1900, reckoning that, if the maltings were 500 yards closer down the road to neighbouring Longmorn distillery, Benriach would have been demolished long ago as the maltings fed Longmorn.
Peated spirit production is carried out at the start of the year to get it through the system and the non-peated spirit, at 67.9%abv, has a light, floral character with notes of cereal while sister distillery Glendronach is thick and heavy. The distillery swaps spirit with other distilleries for blending and vatting, demonstrating the keen acumen that has made Scotch whisky what it is today. Other spirit is filled at Tomatin distillery for third parties.

Benriach inherited extensive stock from previous owners Chivas and there followed a tour of the warehouses and the casks sampled included a 1978 ex-sherry butt that had been split and filled into two octaves casks: one virgin oak and the other ex-bourbon. Another 1978 vintage cask had been filled into a third fill bourbon cask and was still in the high forties in its alcoholic strength. A 1975 vintage had been put into a second fill sherry cask while a 1977 vintage had spent 5 years in a rum cask that, according to Ewan, lightens its colour and draws sugars from the cask. After that, we had a delicious 1984 cask of peated whisky, in the low fifties in strength, with the eventual destination likely to be the current 25 year old 'Authenticus' bottling, given Benriach's policy of over ageing their casks.
Tasting straight from the cask at BenRiach

We ended with the exceptionally sweet, light and effervescent 20 year old standard bottling, at 43%abv, and some of the award winning 25 year old, at 50%abv, vatted together from bourbon and oloroso sherry casks to give it a luxurious and velvety texture with rich sweetness and Turkish delight to taste.
Gordon and MacPhail's Tasting
The first Whisky Shop Dufftown (WSD) tasting began with owner Mike Lord making his health and safety announcements in his hi-vis jacket and luminous yellow hardhat. (Health and safety when you're invincible? That's perplexing). After that, Mike Patterson from Gordon and MacPhail (G&M) began with a 1993 Connoisseur's Choice (CC) Craigellachie, at 46%abv, the standard strength for future CC releases. Matured in remade, refill bourbon casks, it had sweet, floral, grassy aromas with hints of Refresher sweets and Parma violets and Mike Patterson considers it to be a very good aperitif.

A 1990 Speymalt from Macallan distillery, at 43%abv, from first and second-fill sherry casks was lighter to taste than nose with characteristic treacle and Bovril flavours and smells while a 2005 Benromach Sassicaia finish, at 45%abv, had fizzy violet sweets on the nose and this changed as the whisky was allowed to breath. It had a hint of smoke and some red berry fruitiness. Sassicaia is a highly prized Italian wine and this had spent 29 months in these casks, having begun life in bourbon and sherry casks.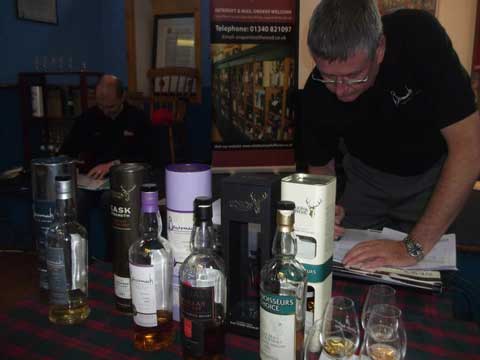 Mike Patterson (right) and Mike Lord (left, back) preparing the Gordon & MacPhail tasting
A 1991 Linkwood, at 54.3%abv, was taken from 2 first fill sherry casks and had both bubble gum and honey on the nose with a rich, fruity taste as well as wedding cake, honey again and a hint of smoke that persisted through the very long finish. Danish festivalgoer Morten found it to have cedar wood notes.
We ended with batch 4 of Benromach Peat Smoke, at 46%abv, which was peated to 35ppm as opposed to the forthcoming release at 53ppm. Mike Patterson reckoned this was the best batch yet and it is far lighter than the figures would indicate with some deliciously sweet vanilla and smoke throughout.
Mark Vs Bruce 2: the sequel
Last autumn's Mark Vs Bruce demanded a sequel and so it was that, for the second time, I challenged Mark Watt, the man who drinks twice a year: once on his birthday and once when it isn't his birthday. Sequels rarely surpass the original but this one did as both of us performed far better than before.

The foot was once again on the other hand as I entered first, to the sounds of Van Halen, and Mike Lord asked me, through the microphone, was I confident of victory? "Yes and no" I replied before a seemingly inexplicable pause as I waited for my opponent to enter. Suddenly, the delay made sense as Mark entered to 'Imperial attack' from 'Star Wars' and dressed in a Darth Vader costume in an audacious attempt to upstage me which might have worked had I not already formulated a plan one day after last years' event.

I began gently with the Auchentoshan Valinch, at 57.5%abv, which is Auchentoshan 'Classic' before it is chill-filtered and diluted, noting that I'd never needed to add water to this dram though festival regular Danny Maguire found that it could take a lot of water, making it ideal for his forthcoming walking holiday through the streets of Venice. Moving on to the 2006 Bruichladdich Islay Barley, at 50%abv, I pointed out that this is the second in a series of limited releases where the batch is produced from one field on Islay. (This bourbon cask matured 'Laddie' has been so successful that it had sold out worldwide very quickly.) I then unleashed my plan of stealing Mark's act, condensing it down to no more than 2 minutes and adding some embellishments of my own. Highlights include beginning with '50/50/50', 'Happy days' and 'Cask is King', continuing with 'Imperial', 'Caperdonich' and 'Macallan', before 'I was in a bar in Japan', 'licking a fencepost' and ending with 'Duncan Taylor promotes responsible drinking (laugh up sleeve)'.
Arran 12 year old cask strength, at 54.1%abv, was taken from first and second fill sherry casks and was 1 of 12,000 bottles released. I found it particularly light and sweet and a comment of 'Marzipan' from one of the audience was a very good call. Electing to keep the comedy going, I condensed my own act down to a couple of minutes and talked about myself as if I wasn't in the room, something the crowd found surreal.

Keeping the sherry theme going, Aberlour A'Bunadh Batch 42, at 60.3%abv, led me to admit that most of the audience knew more about this particular release than I did though I noted that I hadn't been the biggest fan in the past, my taste buds had grown used to the flavours present. I recommended to the audience members who found this too heavy is to take one measure of Aberlour 12 and add one measure of A'Bunadh to give Aberlour A'Brucie, since A'Bunadh does not really improve with water. Anyone who had not tried the combination of 'Maya Gold' chocolate with A'Bunadh and wanted to was told to get their own as we weren't at school and I didn't have to bring enough for everyone.

I ended with the mystery Islay malt Finlaggan, at 58%abv, and invited the audience to guess which distillery it came from. Finlaggan offers a big peat punch at cask strength for little money and I revealed that my own question about the distillery had received the response 'Sod off and mind your own business, Baldy.' I then asked the unprecedented question "Does anyone think this is mingin' and, if they do, can I finish it for you?" Unfortunately, there were no takers so I recorded one word (Blast!) in my notes and bade the audience farewell. I was then surprised to learn that the 15 minutes I thought I had been on for had, in fact, been 35 actual minutes for everyone else, such was the rush of adrenaline I experienced.

Slightly rattled by my stealing his act, Mark began with the Benromach Organic Special Edition, at 43%abv, to illustrate his theme of 'Cask is King'. Matured in virgin oak, this edition has 14ppm of peat and was rich, sweet, slightly smoky and virtually identical to previous releases of the 'Organic' though, unusually for Benromach, the peat didn't really compliment the rest of the flavours.

Warmed up now, Mark treated us to a story of a cask of Teaninich he described as 'bowf'. (Bowf is a scientific, technical term in frequent use in Scotland). His description of the taste was unrepeatable in these pages and this whisky had been re-racked into port, sherry, rum, ale and port again, still ending up as 'bowfin', despite these Herculean efforts.
Having spent his spare time mastering 'PowerPoint' presentations, Mark showed a diagram that demonstrated the influence of the cask on whisky as opposed to 'other stuff' as we moved on the widely available Auchentoshan 'Three Wood' that starts maturation in bourbon casks before being transferred to Oloroso sherry casks for a year and then Pedro Ximenez (PX) casks for another year. Still a smooth and velvety dram, Mark confessed that he had toyed with choosing the Valinch before going with this. He and I then speculated what a 'Valinch three wood' cask strength release might taste like.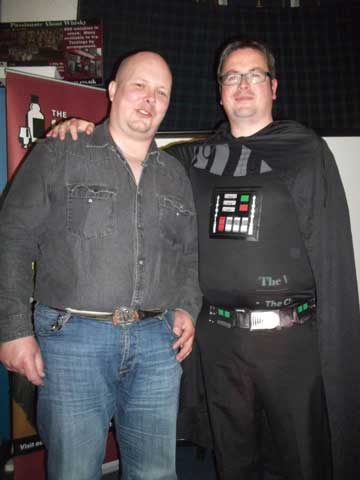 The two protagonists: Bruce Crichton (left) and Mark Watt (right)

We tasted Springbank 'Rundlets and Kilderkins', at 49.4%abv and which was christened 'Rumpelstiltskin' by Mark. A rundlet is a 65 litre cask and a kilderkin is 85 litres and maturation in these smaller casks had given the whisky far more flavour than its 10 year official age would indicate, indeed, expert Frank McHardy thinks it tastes between 5 and 7 years older than that, albeit at a cost of high evaporation from the cask at around 7%. This was, perhaps the find of the contest and possibly even the entire festival and similar releases are planned for Hazelburn and Longrow. (Also, Mark is hopeful of making a 'Japanese Oak' finish with Hazelburn whisky as he finds that such oak adds a tremendous amount of flavour.)
Drawing on his seemly inexhaustible well of incredible stories, Mark told us of an escapade in the Highlander Inn with a pint of Lagavulin that he hadn't managed to finish at 7:30 am as we tasted the widely available and still dependable Laphroaig 'Quarter Cask', at 48%abv. The QC spends between 5 and 7 years in ex-bourbon casks before 7 months in the quarter cask which is 125 litres in volume and gives approximately 60% more spirit to wood interaction.

Finally, came 'faking it' in the form of Cu Dubh, distilled at the Speyside distillery in Kingussie and released by a Danish company to replace Diageo's Loch Dhu release of the mid 90s. Loch Dhu failed completely but gained a cult following, just as this has done, judging by the glowing tributes that Mark had found in his research. (Mark remembers passing a thimble of the Loch Dhu round 4 people and still having some left.) Cu Dubh translates to 'Black Dog' and it is not only dastardly but Muttley also.

Supposedly, Loch Dhu's colour came from a 'unique charring process' but was, in fact, the result of spirit caramel. In this regard, Mark viewed the Cu Dubh as far more honest as it admits that the colour is from the vast addition of some 714ppm of caramel. As such, it tasted of dodgy Ribena and Sodastream syrup. It was so disgusting, I couldn't finish it and so ended an 11-year, 23 festival unbeaten streak that began when Pittyvaich distillery still stood and I still had hair, of being able to finish every whisky.

After that, it was time for a straight show of hands for the winner and I was conclusively defeated though Mark put his hand up for me to win. However, despite this, we were both winners having entertained the audience so thoroughly and having far surpassed our previous efforts.

Glendronach distillery

Saturday morning brought a bus tour to Glendronach with Charlie again being our driver and Hannah being our guide for the tour, which has been partially detailed in the Autumn 2009 and 2010 reports.

15% of malting is carried out on site with the rest from Portgarden on the Moray coast. Walking round, Hannah recounted how the distillery used to use peated malt before the advent of the railways meant that coal was used instead.

After that, the great Alan McConnochie took us through the warehouse, telling us that some countries, such as Taiwan and Belgium like Glendronach fully matured in bourbon casks, and with good reason, in this writer's view. A 2009 cask sample was drawn and, despite not being legally whisky, it showed great promise and a sweet, fruity taste. Another sample from a 650 litre Port pipe contained whisky filled into a bourbon cask in 1995 before it's most recent year being spent in the port wood. Finding it dry, Alan reckoned it will spend some 6 further months in there before bottling. Alan also noted that there are about 40,000 casks on site and that warehouse workers all apparently have the memory of Robocop. Finally, a sample from a 1972 Oloroso cask was velvety in texture and to taste of chocolate orange.

In the visitor's centre, we had a lovely 2002 bourbon cask sample that tasted of vanilla and light, golden honey while some 2010 spirit produced from malt at 38ppm phenol had both smoke and bubblegum notes.

The 14 year old 'Virgin Oak Finish' was one that Alan didn't think would work but did so beautifully, with sweet light honey as well as both pineapple and citrus notes and Pat Lunn viewed it as a summer whisky.

Alan likes to bottle older whiskies at higher strength and the 21 year old 'Parliament', named after the collective noun for rooks, is 48%abv. Having begun maturation in bourbon casks, it was re-racked into both Oloroso and PX casks that gave it coffee aromas and is recommended to any nosing experts reading. This dram is possibly the last word in luxury, tasting of syrup, treacle, hazelnuts, trifle and chocolate.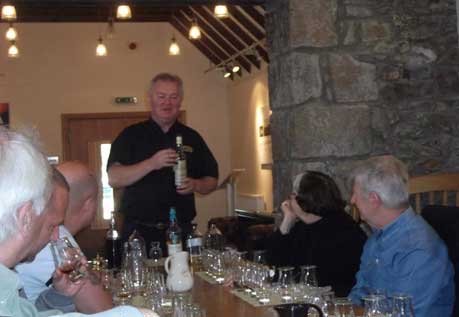 Alan presenting the 21 YO GlenDronach Parliament

An inspired Alan was in full flow by this time as he had warmed up the 1972 sample he had taken earlier and found both winter fruits and strong berries. His view is that every distillery has a year and Glendronach's is 1972 though he didn't disagree with my view that 1993 was also the distillery's year as vintage releases from that year are particularly to my taste.

After Alan read a little poem of his and we nosed and tasted a 1968 sample that had spent its last 15 years in a sherry cask, Stephen Lunn paid eloquent tribute to him. Next year, Alan will have been in the industry for 40 years but, on reflection, my suggestion that he celebrate with Scotch was just a bit daft.

Before departing, I add that Glendronach launched 8 year old 'Octarine', at 46%abv at the same time as the 'Parliament' and no home should be without its light, sweet, fruity and silky tastes.

A packed house for Glenglassaugh with Susan Colville

The Masonic Hall was crammed to the rafters, and not with tree frogs either, for Susan Colville who had jumped ship to Glenglassaugh distillery and was presenting some of their very first legal whisky since reopening in 2008 as well as other single casks from before the distillery's closure in 1986.

Glenglassaugh's history is covered in the Spring 2011 report and, since then, a visitor's centre has been put in place and tours are available by appointment. Closed between 1907 and 1960, an effectively new distillery was built that year and Susan describes the architect as being 'happy at work'. The distillery character, according to Susan, was heavy, oily, sweet and citric and, therefore, not ideal for a component of owners Edrington's blends such as Famous Grouse and Cutty Sark.

Revival, at 46%abv, is bottled on site, like all releases, and contains 2008 whisky matured in refill bourbon, refill sherry and red wine casks. Interesting as a work in progress, I found it to be light, youthful and with a winy taste. The 'Revival' will be available for 2 years and will be replaced by a 5 year old expression and, following that, an 8 year old.

Glenglassaugh (GG), as yet, has not got what is known as a house style as opposed to, say, Macallan distillery and this allows the distillery freedom to experiment with small batches.
A preview sample followed of the forthcoming 'Evolution' bottling that will consist of 6000 bottles taken from casks that held George Dickel Tennessee whiskey and will be at 59.6%abv. Even at this young age, the whisky demonstrated a magnetic affinity for such casks and, presumably, would do so with bourbon casks also. I found this to be creamy with vanilla and honey notes and decided to tell Susan that, despite the whisky being called 'Evolution', I wasn't going to talk for 45 minutes about wildlife – her face was an incredible combination of relief, surprise and perplexity at this news.

The GG 26 year old, at 46%abv, contains some 29 year old whisky due to limited stock and has been taken from refill sherry casks. Susan believes it to be clean, fresh and vibrant. Very well rounded and a very good yardstick for the distillery. I found it to be a light, elegant dram. Interestingly, of GG's limited stock, 3 of the casks will turn 50 years old in 2013.

A 1978 single cask from the 'Massandra collection', at 44.8%abv, had been finished in Madeira wood. Massandra is a Ukrainian winery that, in the past, was prized by the Czars. 24 casks were purchased with 5 styles available, including sherry and ruby port. Casks that had been considered tired were given an 18 month reviving and the remainder filled with young GG spirit. This bottling had sweet berry flavours and Susan gets tropical fruit from it. Apparently, it would not have been bottled before the finish was applied.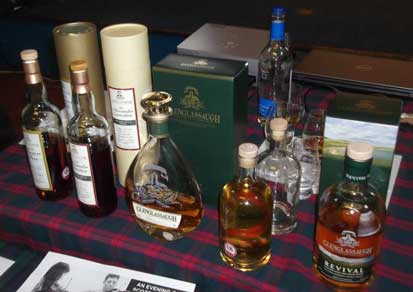 The Glenglassaugh Line Up

At this point, Susan asked if there were any questions and my response of 'not any sensible ones' was probably as good as she was going to get.

The final pick was a 1976 vintage, at 49.6%abv, taken from a first fill sherry cask was one of the 'Chosen Few' range and was picked by Ronnie Routledge. There are 14 distillery staff and each one will be able to pick one of these for bottling. Susan thinks that GG's character suits refill sherry casks and this one had all the classic Christmas cake flavours that one associates with such casks.

Aberlour Founder's Tour
On Sunday afternoon, it was time to take the Founder's Tour at Aberlour distillery with the lovely Jennie to guide us. Work was begun at Aberlour in 1879 by founder James Fleming, a tremendous local benefactor after whom, the distillery's Fleming Rooms are named. Indeed, the rooms are built on the site of the original maltings and it was there that we had some of the 12 year old, at 43%abv. This bottling is smooth, creamy and very easy-going and is vatted from 80% bourbon casks and 20% sherry casks.

The stern-looking Mister Fleming was not physically strong enough to become a farmer and, instead, became a grain merchant and then, later, a bank manager. Fleming also took out a lease on nearby Dailuaine distillery and gained valuable experience that way. Aberlour was sold to Robert Thorn and son in 1892 but Fleming was kept on for 3 more years until his passing in 1895 when money was left to the village and paid for a bridge over the river Spey that is still in use to this day. The distillery changed hands periodically until 1974 when current owners Pernod (Chivas) took over. (One previous owner released a 'Dimpled' bottling that resembles another blended whisky produced by the competition.)

As we walked round, Jennie told us that Aberlour is the seventh best selling malt in the world and the number one in France. It produces 3.5 million litres per year and is in '24/7' production.
Pausing to look at historical photos, we found a shot of 1921 distillery workers and discovered that dogs were used as rat-catchers in those days, as opposed to the legendary cat at Glenturret distillery.

12 tons of barley is used per mash and there are four stills. Technicians are given training at nearby sister distillery Glentauchers. Spirit is tankered and filled in Keith and there are some 25,000 casks on site as opposed to 1,500,000 at Mulben and 500,000 at Keith.

An insightful tutored nosing of the spirit was given, making the difference between the head, heart and tails of the spirit became apparent. Indeed, the 'head' can kill, blind or make mad the incautious drinker, something that was a definite hazard for illicit distillers in days of yore.

We were given 4 chocolates to go with our 4 drams, the first being a sample of new make that revealed cereal upon a drop of water. Norwegian expert Geir Haug fondly describes the 18 year old, at 43%abv, as 'the A'Bunadh all grown up'. Taken from 20% bourbon casks and 80% sherry casks, it had apricots and apples on the nose and a classy rich, sweet and fruity taste followed by a long, warm and spicy finish.

The first of two distillery exclusives was a 16 year old bourbon cask that visitors are allowed to fill their own from. With banana foam sweets on the nose and taste and delicate sweet vanilla, Jennie accurately describes this as a summer whisky so it's best consumed in a country that occasionally has a summer.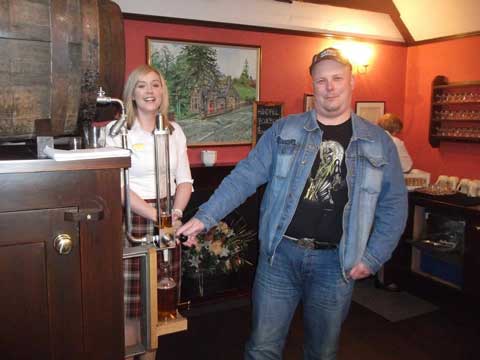 Bruce filling his own bottle under the watching eyes of Jenny Hastie


By contrast, the 16 year old Oloroso sherry-matured 'fill your own' dram is best described as 'A'Bunadh goes to the gym' and the gym had clearly worked very well as it had more refinement than its younger alter ego and had the usual classic sherry flavours such as fruitcake, toffee and more.

A bonus dram came from a 2006 cask that was particularly rich and full flavoured and only revealed its youthfulness at the very end, perhaps indicating that it will be used in an upcoming 'A'Bunadh' batch.

Adelphi Tasting with Antonia Bruce

Adelphi's Antonia Bruce presented 1 official bottling (Tamdhu) and some samples of upcoming releases that may be bottled by the time of publication. A 1992 Longmorn, at 55.1%abv, had some rich bourbon on the nose with more bourbon on the taste plus malt, vanilla, honey and nuts. Antonia thinks this is much sweeter and not as drying as the sister cask reviewed in Spring 2010.

The latest news on the Adelphi distillery in Ardnamurchan is that the first hole has been dug and flint stone was found. It is still hoped that production will begin in the autumn of 2013.

1995 Tamdhu, at 58.8%abv, was taken from a refill sherry butt and Antonia views it as an aperitif. A drop of water revealed butterscotch, caramel and toffee sauce notes on the nose and taste with the finish being dry, featuring some bitter coffee and dark chocolate flavours. A 1997 Macallan, at 51.6%abv, had been matured in a refill sherry cask and water made it particularly creamy. Antonia found some cherry liqueur notes while an audience member found fruit jelly. The nose was also creamy, rich, fruity and chocolaty while the finish was very long and spicy with some stewed fruits.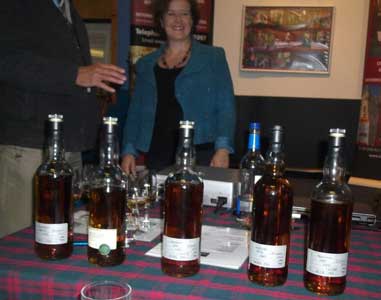 Adelphi tasting: Very sherry

A 1965 Lochside 'single blend', at 54.6%abv, was from a sister cask to Autumn 2011's release and entered the realm of legend with the greatest of ease. This had retained its alcoholic strength by the grain present that dominated the nose. The taste was surprisingly youthful and very fruity though the grain emerged later. Fruit trifle and wedding cake followed in a magnificent finish. Lochside, the long closed Montrose distillery, had a very pure water supply and had the same owner as Ben Nevis distillery who had also filled single blends of 50 percent malt and grain into casks.

Finally, a 2000 Bowmore, at 56.1%abv, from a sherry cask had toffee, smoke and Murray mint aromas with a gently smoky tasted that hinted of ham and the subtle finish was also lightly smoky and sherry sweet.

Scottish Classical Music with Paul Anderson and Shona Donaldson

Making their festival debut were Aberdeenshire's Paul Anderson and Shona Donaldson. Paul and Shona both play the fiddle and Shona sings a number of traditional songs about Aberdeenshire. Many of the tunes played by Paul and Shona were written by James Scott Skinner who was the first Scot to record music and who, at the age of 12, played for Queen Victoria. Such was his fame that some 40,000 people lined the streets of Aberdeen for his funeral. Deeside's Peter Milne composed other tunes played and Paul drew attention to the fact that Deeside was a notoriously wild area known for illicit distilling in previous centuries. Historic feuds between the Gordon and Forbes families also provided the source material for part of the evening's music and Paul also played a Pibroch that he had himself wrote.

At strategic points in the evening, Shona took centre stage and sang songs about 'Noble Huntly', the 'Burn of Auchindoon' and 'Adieu to Bogieside' and a fine evening was had by all and the reader is recommended that like the writer, they should not miss this event should Paul and Shona appear in Dufftown again.

(Clips from Paul and Shona's performance are available on both Facebook and www.youtube.com.)

Cragganmore Distillery Tour

Cragganmore distillery, is one of 17 Speyside distilleries owned by the mighty Diageo and Catriona, our guide, told us that the maltings at highland distillery Glen Ord provides both peated and unpeated malt.

John Smith, who had been at Glenlivet, Macallan and Glenfarclas distilleries and who knew exactly what he wanted to achieve, established Cragganmore in 1869. It uses 6.8 tons of barley are per mash and the water source is in the nearby Cragganmore hills. Currently in '24/7' production, the washbacks are made from Scottish larch and Douglas fir wood and worm tubs are used in distillation. The 4 stills are fairly squat and two have a 'sawn-off' look about them. Up to 90% of the 2 million litres per year production is used for blending with some 5000 casks being held at the distillery.

A tanker comes twice per week and filling takes place in the lowlands with casks being sent to other Diageo sites across Scotland. Unusually, most of Cragganmore is filled into sherry casks though the single malt is filled into bourbon casks that Diageo reckon gives the single malt its character.

Heading to the club house that used to be the cooperage, we tasted the standard 12 year old version that was light, smooth, fresh and floral though without the trademark light smoke that used to be present. A 1997 Distiller's edition had spent some months in Port Pipes that gave it a tremendous fruity flavour as well as some cake icing that would make it, in this writer's view, a tremendous session whisky.

Finally, we tasted the 21 year old limited release, at 56%abv that had been matured in refill bourbon casks and was one of 6000 bottles. The nose had both vanilla and honey and it had a creamy and banana-sweet taste with some light smoke appearing at the very long finish.
(The reader who can obtain a bottle of this is to be congratulated and is invited to compare it with the Sherry matured WSD bottling reviewed earlier).

Scottish Liqueur Centre

Deserving of a much wider audience is the Scottish Liqueur Centre, just outside Perth, and Peter Mackay presented a strong case for such a belief. The Mackay and Morrison families who have lengthy connections with the whisky industry and, in particular, Bowmore distillery own the centre and, despite being relatively new to whisky, Peter reckons he can pick out Ben Nevis - our first dram. This 1996 Carn Mor release was at 46%abv, standard strength for the range. Spice, cinnamon, ginger and syrup notes were present and the finish was particularly long. It is also worth noting that this proved exceptionally popular with the audience, most of whom are not fans of the distillery bottling.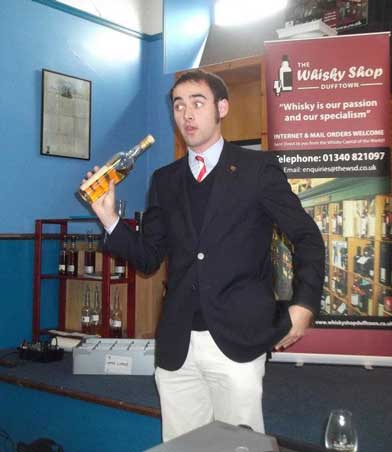 Peter making the show

Peter asked for some audience input and was fortuitously rewarded by my noting that a 1996 Carn Mor Speyside, also from a refill sherry butt, had butter and toffee sauce on the nose and tasted like sticky toffee pudding throughout. The Speyside distillery had been sold recently to Harvey's of Hereford and will provide whisky for the far eastern market.

Peter told us that, historically, sherry casks had often ended up in Perth and, not coincidentally, Perth is the home of many popular blended whiskies. 1984 'Celebration of the Cask' (CotC) Benrinnes, at 57.6%abv, had come from a sherry puncheon that Peter reckoned might have contained Fino. The nose had vanilla, cut grass and lemon and the same again on the taste while the finish was tremendously long, warm and spicy.

By contrast, 1983 CotC Dailuaine, at 49.9%abv, came from a bourbon cask and had some lemon meringue on the nose and vanilla, sponge cake and buttered toast flavours.
Those present were amongst the first ever to taste the 9 year old Carn Mor Bowmore that had been finished, for two months, in a PX cask that Peter's father had journeyed to Spain to collect and he also told us of a dedicated distillery worker that had the distillery tattooed on his arm. At the start of the session, this had smelled like classic Bowmore with toffee and mints but an hour's breathing had made it resemble fellow Islay malt Caol Ila with smoked fish notes and a salty, medicinal finish that Mark Watt thought resembled 1960's Bowmore. Interestingly, Peter reckons that Bowmore put him through school.

A new dawn for Cadenhead's with Mark Watt

Now with Cadenhead's was Dufftown's strongest and most modest man Mark Watt, who, it turns out, had been carrying an entire company on his own for the past 5 years without telling anyone.
Mark presented a series of preview samples for which bottling was by no means imminent though it was still a privilege to taste them, all the same. Mark has been charged with creating a new range for the company and this range will sell outside the United Kingdom.

Mark invited us to comment on whether we thought the samples should be bottled at 46% or at cask strength and we began with a light, fresh and grassy 1996 Glengoyne that took water and offered some citrus notes on addition. Mark also told us the story of presenting someone with a business card to be told that his company 'didn't exist', something that baffled him. Also baffling was Mark's warning to 'watch what you're stealing from the Internet' as he showed a picture of an oil rig that was supposed to be a picture of Invergordon grain distillery. Our stunning 1991 vintage sample had come from a refill sherry cask. Chewy and oily with treacle toffee and many other flavours and it sparked a discussion between Mark and Stephen Lunn about maturation of grain spirit that drew the observation from Mark that grain whisky is rarely filled into an active cask, hence it often takes decades before it becomes great whisky.

There followed a potted history of William Cadenhead's and Mark said it made a change for him to know who the founder of the company was, while this writer asked if it was also a change to work for a company whose distilleries actually exist. Robert Duthie succeeded William Cadenhead in 1904 and did a sterling job for the company before tragically meeting his end under a tram in Aberdeen in 1931, something that would never have happened had he lived in Edinburgh. (The 'Duthie's' range of whiskies will soon be ended, Mark also told us). A series of owners followed until the early 1970's when current owners J and A Mitchell took over, having owned Springbank distillery since 1828 and who also own Glengyle distillery.

A 1976 Banff was 'proper old school whisky' according to Mark. With rich honey and golden syrup tastes, this marvelously sweet dram is apparently typical of the whisky produced by the long gone and historically flammable distillery. Indeed, it had caught fire many times before finally closing in 1983 and the remains were demolished by another fire in 1991. Banff was bombed during the second world war and the casks were smashed and thrown into the local water supply, getting the cows so drunk that they couldn't stand up and milking them later yielded the recipe for Bailey's. Annoyingly, the firemen who extinguished the fire were prosecuted by the exciseman for drinking some of the maturing spirit.

A 1977 Convalmore was spicy but became more honey-sweet with water while a 1992 Mortlach, from a sherry cask, was far lighter that the age would suggest with Mark describing it as 'Diet Mortlach'. Water was most definitely not needed here and the consensus was that is should be released at cask strength.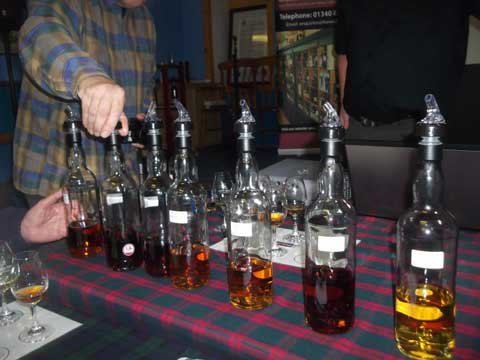 Cask samples from Cadenhead's

A 1977 Caperdonich was not quite Mark's favourite from the distillery but was still charming with WSD's Vicky describing it as tasting of 'fresh apples' though water made it more orangey. Mark's beloved Caperdonich is now gone but its stills have been sold to the 'Belgian Owl Distillery' in 'Belgiumland' who will begin production in 2013 and who offered Mark the chance to buy a cask at an eye-watering price.

We ended with a 1991 vatting of Caol Ila and Bowmore that had Mark recounting the book 'Whisky Miscellany' by Ian Sillen who was not aided by Diageo in the writing of the book, leading him to describe the company as 'owning Gleneagles Hotel and some distilleries'.
The drams party closed the festival with Mike donning his helmet and vest to announce that Johnnie Walker's Platinum had convincingly won the 'blind blends' competition ahead of 5 other blends.

With that, I'd like to thank everyone involved in organizing and running the festival and, in particular, Mike Lord and his wife Val, Steve Oliver, Charlie the bus driver, Vicky, Barry and Kirsten at the Whisky Shop, to Claire for the proofreading, to Rene, Glo and everyone involved with the 'Mates of the Museum' plus Hiroyuki and Haakon for the photographs.
I'm off to read 'Dolphins in your Rhododendrons' by Hawaii Hans Van Treeroot, and I'll see you again at the spring festival when I'll no longer be perplexed by marine horticulture.