Autumn Speyside Whisky Festival 2011
Report and photographs by Bruce Crichton

Having read 'Aardvarks in your wardrobe' by Agamemnon McWhirter, I headed to Dufftown. No longer perplexed by this household pest, the Autumn Speyside Whisky festival was just what I needed with several days of great whisky, great food and an electrifying tasting contest. Here is my account of it.

The reader is cautioned that this is not a definitive guide and I apologize in advance for any factual errors and note that tasting notes are subjective with comment added from expert tasters present during note-taking. To shorten the report, I refer the reader to previous reports and tastings if a whisky has re-appeared and also assumed the reader is familiar with any widely available bottlings mentioned. Any cask samples tasted are described briefly, since these are not available for the reader to buy. Finally, any water added to a whisky tasted was, literally, one drop and whiskies were 40% abv, if the strength is not otherwise indicated.

Mates of the Museum
Thursday night saw the 'Mates of the Museum' bringing together old friends and new as retiring festival bus driver and recognized genius Mike Hendry was presented with an award and applauded by several foxes who remember Mike teaching them cunning when they were young.

Auchroisk tour
Pausing on Friday morning to teach a young Norwegian lady the words 'Baldy', 'Cue ball' and 'Slap head' using a handy prop that I keep with me at all times, I headed by bus tour to Auchroisk distillery where Paul Hooper of Diageo, took us round. This tour was more extensive than the spring festival visit and Paul noted that Auchroisk uses Optic, Oxbridge and Forensic malt produced at nearby Burghead, and produces grassy spirit as well as the more familiar nutty character new-make, an unusual feature though a few Diageo sites can produce two or more spirit characters by varying the fermentation time. Less than one per cent of the whisky produced there is bottled as single malt with the vast bulk going to the Johnnie Walker and J & B blends. With the capacity to produce 3.7 million litres of alcohol per year, from 8 very tall stills, the distillery expects to go to 7 days a week production next year. Extensive tanking and warehousing facilities allow spirit from nearby Diageo distilleries to be transported by tanker to Auchroisk where Diageo also warehouse whisky for Chivas, with Chivas doing the same for them nearby. As luck would have it, new make spirit from sister distillery Inchgower arrived during our visit as Johnnie Walker Green Label and Glen Ord mature spirit departed for bottling. Instructive, also, was a demonstration of an 'Anton Paar' machine that measures alcoholic strength.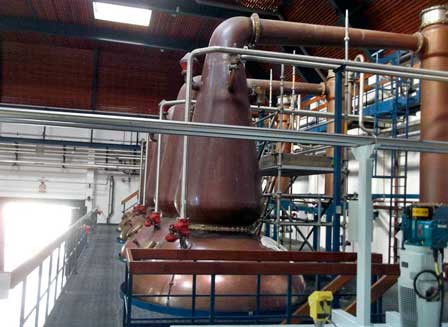 A partial view of the still house at Auchroisk.


At the blending hall disgorging unit, casks are emptied, and whisky blended and reduced before being sent away by tanker for bottling, while the 'rubbish' is filtered from the casks and the filters are cleaned three times a day. Chill-filtration takes place at the bottling hall. Also used is a colour measurement device that checks the activity of the casks in use.

Rounding off was a promotional DVD narrated by Robert Carlyle and then Erin took us through a tutored tasting that began with the 10 year old bottling from the now discontinued 'Flora and Fauna' range reviewed in the spring 2011 report. Next we tasted the popular Mortlach 16 and found it in fine form though lighter than old with treacle and Christmas cake on the nose, a sweet and spicy middle, and with a warm finish with a little smoke. Next was the Talisker 10 year old, at 45.8%abv, of which more later, before we ended with a taste of Johnnie Walker's 18 year old 'Gold Label' straight from the freezer (!) which is best rolled on the tongue for the full velvet, honey and spice effect.
Gordon and MacPhail
Mike Patterson from Gordon and MacPhail (G&M) opened with a 1997 'distillery label' Strathisla, at 43%abv, matured in refill sherry casks. This had fruit syrup, Wham bars and Parma violets on both nose and taste before a short finish. As we tasted this, Mike showed us samples from the feints, foreshots and middle cut of Benromach new make spirit which had both fruit and cereal aromas, noting that the cut is of crucial importance as, should feints get into the cask, the taste will never go away with maturation. Benromach Burgundy finish, at 45%abv, had spent 7 years in wine casks as Mike reasons that there is no point in finishing if it does not influence the final taste. This elegant dram was light, creamy and winey.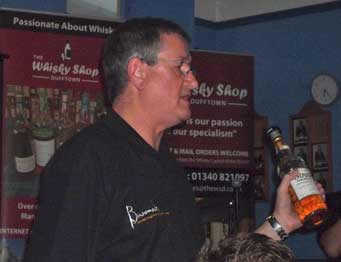 Mike Patterson from G&M


A 1971 'MacPhail's Collection' Tamdhu, at 43%abv, matured in refill sherry casks had massive oak on the nose with some light smoke and cream in its stylish taste with a very long and warm finish. A 1997 Imperial, at 62.7%abv, had a delicious smell of wedding cake with the same again to taste before golden syrup and thick, chewy toffee. The finish was rich and long and this whisky needed amazingly little water given its high bottling strength and comes highly recommended to the reader. By contrast, a 1997 Connoisseur's Choice Caol Ila, at 43%abv, was very gentle and had delicately smoked fish aromas and some lovely soft, sweet peat on the taste before a salty and long finish. Mike noted that Caol Ila had produced whisky from unpeated spirit relatively recently as it had been threatened with closure before the recent boom in Islay whiskies.
Mark vs. Bruce – a never to be forgotten contest
For many years, this writer has driven many brand ambassadors round the twist but, when I challenged Mark Watt to a tasting contest, the foot was on the other hand though, nonetheless, I held my own.
New rules had been brought into place following 2009's Mark Vs Susan contest allowing Mark and I to both weigh in with our own thoughts on each other's whiskies during our presentations. There was no limit on the number of whiskies allowed for each contest though the budget was fixed for both of us.

Mark, who is rehearsing for the title role in the upcoming film 'The Oliver Reed Story', went first, opining 'whatever happens, Bruce will win' before introducing his choice with the theme 'Whiskies you should have in your cupboard'. The whiskies were the widely available Macallan 12, Highland Park 18, at 43%abv, Talisker 10 and Ardbeg 10, at 46%abv. Noting that the 12 year old is much better than the 10 year old, Mark waxed lyrical about the Macallan and the fact that it is now for sale in Britain.

The Highland Park 18 is fully matured in sherry casks these days and is an old favourite of mine and Mark, effectively combining the often contradictory tastes of peat and sherry with more spiciness than Mark remembers. Meanwhile Talisker 10 is back on form with characteristic, smoke and pepper and is still a whisky not to be drunk so much as conquered as the attack is at the start and the finish is very sweet. This whisky also gave Mark a chance to vent his feelings about a group of people he has encountered who swear that there is no salt in whisky and have made t-shirts stating this.

Ardbeg 10 showed conclusively that the big peat attack of years gone by is on the wane from the south Islay whiskies but this has given them the chance to show that they do not merely have one big punch as much sweetness awaits those who taste this. Ardbeg have also released a new bottling called 'Alligator' and Mark recounted the story of a live alligator being brought to a whisky festival. (Some jokes just tell themselves.)

After a short break, it was my turn, this time, to present five whiskies that tasted mostly of Scotch. (You knew it was coming, didn't you?) The secondary theme of my collection was 'Under the radar' as these were whiskies that had never featured in a tasting and were highly unlikely to do so. As the reader may imagine, it is extremely difficult to give a tasting and report on it at the same time and I must confess to the reader that nerves really kicked in after about three minutes. However, experiencing a huge rush of adrenaline, I managed to keep going and continue to present my theme while moving on to such surreal topics as Donald Pleasance's appearance in Columbo, the pros and cons of Jim Murray's Whisky Bible, and the history of Benromach before recording an unexpected round of applause.

My first choice, Glen Moray 10, fully matured in Chardonnay casks, was described by Mark as a 'great breakfast dram' and had a marvelous cereal maltiness to it and appeared to be the surprise low-budget hit of the festival. Stronachie 18, at 46%abv, is an independent bottling of Benrinnes from A.D. Rattray and has a lovely taste of honey to rival the illustrious Balvenie. This bottling comes from 6 ex-bourbon casks and 2 sherry casks, in contrast to rival expressions that are matured in sherry casks.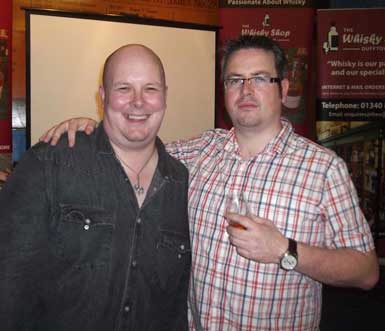 The two contestants: Bruce Crichton (left) and Mark Watt (right)


Benromach 2001 Cask Strength, at 59.9%abv, is from six first fill bourbon casks and allows the light level of peat to show through as well as being smooth at the high alcoholic strength. Mark reckoned that it had a fantastic nose – making it this report's Scarlett Johansson of whisky.

I gambled on two heavily peated whiskies to finish with, the Port Charlotte An Turas Mor, at 46%abv, and Benriach Birnie Moss, at 48%abv. The Benriach was, perhaps, the least successful of my choices though Phil Yorke reckoned it tasted of roasted peppers. The Port Charlotte, from Bruichladdich distillery, contains whisky between five and eight years old and had more obvious peat flavours. This gave me the chance to detail the difference between the level of peat present in barley, the level in the whisky and the level that humans can actually taste. Mark's choice of Ardbeg had given both of us the chance to expound on the subject and, also, to draw the distinction between young Islay whiskies and the well-aged Islay whiskies featured in other festivals and that would feature that weekend as well. Finally, I asked the audience to compare these whiskies to those that would appear in a tasting from Kilchoman distillery as they were about the same age and same strength. The reader is invited to try this at home.
Having concluded the tasting, it was time for three rounds of voting for who had the best whiskies, the best information and who was the most entertaining. Incredibly, I won the first two rounds but Mark massacred me in the third round, just as he massacred the English language while commenting on the Port Charlotte, and he was the overall winner but, no matter, everyone present had a great night and both of us received several thunderous bursts of applause.
Mike Lord's WSD bottlings

Sadly, festival regular Danny Maguire missed the festival having sustained a large cut on the bridge of his nose while shaving though this was not as embarrassing as the time he accidentally bit the back of his own head. Consequently he missed the whiskies presented by Mike Lord, of the Whisky Shop Dufftown (WSD) who says that Danger is his middle name and it is – he changed it by deed poll from Leslie.

A 1994 (G&M) Imperial, at 57.2%abv, had both vanilla and bananas on the nose – classic bourbon cask characteristics in the view of Mike who once head-butted a shark causing it to lose several teeth. (The shark learned its lesson and will never drink in the same pub as Mike again.) Mike also observes that the casks he has bottled from G&M have clouded with very little water addition but the reader can be assured that this is of no matter as each bottling is among the best I have ever tasted. The Imperial was exceptionally smooth with vanilla and coconut flavours and a very long finish with a hint of pepper.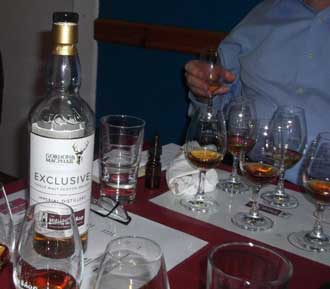 The Imperial G&M for The Whisky Shop Dufftown

A 1970 Duncan Taylor (DTC) Glenrothes, at 43.3%abv, had been matured in a bourbon cask before spending a further six weeks in an octave sherry cask giving it the smell of an elegant bourbon as well as exotic fruit juice along with delicate spice and oak flavours with just a hint of sherry and a long, orange cream finish.

A 1994 Old Malt Cask (OMC) Benrinnes, at 55.1%abv, from a first fill sherry butt had both sticky toffee pudding and orange peel on the nose. The middle was very sweet and syrupy followed by toffee and wedding cake with a long, very warm and soothing finish. In a brief history lesson, Mike drew attention to the fact the successive owners of the distillery had gone bust until the company that became Diageo bought it. Mike also stocks 17 and 19 year old OMC Benrinnes releases, at 50%abv, which are much different to this.

Benrinnes makes heavy spirit, using worm tub condensers, unlike Balblair distillery, which makes altogether lighter spirit. Despite being a refill sherry cask, something that G&M are expert at, 1995 Balblair at 52.9%abv and covered in Autumn 2010 is far more influenced by the cask than the Benrinnes and is quite simply a work of genius. 25% of Balblair production is bottled as single malt although independent releases are hard to find, as are bottlings from any of the Inver House group, bar Pulteney. Interestingly, Mike talked of the risk of signing his own name to any whisky although my suggestion that he bottle under the pseudonym of Sir Anderson Tadpole the third was, no doubt, the daftest idea he had ever heard.

From a refill sherry cask came an Adelphi 1991 Bunnahabhain, at 51.9%abv. Only a few bottles are available with the rest of the cask going to the next bottling of their highly successful 'Liddesdale'. The wonderful nose had both sherry and Christmas cake with brandy butter. The taste and finish were the same with just a hint of smoke.

Closing, we had a 1971 Glenfarclas 'Family Cask', at 51.5%abv, and it was characteristic of the distillery with classic sherry character throughout, especially wedding cake and was one of 496 bottles. In selecting this cask, Mike had tasted sixteen 1971 samples that had varied in alcoholic strength by no more than two percent and varied in volume by no more than ten bottles. This was the stuff that dreams are made off and anyone who can obtain a bottle of this is to be congratulated, as is Mike for having his finger on the pulse of people's taste buds with his cask selection.
Tannochbrae Gala Dinner with Glenfiddich whisky
Saturday night in Dufftown brought a manifold treat with dinner at Tannochbrae restaurant where Allan and Susie served up some more fantastic fare accompanied by whiskies from the mighty Glenfiddich distillery, presented by the magnificent Bert Macor and music from the great Robin Laing featuring tracks from his non-whisky related albums such as 'Punters'.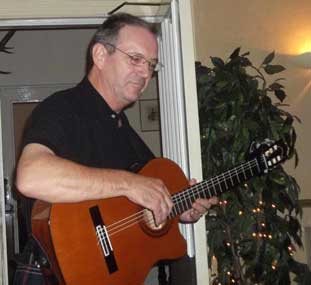 Robin Laing performing at Tannochbrae.

As well as the widely available and delicious 'Rich Oak' 14 year old, we had cask samples of the 15 year old 'New Wood' finish, a component of the huge-selling 15 year old 'Solera Reserve', and an 18 year old, drawn from the marrying tun while the 19 year old 'Age of Discovery', finished in Madeira casks offered us a marvelously sweet sherbet-like dram. These whiskies enabled Bert to demonstrate his knowledge of both history and geography, with a story of Portuguese conquistadors, and to pay tribute to new malt master Brian Kinsman who hopes to bring Glenfiddich into the limelight with innovation.

Released a mere 3 weeks previously, Glenfiddich 'Malt Master edition', at 43%abv, had been finished in sherry casks that gave it the taste of strawberries and cream as well as Turkish Delight cubed sweets.

Another new release is Glenfiddich 21 Gran Reserva Rum Finish, at 43.2%abv, and smells of brown sugar and tropical fruit. I found the taste was of cream and spice but reckon that a professional writer could be inspired to wax lyrical for several lines. For best results, the reader is recommended to pour a large dram and roll on the tongue.
Whisky and Chocolate with Mike Lord and Victoria Duty
After cleaning out the aardvarks from my attic with the help of another book by Agamemnon McWhirter, I headed to the Masonic hall for Whisky and Chocolate presented by Mike and Vicky.

The intrepid Mike had journeyed far and wide to lands where no human eye had previously set foot to find whiskies that combined effectively with 'Olive Tree Chocolate' from Elgin. Vicky is a chocolatier which apparently does not mean that she know Dogtanian. (I really wish I had composed this one myself).

As with previous whisky and food combinations, the whiskies chosen are widely available distillery releases. These were: Clynelish 14, at 46%abv, Strathisla 12, Aberlour A'Bunadh batch 36, at 60.1%abv, Glenfarclas 105 and Glendronach 18 'Allardice', at 46%abv. Clynelish and A'Bunadh are benchmark whiskies for pairing with chocolate, according to Mike who does not comment on rumours that a Komodo dragon died a few days after he bit it.

Vicky opened with 'Java' – a milk chocolate consisting of 33% cocoa that is very silky, creamy and moreish and paired it with Clynelish. Next was 'Ghana' milk chocolate, 40% cocoa, and Strathisla 12. Robin Laing thinks that this drying whisky compliments the higher cocoa content of the chocolate and lengthens the finish.

Batch 36 of the popular A'Bunadh series is lighter in character than previous batches and is not to the taste of Robin or Mike but is more to mine. This was matched with 'Saint Domingue' from the Caribbean and is 70% cocoa and prompted Robin to read some of the limericks he had written about the A'Bunadh.

'Equateur' plain chocolate is 78% cocoa and was served with Glenfarclas 105, A'Bunadh's great rival, and led to stories being told of a Sunday Times journalist drinking with Glenfarclas' George Grant and a rather surreal aftermath. Mike cautions that combining whisky with chocolate can lead to the taste of the whisky being stripped away and only the spirit being left behind. In particular, the robust Talisker 10 year old does not appear to go with chocolate at all.

Finally, 'Kumabo' African chocolate containing 80.1% cocoa was tasted alongside the Glendronach. Apparently, this is a hard chocolate to pair with whisky. As always, these whisky and food combinations can be recreated in the comfort of the reader's own home with the whisky from Mike and chocolate from Olive Tree and all that remains is to congratulate Vicky on taking her first festival tasting.

Exotic Wildlife and Wemyss Whisky with Susan Colville

Susan Colville, 2011 Whisky Magazine 'Young Brand Ambassador of the Year', who says that she cannot handle two days of solid drinking any more, presented Wemyss Vintage malts. (I prefer liquid drinking; it comes so much more naturally.) Also celebrating was Mike Lord who had won Whisky Magazine's 'Single Outlet Whisky Retailer of the Year' award. (Legend has it that Mike stung a Portuguese man of war Jellyfish to death while swimming in the sea.) Each bottling was 46%abv and, as usual, named after the dominant flavour present. My notes are accompanied by wildlife provided to liven things up still further and to drive Susan round the twist as well.

2000 Linkwood 'Vanilla Zest' had matured in a refill bourbon cask. This ideal summer whisky was very fresh with plenty of citrus notes and a slightly sharp and long finish though Susan could have lived without my added note of 'Andean Condors'. (Nothing beats soaring over the mountains, looking for carrion.)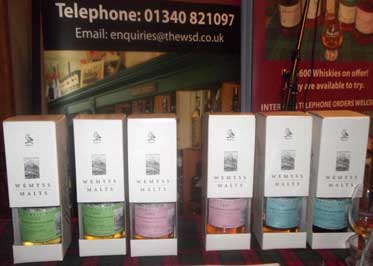 The Wemyss whiskies served during the evening.

Bottled on the Tuesday before the festival was a 1989 Cragganmore called 'Lemon Grove'. Susan is a big fan of older Cragganmore as she thinks it improves with age. Though I commented that it tasted of Spectacled Caimans, this whisky did not have a bite and should not be confused with the recent Ardbeg Alligator bottling. Accurately named, it had strong lemon on the nose and taste as well as oak and had a long, warm and smoky finish.

1990 Glencadam 'Caribbean fruits' smelled of light, golden honey and had both honey and spice tastes in equal measure and a short, creamy finish. 1997 Clynelish 'Vanilla Summer' did indeed smell and taste of vanilla, honey and fruit syrup although my comment about tube-nosed fruit bats was not strictly true. (This species was only discovered in 2009).

1981 Caol Ila 'Whispering Smoke' was distilled 6 weeks before Susan was born and had been fully matured in a second fill bourbon cask. This was a wonderful, subtle and luxurious dram with notes of spice, salt, pepper and lightly smoked bacon and an exceptionally long finish.

We closed with 1991 Bunnahabhain 'Honey Spice', matured in a first fill sherry cask that gave it coffee and treacle aromas with syrup and treacle flavours and a long, complex finish. I did announce loudly, also, the taste of Leopard Seals, which will not make this attractive to any penguins reading the report.

Robin Laing – 'Pink whisky and the music of love'

Robin's pink whiskies were the widely available Glenmorangie Quinta Ruban, at 46% abv, Arran Amarone, at 50%abv, his own Bruichladdich fully matured in port and covered in the Spring 2011 report, Benriach Solstice, at 50% abv, and Octomore 'Orpheus', at 61%abv, from Bruichladdich distillery. The Benriach has now sold out, as has the Orpheus though, it should be noted, that the 140 ppm phenol level in the barley should not intimidate the reader and all Octomore batches have been exceptionally high in quality and no more difficult to drink than rival cask strength editions from Laphroaig and Ardbeg, for example, and sweetens considerably with water. Amarone is a heavy red Italian wine

As well as tracks from his current album 'Whisky for breakfast', he featured love songs such as 'I believe in you', 'Watershed', 'Black Rose', 'Closer to heaven' and 'Silver'. The brilliant 'Kirk Douglas Ghoullie' was also played and 'Breakfast Whisky' was given an extra verse while 'Heaven Hill' substituted a Smart car for the Mustang in the album version.

Returning to the whisky, Robin paid tribute to Glenmorangie for both their cask management and bottling strength and added that in Greek mythology Orpheus was ripped to pieces by women and wondered if he had lived in Dufftown.

Highlights from Robin's performance are available on both Facebook and www.youtube.com.

Glen Moray Tour

Glen Moray distillery's modus operandi is covered in depth in my Spring 2006 report and touring it on the Monday morning was still informative as the distillery is in full flow under French owners La Martiniquaise. Production is 2.2 million litres per annum from 24 hours a day, 7 days a week running. 50 per cent of production is bottled as single malt and, in the pipeline, are peated spirit distilled in 2010 and a number of releases fully matured in wine casks. Enthusiastic visitors can also bottle their own, straight from the cask, and the non-age statement, 12 year old and 16 year old expressions are available to taste, alongside limited edition 'Manager's dram' bottles all of which represent tremendous value for money.

'I was there 'Adelphi Tasting with Antonia Bruce

As well as presenting new company baseball caps and a boxed set of four miniatures called 'Nightcaps', Antonia Bruce introduced a stellar collection of single cask whiskies., the first of which was 1997 Clynelish, at 59.1%abv, taken from a refill bourbon cask. This tasted of golden honey and fizzy sherbet with a long, warm and mellow finish.

A 1984 Tamdhu, at 48.8%abv, gave Antonia the chance to explain the 'Saladin' maltings process, which is apparently highly efficient and makes for robust spirit. Having matured in a refill sherry cask, this smelled of fruit salad chew bars with a fruity, waxy taste and a hint of chocolate at the end. Also, Antonia mentioned a blind tasting of fruit gums and it's reassuring to know that I'm not the only one with a terrible sweet tooth.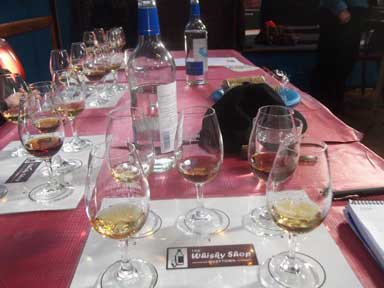 The Adelphi tasting: not only good looking content.

1984 Linkwood, at 53.2%abv, also from refill sherry, had a lovely nose that inspired me to write at length as I found sherry, coffee, dark chocolate, treacle, Bovril and balsamic vinegar. The taste was surprisingly delicate and restrained and the finish long. Linkwood distillery is highly picturesque, apparently, and the surrounding wildlife was the inspiration for parent company Diageo's 'Flora and Fauna' series. Linkwood has an 'A' distillery built in 1872 and a 'B' distillery built in 1971 and Norwegian Linkwood fan Snorre Lenes notes that distillery 'A' has not been used for many years. 1965 Lochside 'single blend' whisky, at 52.3%abv, provided all present with an 'I was there' moment. Lochside, in Montrose, operated between 1957 and 1992 and was co-founded by Joseph W Hobbs, owner of Ben Nevis distillery, and had both malt and grain facilities on site. This blend was 50% malt and 50% grain and had been blended at birth, as had a previous Adelphi Ben Nevis single blend from 1970. The nose was floral with vanilla and rum and raisin while the taste indicated that the grain still had fight in it as well as being very well balanced with hazelnut chocolate and fruit. The finish was one of rum and coffee but, really, such moments are really a chance to taste history and part of what a festival should be about.

Closing the session in thought-provoking style was a 1999 12 year old Breath of Islay, at 56.1%abv, that was a sister cask to another 1999 Breath of Islay 11 year old bottling. The latter is an excellent example of a conventional 'big punch' whisky representative of the distillery that I reckon is associated with the White Horse blends. The 12 year old, however, did not have as obvious a peat character, instead offering attractive sweetness in its place before some light smoke. The middle was salty, smooth and sweet and the end was long and lingering and gave credence to my view that Islay whiskies are not about one big punch but still have depths to be revealed, especially if the peat is not as dominant as in previous years.
Dapper Duncan Taylor
Bringing the last festival tasting to us was a well-dressed Mark Watt, of DTC. Mark, who refers to Oliver Reed as 'that teetotal actor', showed us a new promotional company DVD that inadvertently brought home to me the news that there is only so hard you can bite into your own knuckles when you're trying not to laugh at the narrator's voice.

As we watched, we sampled a sherry-matured 1990 Bladnoch, at 48.6%abv, that smelled of strawberry trifle and, after a drop of water, tasted of sherry trifle and had a long peppery prickle on the finish that should not alarm the reader as no hedgehogs were involved.

A preview of the third batch of Black Bull 40 year old, at 40.9%abv, had lovely marzipan and cream cake notes and more smokiness than Mark remembers. The blend is 90% malt, being held together, in Mark's view, and brought over strength by the Invergordon grain whisky present. This batch is expected to yield about 700 individually numbered bottles and will have the ingredients listed on the bottle as well.

As an image to freeze in the mind, nothing beats Mark's description of a business meeting in Japan conducted in a sauna, through an interpreter.

In a watershed moment, we tasted an upcoming 1992 'Rarest of the Rare' Caperdonich, at 56.7%abv, which made it the first Duncan Taylor Caperdonich I had tasted that is younger than I am. Revealing, perhaps, what could have been for this now demolished distillery, the nose had Fruit Salad and Irn Bru chew bars and the crisp taste featured cooking apples, smoke and some soft woodiness albeit with a short finish.

DTC have a large stock of 1992 Caperdonich casks laid down for the future, we were told, as well as some 1997 and 2000 vintage casks filled with peated spirit. These casks, in Mark's opinion, would not last long in an Octave cask and he drew attention to the evaporation rate from such casks – a staggering 12 percent, if left for a year.

A 1988 Auchroisk, at 52%abv, which had spent 3 months in an Octave cask that had given 73 bottles was a masterpiece with fruit and grassy smells and a taste of tropical fruit, cream and spice that had Mark and I reminiscing about the long discontinued 'Singleton of Auchroisk' bottling.
Demonstrating his expert knowledge of cask management, Mark told us the tale of Imperial matured in an Amarone cask that had begun horribly before marrying together over time. We then moved on to a 'Rare Auld' 1993 Cragganmore, at 55.3%abv. The nose was big, heavy and punchy with sherry and orange and tastes of treacle, fruitcake and toffee that Mark said in no way tasted like chewing on a purple balloon. (This description kicks sand in the face of my old standby – biting into a burnt welly.)

Recovering from stories about Ribena mixed with Balvenie new-make and chewing safety pins, we ended with a 1983 Caol Ila, at 51.7%abv, that had matured in a refill sherry butt before being transferred to an Octave cask. The nose had marvelous notes of vanilla, smoke, fruit, lime and kiwi fruit while Phil Yorke reckoned he detected Parma Violets and toffee apples. The taste was like smoked ham cooked in a very rich sauce and Mark reckoned that the sherry had added considerable depth to the whisky.

With Mark's beloved Caperdonich now gone and his equally beloved Imperial unlikely to produce again, I urge the reader to raise a glass of the drams mentioned in the report in their memory as the quality of the whisky available is not in doubt.

In closing, I'd like to thank everyone involved in organizing and running the festival and, in particular, Mike Lord and his wife Val, Steve Oliver, the wonderful people at the 'Coffee Pot' for keeping me going through the weekend, to Vicky at the Whisky Shop, to Claire for the proofreading, to Rene and Glo, Gordon Haughton, and everyone involved with the 'Mates of the Museum' plus Alan and Susie at the Tannochbrae.

I'm off to solve the problem of aardvarks once and for all by moving out of the termite mound I live in and hopefully, I'll see you again at the spring festival when the foot will once again be on the other hand.
Bruce
www.whisky-news.com, 24 Oct 2011