Autumn Speyside Whisky Festival May 2010
Report and Photographs by Bruce Crichton
Having completed my book 'The wisdom of Neil Kinnock' (foreword by Gordon Brown), I headed to Dufftown. Having far surpassed all previous quests for perplexity with this book – published under the pseudonym Winston George Aardvark, the Autumn Speyside Whisky festival was just what I needed and after several days of great whisky, great food, surprising shaving habits, Monty Python, enticing tour suggestions and feverish scribbling, here is my account of it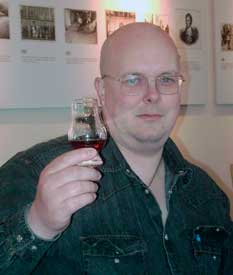 The author: Bruce Crichton
.
As always, every whisky was remorselessly obliterated from my glass, as I have a reputation, if not a liver, to maintain. For this reason, I apologize in advance for any factual error, as whisky is not a memory aid and caution the reader that my tasting notes are even more subjective than most writers' and I defer to any expert tasters who commented in my presence. To keep this report from being even longer than it already is, I refer the reader to previous reports and tastings if a whisky has appeared before and I have also assumed the reader is familiar with any widely available bottlings mentioned. Finally, any water added to a whisky tasted was, literally, one drop and whiskies were 40%abv, if the strength is not otherwise indicated.
Balvenie Tour
Kicking off the long weekend, I headed to Balvenie distillery with Bert Macor the expert guide for our exclusive tour. Balvenie, unlike its sister distillery, has only limited places for tours and a tour there is more in-depth than tours at other distilleries.
Balvenie uses a traditional floor maltings for part of the process and utilizes three types of barley – Optic, Cocktail and Oxbridge which will be replaced next year as these strains come to the end of their life. The barley is chosen for its high yield with one ton giving 413 litres of pure alcohol. After seeing the barley steeps and the maltings, we headed to the kiln where both Anthracite and peat are used to dry the barley and this sparked a discussion between Bert and I about peating levels where we drew the conclusion that the flavour comes from the science of phenols and not necessarily the actual level of peating.
A mash at Balvenie uses 11.2 tonnes of grist and Bert pointed out that the preproduction of sister distillery Kininvie begins at Balvenie as well. Preproduction is cheap and most of the whisky's cost comes from post-production making it easier and cheaper to sell new-make spirit to blenders. (Kininvie, I was surprised to hear, is currently silent with production being switched to the flexible Ailsa Bay distillery, in Girvan, which can produce five different characters of spirit, including peated versions.)
Fermentation takes between 64 and 68 hours before the wash goes to the stills. Balvenie's cut begins at 72%abv and ends at 63.6%abv as opposed to 65.6%abv at Glenfiddich. This extra is reckoned to give honey character to the whisky. The stills are steam heated while those at Glenfiddich are direct heated.
It is believed that about 30% of the flavours come from the 1st part of production and the rest from the wood. Heading to the cooperage, Bert told us that the matured spirit is measured for colour intensity as this is indicative of both cask and whisky quality. If the intensity is too low, the cask is rejected.
The Balvenie Cooperage
Rounding off the tour, we had a vertical tasting, beginning with the widely available 'Signature' and 'Doublewood' 12 year old expressions. The first was silky and honeyed while the second is better balanced than it has been in the past with some coffee and treacle on the nose and dark chocolate and wedding cake on the palate indicative of time spent in Oloroso sherry casks. Stepping up in age to the 'Single Barrel' 15 year old, 47.8%abv as standard, I found cask 1042 to have the characteristic 'warm honey in a glass taste' I always look for from Balvenie. By definition, each bottling of this expression is only from one barrel and never more than 350 bottles are available from each cask. The flavours may vary slightly with this but the quality never does and I caution the reader to watch this one closely as, sometimes, a 17 or 18 year old whisky can be bottled under this label.
Following on from this was the 21-year-old Ruby Port finish, covered extensively in my Autumn 2008 report. This is still a fine after dinner whisky so having it before lunch was not really doing it justice though Bert pointed out that this, being a wine finished whisky, can age in the bottle. Chocolate expert Bert reckoned that the luxurious 30 years old, 47.3%abv, tasted of Peruvian dry chocolate as well as dry ginger and cinnamon. I suggest rolling this on your tongue for a long time for best effect.
Closing this highly recommended tour and tasting was the 'Tun 1401', at 48.1%, which is a vatting of six casks from the 60's and 70's which I made no notes on, deciding simply to savour this at length and to leave the reader to experience this rare treat by touring the distillery.
Mike Patterson's cask strength Gordon and MacPhail
After lunch, Mike Patterson talked us through Gordon and MacPhail's cask strength series. Each bottling in this range is composed of no more than 4 casks and we opened with a 1997 Imperial, at 61.6%abv, which is described in my spring 2010 report. Mike suggested that this was possibly filled into the cask at an unusually high strength and I add only that this Imperial has won the favour of Duncan Taylor's Mark Watt – very high praise indeed.
A 1992 Glen Scotia, at 59.9%abv, had a sharp, briny nose which reminded Phil Yorke of herring and he proved his point later by cutting down the mightiest tree in the forest with it (who says it can't be done?)
I found it to taste of subtle and dry smoke and culinary expert Phil found smoked pheasant flavours and thought it best to be had after dinner. The finish was both smoky and salty and also soothingly long. A charming 1997 Clynelish, at 59.7%abv, had the teasing hint of Refresher sweets on the nose. Taken from a first fill sherry cask, this excellent dram had a little honey and some deft smoke to taste. Mike noted that the old Brora distillery, formerly known as Clynelish, is very picturesque while its' younger neighbouring distillery, now named Clynelish, definitely is not. Following up, a 1997 Highland Park –taken from 4 first fill and refill sherry casks – had some slight sherry and salt on the nose and some cream and smoke in the middle and water turned it very fruity.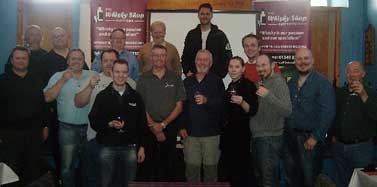 The group picture (but where are the bottles ?)
Though not featured in the tasting, Mike told us of the second and third releases of Benromach Origins. The first used Golden Promise barley, the second was fully matured in Port pipes and the third used Optic barley and was matured in sherry casks. At this point, Mike and the audience discussed the relative merits of wood finishes, something he is not particularly convinced of though he agreed with me that the most effective ones are from distilleries whose whisky does not change very much with age, Glenmorangie and Bruichladdich being the most notable.
As in the spring, we closed with a stellar 1996 Caol Ila, taken from three refill sherry casks and which was previously reported on in my Autumn 2009 report.
Mike Lord – It's not just water, yeast and barley!!!!!!!!!!!
Using a number of whiskies from Morrison Bowmore, a couple of expressions of Hazelburn, the triple distilled malt from Springbank distillery and an expert PowerPoint demonstration, the iron disciplined Mike Lord refuted the myth, stated often on distillery tours, that whisky is just water, yeast and barley. (Mike's discipline is so strong that he does not giggle when a man wearing a wig walks past, not even a freshly hunted one and certainly not one that looks like it has been hacked out of a carpet, fitted badly and then spray-painted unevenly in a hopeless attempt to match the remaining real hair.)
During this tasting, we would compare distilleries, official and independent bottlings, distillery modus operandi, stills, water, fermentation process and many other variables.
Our first comparison was the Auchentoshan 'Classic' distillery bottling and Duncan Taylor's Battlehill 8 year old, at 43%abv, and covered in many previous reports. The official bottling smelled better but the Battlehill version was much tastier, no doubt because of the extra strength and the lack of additional colour.
The official Hazelburn 12 year old, 46%abv, was up against Duncan Taylor's NC2 1997 'Distilled at Springbank' which is described fully in my Autumn 2009 report. The former smelled of burnt sugar and tasted of wine and toffee with a soft, warming finish. Mike notes that Springbank distillery uses worm tubs and short stills, both of which give a heavy, oily spirit and Hazelburn's triple distillation method means that, while it is lighter than Springbank, it does not really compare to Auchentoshan with its' tall stills and light, spring fresh spirit.
Concluding, we had Bowmore's 12 year old distillery bottling, a 12-year-old NC2 Bowmore and a Mackillop's Choice 1989 vintage. Both the second and third version were at 46%abv. The standard, partially sherry matured bottling had a soapy nose and a peaty start that faded all too quickly followed by a very short finish that rounded off a complete non-event in a glass ideally. Several theories abound as to the source of the lavender smell prevalent in Bowmore's whisky for years but Mike thinks that for years, in the early days of Suntory's ownership of the company, the stills were flogged too hard, too long and too often, never giving the copper the chance to cool down, recover and properly clean the spirit.
Livelier was the Duncan Taylor bottling with some light salt and smoke on the nose and subtle smoke and peat in the middle but the pick of the bunch and worth the extra layout was the third which had a fantastic aroma of hot toffee sauce, the kind you get on a really tremendous sticky toffee pudding, with a robust smoky and peaty palate and a long, lingering finish.

Glendronach Visit

Saturday morning brought a bus tour to Glendronach distillery, the workings of which are covered in my Autumn 2009 report. Karen was our guide for a potted tour and she noted that, for a number of years to come, the 12 year old bottling would be a real bargain as it will be considerably older than the official age, the distillery having been mothballed between 1996 and 2002.
The short tour left time for Alan McConnochie to give us an erudite look at whisky maturation beginning in the warehouse. Most Glendronach begins life in a bourbon cask, the first four to six years giving it some honey sweetness and let us sample a 2003 barrel of such quality that both myself and Stuart Terris were ready to pay for it then and there, had it been available to buy. This will probably be followed by five more years in a sherry cask, which may be Oloroso and, possibly, some more time in Pedro Ximenez to darken and sweeten the whisky. Colouring the whisky in this way is ironic as the work involved leads to the workers turning the air blue. Up against this was a fascinating sample from a 1991 refill Oloroso cask that Alan reckons may be transferred to a first fill Oloroso cask and maybe even a PX cask.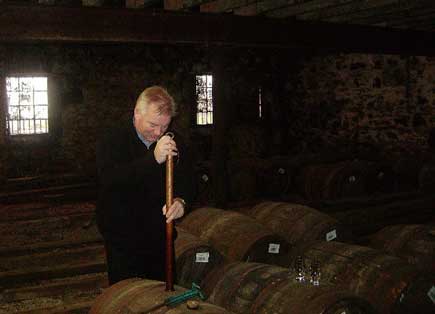 The sampling straight from the cask

Leaving the warehouse, Alan pointed out some 2004 quarter casks containing whisky dating back to Allied Distillers' ownership. Given that Laphroaig and Ardmore's QC bottlings have only spent 3-4 years in such casks, he thinks that these have probably been matured for too long in this manner.
We then got down to business with a vertical tasting, beginning with the widely available 12, 15 and 18 year old versions, the first at 43%abv and the latter two at 46%abv. Ironically, the 15 year old version was in very high demand that the company was not initially able to meet. The 12 is a charming introduction to the distillery, the 15 year old has honey and toffee on the nose with toffee and chocolate sauce to taste before water releases a long, smoky finish. The 18 year old has a large percentage of whisky fully matured in Oloroso casks and this gives it the smell of fudge and some treacle and wedding cake to taste before an epic finish of chocolate orange, so I recommend having this with some 'Maya Gold' chocolate.
Glendronach has now joined sister distillery Benriach in releasing a series of wood finishes which Alan believes will attract a younger audience and, possibly, a female one. With this in mind, we tasted the new 20 year old Tawny Port – Alan's favourite finish – bottled at 46%abv. The colour of the whisky suggested that it had spent some time in an Oloroso cask before its' final two years in a Portuguese Port pipe. The port aromas came through strongly before a fruity, rich and charming middle.
Exclusive to the distillery was our next dram, the 1993 single cask, at 58.4%abv. This was very thick with Oloroso character and had lots of citrus sweetness. This was described as 'the holy grail of sherry', an appropriate description as, to get this bottle, I had to defeat the Black Knight and collect a shrubbery for the Knights who say 'Ni!' and please don't ask me the air speed of an unladen swallow. Closing, we had a 1972 Oloroso cask sample before we bid Alan farewell and headed home.

Fettercairn Range

After lunch, Whyte and Mackay's Steven McConnachie arrived to state the case for Fettercairn and its new range. (As an aside, I recommend the reader to take a tour of this endearing distillery.)
The discontinued '1824' 12-year-old, covered in Autumn 2008, started us off before we tasted the new 'Fior' bottling, 42%abv. This is a marriage of 14 and 15 year old sherry matured whisky with some 5 year old heavily peated malt and has a sherry-sweet smoky nose. Lovely honeycomb sweetness followed before a gently smoky end and this was deservedly well received by the audience. (At the price, no home should be without a bottle of this.) Will this win Fettercairn praise in the whisky bible? We shall see.
The next three samples were a rare chance to taste collector's item whisky. I leave the reader who is able to obtain bottles of these to decide on the value offered by these releases as compared to distilleries such as Highland Park or Macallan. The 24 year old expression, 44.4%abv, had an orange nutty nose and had the taste of orange liqueur albeit with a short finish. Each of these whiskies comes in an eye-catching presentation box and is a limited release. Moving on to the 30 year old version, at 43.3%, which smelled like a Fry's Orange Cream before a spicy middle with marzipan and then a short, smoky finish.
Concluding, we came to the 40 year old, which comes in a hand signed bottle. Quite simply, it was a privilege to taste whisky as old and rare as this and is even better with chocolate, which lengthens the taste experience. The nose had honey and cocoa and the body was full but still subtle before the long, spicy and complex finish arrived. As usual, to any reader who does get a bottle of any well aged Fettercairn, I can only say "Well done to you."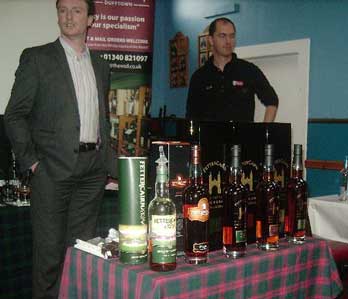 The new Fettercairn Range


Adelphi Tasting

Keeping the standard going was Antonia Bruce, who presented the latest collection of magic potions from Adelphi. (Does this make her the Morgana Le Fay or Hermione Granger of whisky? I don't know.)
A 1985 Glen Grant, at 55%abv, showed its first fill bourbon character with stylish vanilla, honey and sherbet aromas leading us to a punchy taste of toffee and butterscotch before a Crème Brule finish. A 1996 Macallan, at 58.8%abv, came from a refill sherry butt that made it smell of toffee and fudge before I tasted almonds and sherbet. This silky and creamy dram had a long, warm and soothing finish.
A 1975 Bunnahabhain, at 51.8%, passed its' bead test magnificently. This had Wham bars, Refreshers and Irn Bru (!) on the nose and is worth buying to read the official tasting notes, by Charles MacLean, alone. Fruit salad and trifle flavours were present before a lightly smoky finish that faded only slowly.
Making its official debut was the 'Liddesdale' 18 year old bottling, at 46%abv, a vatting of 10 casks from an Islay distillery renowned for its unpeated malt (nudge, nudge, wink, wink, say no more). This had some lovely Seville oranges and milk chocolate on the nose with oranges again on the middle before a very long, smoky and spicy finish.
Closing the class was a 2000 Bowmore, at 54.7%abv. This had a massive nose, like Barry Manilow does, and, like a number of other Bowmore bottlings this year, lots of minty fudge smells. Characteristic Islay smoke and peat appeared on the palate and the finish was very long with an excellent salty tang. Amusingly, Antonia told us that the distillery used to heat a nearby swimming pool, confirming Mike's contention that the stills were being pushed way too hard in those days.
Tannochbrae Gala Dinner
Saturday night in Dufftown always reaches a stylish finale with dinner at Tannochbrae restaurant where Allan and Susie served up some more fantastic fare were accompanied by more whiskies from Adelphi. Reappearing from the May 2010 festival were Bowmore 2001, Fascadale batch 2, Bunnahabhain 2000 (treacle so thick you can dance on the top of it) and Longmorn 17. I add only that the Longmorn complements Susie's world famous Crème Brule superbly and our last dram was a 2 cask bottling called 1992 Rossend castle, at 46%abv, that was particularly lively with lots of vanilla sweetness.
Mike Lord's Whisky Shop Dufftown (WSD) bottling
After taking Sunday morning off to solidify, Mike Lord treated us to his own bottlings, plus some other cask samples that could be bottled in the future. (Mike's application of discipline helped him get over vertigo so bad, as a young man, that even tall stories unnerved him.)
A 1972 Caperdonich, at 49.7%abv, had been 'liberated' from Duncan Taylor with the rest of the cask going into an 'Octave cask' for further maturation by DTC. This was floral, soft and velvety with tropical fruits to nose and taste, particularly bananas and pineapples.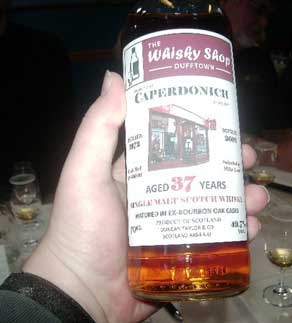 One the WSD bottling: the Caperdonich 1972

Though not officially Mike's own bottling, Arran distillery's sherry cask has Mike's name on the back along with the names of several other independent shop owners. Mike is deservedly proud of this one and the dram revealed fruit salad and hot fudge sauce on the nose with a soft syrupy taste and a long, warm and silky finale.
Still available, though surely not for long, is Mike's Mortlach bottling, reviewed in Spring 2010. This Gordon and MacPhail cask was matured at the distillery and G&M only move their casks to their Elgin warehouse when they near bottling age. Mike speculated that the company uses special casks with thick staves for their long maturations. The next WSD bottling will also be a G&M cask, 1995 Balblair at 60.9%abv. An elegant dram this, it smelled of rum and marzipan and tasted of cognac and Christmas pudding with no alcoholic burn, despite its high strength.
The question Mike asked us to bear in mind was 'Would you put your name on this bottling?' Having tasted the 1998 Imperial, our next prospective bottling, I told Mike that I would happily sign this 'Moist von Lipwig'. At 56.5%abv, this smelled of furniture polish though the middle was delicately sweet with a hint of pepper. By comparison, a 1994 Bruichladdich, at 52.9%, had toffee; fudge and Murray mint aromas and a light taste of smoke and salt. Some of the last Whyte and Mackay production, this one looked and tasted younger than it was. A 10 year old Bowmore, strength unknown, smelled like the toffee that seems a great idea to eat and then has to prized off your teeth with a crowbar. The punchy taste was mostly of smoke and took a long time to unfold before a crisp, peaty, salty and long finish and this was the most popular of the cask samples.

Cadenhead's Tasting

Always knowledgeable and original, Mark Davidson of Cadenhead's had us taste our whiskies blind, as it were, and then guess what the whisky was before deciding if we liked it and how much, if anything, we would pay for it. In other words, he was effectively recreating Cadenhead's method of selecting casks.
A Dailuaine 20 year old, at 56.5%abv, foxed the audience and smelled of bourbon with more bourbon and pepper on the taste before some vanilla and pepper at the end. A 27 year old Caperdonich had salty and bourbon aromas reminiscent of the old Scapa 12 bottling. This was smooth though not highly flavourful but offered an interesting chance to taste whisky from this distillery, one that is in the process of being demolished at the time of writing. Festival regular Danny Maguire was enthused by this and it helped him recover from a baffling incident at lunchtime when someone slipped him a spoon with the concave and convex sides switched around.
The find of the tasting was a 19 year old Littlemill from the sadly closed and burnt down lowland distillery. Mark speculated that this had begun life in a bourbon barrel before being re-racked into a refill sherry cask. The enchanting smell was of brandy butter and Christmas cake and the taste was dry, creamy and luxurious before a finish of leather, smoke and pepper. Telling us a bit about each distillery featured in the tasting, Mark noted that Littlemill also made some lightly peated whisky, called Dunglas, and some heavily peated whisky called Dumbuck that has never been bottled.
Hovering deftly between golden syrup and treacle on the nose, a 16 year old Tomatin expanded on addition of water to reveal fruit, ginger, sherry and wedding cake, which gave way to vanilla, cream and pepper at the finish earning itself many admirers. Mark told us that the huge distillery is beefing up its range, upping bottling strength to 46%abv and eschewing chilfiltration.
Ending a most thought-provoking afternoon was a 13 year old Bowmore, at 56.4%abv, which had characteristic mint and toffee on the nose and even more characteristic slowly unfolding smoke and peat on the taste. In other words, this was a fine dram for classic Islay lovers.
Whisky Quiz night
A pulsating Sunday came to a gripping end with the Whisky Quiz. The quiz was a series of questions on general and obscure whisky knowledge and there were also a few rounds ideal for the kind of people who specialize in completely useless information and who play Robin Laing on their car jukebox constantly. Unsurprisingly, the team comprised of myself, Stuart Kerr and Andy Ellis and known as the 'Bing, bong, bingely beeps' won it. (Words cannot describe how irritating it is to have to read this name out, as Mike Lord, the quizmaster, can no doubt testify.) The quiz also threw up an amazing suggestion as to what the original rent at Balvenie castle was, and this answer passed instantly into legend, even faster than Amazonian tree frogs. All those present will, in future years, be able to say 'I was there' and we all wondered what a tour would be like if this suggestion was put into practice though I'm holding out for a connoisseur's tour.
Benriach and Glendronach tasting.
Not expecting the Spanish Inquisition – nobody expects the Spanish Inquisition – I headed to the Benriach and Glendronach tasting where the weekend's star turn, Alan McConnochie, guided us through several drams from the two sister distilleries.
We retasted the Glendronach 12 and 18 year, the latter of which Alan thinks is most representative of the distillery. The 18 year old 'Allardice' is named after distillery founder James Allardice who was either a 'character' or a 'dirty old man' depending on your point of view though the first is better to have on the label. Chatting to Alan, I discovered that 2 years is the longest he has ever seen a whisky matured in a Pedro Ximenez cask and 18 months is realistically the maximum a whisky can be in one, in his view.
Next was the 1972 Oloroso cask 710 sample from Saturday, which smelled of leather, oranges and citric acid. Still alive and kicking, despite its age, this presumably will be bottled very soon. Also, to look forward to, 3 weeks production at the distillery has been with heavily peated malt.
Moving on, we had the widely available Benriach 16, at 43%abv, which is Alan's favourite Benriach and has a nose to wax lyrical about with vanilla, honey, wham bars, fruit salad bars and other tooth-destroying sweets present. I recommend to the reader to get the Benriach miniatures gift pack and have the 12, 16 and 20 year old versions back to back to see the difference in taste between 3 whiskies that are almost identical in colour but nothing like each other in taste.
Possibly the find of the festival was the 17 year old Burgundy wood finish. Having spent 3 years in the wine casks, I recommend allowing this to breathe, as you would wine, before tasting. Alan was honest enough to tell us that he had not tried this one, but he need not have worried. The wonderful smell of banana and Turkish delight greeted my nose and the taste was delicately sweet and nicely balanced before a finish of stewed fruits and a little smoke. A 1975 refill Oloroso cask sample, at 53%abv, had been extracted on Friday and showed itself to be exceptionally well balanced with the sweetness unveiling itself slowly.
Before ending with the widely available 10 year old 'Curiositas', we sampled a bourbon hogshead matured cask from 1966 – apparently a significant year for English football. This was a dram for a Texan Oil Baron and had aged magnificently though, after jousting with some festival regulars from England, Alan said that he would let it fall under strength and blend it away. The taste, after so many years, was of luxurious and elegant bourbon though Danny Maguire reckoned he could taste rum and raisin fudge. (It was good to see Danny so enthused, as he had been in hospital for many months previously with a slight chest cold.)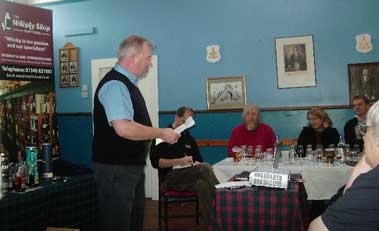 The BenRiach/GlenDronach tasting
Having presented us with so many great whiskies, what better way to reward Alan was there than several thunderous rounds of applause and that was exactly what we did.
Duncan Taylor Masterclass

The final tasting of the festival was brought to us by Mark Watt, of DTC, who has now recovered from a terrible incident when Mike Tyson, Lennox Lewis and Frank Bruno attacked him, held him down and forced him to have a non-alcoholic drink. (This is the only way to get Mark to have a non-alcoholic drink.)
We began with an NC2 9 year old Balmenach, 46%abv, which had a creamy, malty smell and tasted, according to Mark, of lime pickle. This had a soft finish with a hint of smoke and is a favourite distillery of Mark's as he remembers the now defunct Flora and Fauna Diageo bottling.
A walking treasure trove of anecdotes, Mark introduced us to a 'Whisky Galore' 13 year old Imperial, at 56.4%abv. This bottling helped use up some of the old 'Whisky Galore' labels the company had left over from an old bottling range and was exceptionally sweet, tasting of lemon bon-bons and licorice as well as smelling of custard creams. As a surreal aside, Mark has seen milk added to whisky and seen Quaich's used as finger bowls.
Keeping the standard very high, an NC2 10 year old Craigellachie, at 57.1%abv, had sherbet aromas and was surprisingly smoky, suggesting that the cask had previously contained Islay whisky and could, in a blind tasting, have been mistaken for Ardmore. The smoke disappeared with water and tasted uncannily like banana and custard. Mark then conjured up some amazing mental pictures by telling us of the night he took an ill-advised shortcut through the distillery on what became known as 'Incredible Hulk Night'.
A 1974 Glen Grant, at 54.5%abv, brought back more memories of wars against my teeth by smelling of fruit syrup and fizzy chew bars. The elegant flavours of malt and grass followed before an exceptionally long finish. Such is the depth of Duncan Taylor's stock that when a representative of Glen Grant owners, Campari, talked of releasing what was, for them, an older bottling of some 15 year old whisky, Mark said nothing and merely poured him a glass of 1974 vintage.
With no let up, Mark introduced his party piece in the form of a 1973 Port Dundas grain, fully matured in a sherry cask and at 56.1%abv. Mark announced that he smelled pickled onion Monster Munch and proved his case by having sherry brought in with said delicacy perched on the glass. This tasted sweet with the flavours hovering tantalizingly between Bovril and coffee before a finish, amazingly, of vanilla and spice.
Next, was a world exclusive preview of the second batch of Black Bull 40 year old blended whisky, at a natural cask strength of 42.2%abv, with the component whiskies to be listed on the bottle. With chew bars on the nose and kiwi fruit on the taste, this stylish dram had a dry vanilla finish.
Talking us through his company's methods, Mark noted that Duncan Taylor have to balance limited supply with very high demand and recounts bottling 3 casks of 1966 Bowmore, each of which sold out in an hour and earned him the rest of the day off.
Appropriately, we concluded with an NC2 1997 Laphroaig, at 46%abv, and this gave me a chance to wax eloquent. The nose had characteristic smoke but, also, amazing sherbet and syrup sweetness. The smoky, peaty taste had no big attack and no hint of the old medicinal quality that Laphroaig had in days gone by and was reminiscent of an old style Caol Ila. Smoke was still there at the end as well as peat that wafted gently away. No reader or whisky drinker should be put off by the name Laphroaig any more, in this writer's view. The idea that it is a 'one big punch' whisky is simply not true and, though the famous attack has gone in recent years, it has shown that the whisky has many more strings to its bow and bottlings of this quality, smoothness and unusual flavours deserve to win Laphroaig a new audience.
The drams party brought the festival to a civilized end and, in closing, I'd like to thank everyone involved in organizing and running the festival and, in particular, Mike Lord and his wife Val, Steve Oliver, the wonderful people at the 'Coffee Pot' for keeping me going through the weekend, to Jen and Vicky at the Whisky Shop, to Gordon Haughton, to Rene and Glo and everyone involved with the 'Mates of the Museum' plus Alan and Susie at the Tannochbrae.
Given the success of his bottlings, Mike is preparing to step up his discipline to a level so high that he will be able to watch Morris Dancing without cracking up, a feat impossible to all except, of course, Morris Dancers. I'm off to join a secret society so secret that even I don't know they exist. Hopefully, I'll see you again at the spring festival, guaranteed to be more entertaining than a trip to Paris with a book by the perplexed author W.G. Aardvark and, until then, always look on the bright side of life……