Spirit of Speyside Whisky Festival September 2008
Report and photographs by Bruce Crichton
After fighting George Foreman for a comb, I was knocked out in one second, I headed to Dufftown. (People wonder what I get out of these fights and the answer is injuries). To help me recover, the Spirit of Speyside Whisky festival was just what I needed and after several days of great whisky, fine food and feverish scribbling, here is my account.

As usual, every event was done in 'Brucie style', which means my slops bucket could have been used for covert military operations. Because of this, I apologise in advance for any factual errors as whisky is not a memory aid. All of the views expressed on the whiskies available are a reflection of my own ability to nose and taste which is why they have all the style, poise and grace of an orang-utan in a tumble dryer. More seriously, I would add that, to keep this report a manageable length, I refer the reader to previous reports and tastings if a whisky has made a re-appearance plus I have also assumed the reader is familiar with any widely available bottlings tasted. I've also quoted a number of festival regulars whose notes I found interesting. All the independent bottling companies featured do not chilfilter or colour their products. Any water added to my whisky was literally one drop.
Thursday evening featured the Whisky Quiz with Mike Lord as host and two teams: husband and wife Donald Colville and Susan Webster, on one side, and Mark Watt and Gordon Haughton on the other. For the teams, the quiz featured a number of rounds adapted from popular television quiz shows. For the audience, there were a number of general knowledge rounds and the chance to win prizes. The audience team featuring Geir Haug, Stuart Kerr and myself romped home demonstrating that it does sometimes pay to be a goldmine of useless information while Donald and Susan defeated Gordon and Mark after a 'mime the distillery round' that was like a lost sketch from Monty Python.
Friday began with a bus trip to Glen Rothes distillery and genius bus driver Mike Hendry kept us entertained on the journey with several stories. (Mike has written many novels under various pseudonyms, including Ian Fleming, J.K. Rowling and J.R.R. Tolkien). Arriving, we were greeted by Eric Jefferson who showed us round the distillery – not open to the general public. Opened in 1879, Glen Rothes uses Optic malt from the Saladin malting at sister distillery Tamdhu and has 4 washes, more than most distilleries. The wash backs are a combination of steel and pine because Glen Rothes feel that wood adds something to fermentation even if experts say otherwise.
The practice of 'dramming' at distilleries was ended in the early 70s but Eric told us of the cheeky postman who always managed to turn up just in time and then would head to neighbouring Glen Grant afterwards. The whisky produced is prized by blenders as 'top dressing' and we viewed the tall stills which produce a relatively light spirit. These stills give an exceptionally long contact between the copper and the spirit giving very clean new make. The 'cut' taken is small and the distillation is 12 hours in length – very long. The new make is filled at 69.4%abv – unusually strong – and maturation is in a mixture of bourbon and sherry casks. A small cooperage is on site for repairs. Edrington, the owners, have a very strict wood policy and view maturation as being of the highest importance. In a warehouse, we viewed a cask which had been maturing for 12 years before having both flat sides replace with glass in order to show the loss known as the 'Angel's share'.
Bottling of Glen Rothes takes place not by age but by vintage. The whisky is made by Edrington and marketed by Berry bros and Rudd who began life as London fine wine merchants. With that we headed to the Cutty Sark visitors centre and were treated to an entertaining presentation, introducing us to such luminaries as Beau Brummel, Captain McCoy of 'The Real McCoy' fame, and the gentlemen behind the pale coloured Cutty Sark blends, a revolutionary idea when it was mooted in 1923. The individual whiskies in Cutty Sark are 'married' for 6 months after the casks are chosen.
Closing the tour, we had a number of vintages to choose from and I plumped for the 1994, which was syrup sweet with a slight sharpness and a malty finish. We were also given a booklet and a 100ml miniature of the 1994 to take away with us, a lovely touch, and then we bade Eric farewell.
The second leg of our trip took us to Macallan where we passed the giant new warehousing complex. Wendy, our guide, told us that 'Minstrel' barley, malted at Tamdhu, is used as the 'Optic' and Golden Promise strains are coming to the end of their life. Plans are in place for a cooperage to go along with the new warehouses.
Walking round, we found out that a mothballed section of the distillery has been brought back online to keep up with booming demand. Macallan has 3 washes and has a large number of very short stills, the smallest on Speyside, giving off a heavy, oily spirit. Uniquely, a semi-louter mash tun is used which means that the mash takes half the time. The tour was truncated to avoid repeating ourselves and Wendy did point out that 15 stills are used – unusual for a whisky which is double distilled.
The robust new make is filled into the casks at 69.5% and this can be either to Jerez sherry, bourbon or Ohio oak. A combination of these three is used for the relatively new Fine Oak (FO) range while the Jerez matured casks are bottled on their own. Interestingly, the watered down whisky goes to 'marrying' butts before bottling. A 10 year old might get three months while the 30 year old may get 2 years.
To round off, we had a fine vertical tasting. The 12 year old, widely available except in the UK, was rich, stylish and had toffee flavours that opened with water. The FO 15, 43%abv, had chocolate on the nose with vanilla in the middle and a peppery finish - a surprisingly delicate dram. Macallan 18, 43%abv, released as a vintage, was next and the 1990 bottling had orange and toffee notes and would have made a fine digestif while the FO 25 had an estery nose which hinted at acid drop sweets. This was soft and had the merest hints of vanilla and a generally warming and luxurious quality about it. As a special treat, we tasted a 1976 'Fine and Rare' bottling, 45.5%abv, which had a rich nose and an exceptionally sweet taste and will set you back £70 for a miniature so well done to you if you can obtain a bottle. Amusingly, Wendy then asked if anyone would like to finish hers so I claimed it before anyone else could draw breath – the seconds were even better than the first taste.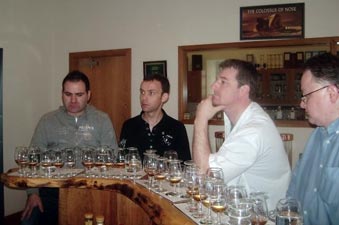 The Macallan Tasting
My first museum master class was with Steven McConnachie, of Whyte and Mackay, who brought along widely available but nonetheless welcome stuff with him. As Steven gave us a little background to Whyte and Mackay, we sampled the delicate and syrupy 13 year old blend, even better than the standard non-age statement bottling – number 2 seller in Scotland behind Famous Grouse and containing 35 malts and 6 grains. Isle of Jura 10 was inoffensive but had a jarringly bitter and off-key finish which I hope wasn't due to caramel addition. Tamnavulin 12, from the now happily re-opened distillery tasted of nuts and wine and is probably ideal for the typical female palate. Stepping up a gear, the Fettercairn 12 is due for a repackage, apparently, and, on this showing, unjustly slated by the Whisky Bible. I found nuts and toffee on the nose with the same on the taste and a dry finish suggesting that it would be a good aperitif. The eyecatchingly packaged Dalmore 12 is much more substantial than about 5 years ago and is lightly smoky with toffee again and a velvety finish. Steven's view, which I share, is that Dalmore doesn't improve with water and he suggested that, if he is able to return, he would bring along some older expressions from the range – something to look forward to, no doubt. A little bonus at the end was Jura Superstition – a finely balanced dram with an attractive combination of peat and sherry sweetness which makes it the one to buy from Jura, in this writer's view.
Next up was a selection from Glasgow based bottler Douglas Laing's Old Malt Cask, all bar one at 50%abv, presented by Jan Beckers who has happily recovered from a severe injury sustained while combing his hair. (I was going to ask him if it was the same comb I fought George Foreman for but that would have been a bit daft).

An extremely dark coloured but deceptively subtle Mortlach 15 kicked us off as Jan detailed the story of writing notes for bottles and his encounters with Dutch tourists as a Glenfiddich tour guide – Jan is Belgian and speaks considerably better English than the average Glaswegian. This one had a soft sherry nose and was like drinking velvet. Wedding cake tiptoed over the tongue at the finish.
This would be the last dram from an open distillery and Jan proceeded to give a fine history lesson beginning with Saint Magdalene 25 from a refill sherry butt. This was pale with a light, fresh citrus taste and a long warming finish. Convalmore 32, 48%abv, had pear drops to nose and, again, a light citrus taste albeit with a short finish. 1980 Coleburn, from the now demolished distillery, gave Jan macerated peaches on the nose (much less painful than macerated plums, I'm sure). I found it a little sharp with cereal flavours in it and some cream and spice at the end.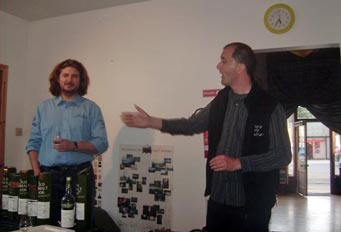 Mike Lord introducing Jan Beckers
Glen Albyn was next and the 1977 vintage bottling had a crisp taste and gave raisins and a charming richness on repeated tasting plus some chocolate on the finish. Festival regular Danny Maguire has a cask of Glen Albyn in bond and, on the strength of this dram has a treat awaiting him which will no doubt help him get over the failure of his barbed wire underpants business, though he is hopeful that his next venture, inflatable dartboards, will be more successful. Finishing off was a 1975 Glen Mhor, sister distillery to Glen Albyn in Inverness, which had light honey on the nose, more honey on taste and was understated compared to Glen Albyn. Jan finds this tangy.
Returning to the Museum on Saturday and filmed by the Malt Project camera crew, we joined Mike Lord for whisky and salmon. The salmon had been cured for 30 hours with the whisky it was paired with and either lemon or orange zest. (Mike said that the salmon had been freshly shot in the hills with a sword though this might not have been entirely true.)
The official bottlings of Glen Elgin 12, 43%abv, Old Ballantruan, 50%, and Talisker 18, 45.8% plus a 1991 Murray McDavid Caol Ila, 46%abv, were used. Briefly the Glen Elgin is a well kept secret and is pure silk in a glass with a little smoke which made Mike choose it for the first salmon, cured with brown sugar, orange, white pepper and chilli powder and complimented the whisky nicely. The Talisker 18 was mellower than the 10 year old and had similar flavours. The salmon was cured with salt, sugar, chilli, coriander and lemon. Old Ballantruan, widely covered in previous reports, went well with a salmon cured with tarragon and lemon and made a salty combination on the tongue.
The Caol Ila was unrecognizable as it had been put through the controversial ACE process. Despite this, I enjoyed it though I could only pick out orange crème as a flavour. Unsurprisingly, this fish had been cured with orange. In closing, Mike added that he prefers unchilfiltered whiskies with his salmon and cask strength ones are even better.
Later, we tasted cask strength whiskies from A.D. Rattray presented by Susan Webster who swims ten miles a day to keep in shape – this is even harder than it sounds as the last three are over land. Such was the smoothness of each whisky that I finished all mine without water. A fantastic Macallan 9, 54.4%abv, started us off while Susan recapped the story of the long gone Stronachie distillery and picking up a bottle of the original whisky from an auction, which was then promptly dropped. The Macallan was from a refill bourbon cask and tasted almost completely of golden syrup. Susan showed only slight annoyance when I suggested that it would marginally improve a batch of Famous Grouse. Susan is not a fan of the distillery bottling of Ben Nevis but the 11 year old, at 56.8%, on offer was from a refill sherry butt and was a pleasant surprise to her. I found it smooth, rich and sweet and Susan reckoned that it had no 'prickle' and looked rather baffled when I said that this was because there were no hedgehogs in it. (Hedgehogs in the casks are the untold bane of the industry and Colin at Aberlour does a tremendous job keeping them out.)
Susan expected her next choice to be controversial and it was. A Strathmill 17, 60%abv, was finished in Claret and tasted mostly of Claret and berries. This was part of an attempt to revive two dire casks – one of Auchroisk and one of Strathmill. Apparently, the Auchroisk was a total failure and sold to the Russians which we all found amusing. This wasn't really to my taste but still offered an interesting look at the effect of wood finishes and is worth checking out, especially for claret lovers. In contrast, Dufftown 32, 55.4%abv, was floral, citric and grassy. Danny noted cereal and Andy Ellis found it oaky.
Abandoning any attempts to further annoy Susan, I eagerly awaited the 1976 Bunnahabhain, 49.4%, I had asked Susan about five million times over the summer to bring this to Dufftown. (This is an approximate figure as she lost count at two and half million and I lost count after three million.) A fresh nutmeg taste was there and some malt and spice also convinced me to grab a bottle as soon as possible and brought the master class to a great end.
Dinner at the Tannochbrae hotel was accompanied by whisky from William Grant and songs from the ever popular Robin Laing. Bert Macor, from the company, talked us through the history of the firm and paid tribute to master blender David Stewart as we paused between each delicious course to taste Balvenie and Glenfiddich. As well as the Glenfiddich 15 and Balvenie Signature, I particularly enjoyed the limited release Balvenie 17 year old rum cask that went ideally with 'Tannochbrae' mess – the best dessert in recorded history. A Balvenie 21 year old port wood finish did not have particularly striking flavours but did have a fine after dinner quality but special mention must go to the cask strength 15 year old Glenfiddich that was matured in sherry wood. This was rich, dark, beautiful, elegant and had fantastic 'legs' which made it the Naomi Campbell of whisky. (This theory was confirmed a few days later when the whisky got into a fight at the airport but was let off with a slap on the wrist.)
Thanks must also go to the articulate and passionate Bert for his commentary on the whiskies and for correcting a longstanding misconception of mine about where a whisky's 'legs' come from. Dutchman Bert, you can tell by his accent and by the fact that his English is better than mine, also fittingly describes the Balvenie 17 as having 'an avalanche of raisins and sultanas.'
Afterwards, I narrowly avoided the pyjamas of perplexity and the disastrous dressing gown of despair, I really would have been in trouble then, and headed off on Sunday morning to Glenrinnes for the Flora and Fauna walk with David Newlands, our expert guide for the day. Never one to do things by half, I decided to keep pace with the frontrunners and could soon be heard puffing and panting several miles away. Nonetheless, I did manage to keep up until the walk flattened out and we stopped from time to time for refreshment and for David to tell us several interesting titbits about the local wildlife and plant life. Despite returning from the walk wearing rather more the countryside than I anticipated, it was fascinating to discover the scale of capital and energy that goes into managing the Glenrinnes and Glenfiddich estates. The local plantation forests have come to naught as cheaper and better wood is available from other countries thereby demonstrating that a free lunch is just not possible. It was intriguing to discover that cloudberries are highly sought after and particularly by Norwegians who come to blows over them – thankfully none of that this time. Fortuitously, a few buzzards hove into view just as David was telling us of them and the nearby Auchindoun castle had apparently been the subject of centuries of political intrigue. As we walked past the moors and the heather, we discovered that a lot of forward planning really does go into the management and conservation of that and the red grouse population. We arrived back in Dufftown and rounded off a fine morning with lunch at La Faisanderie restaurant.
After a quick change out of the local flora and fauna I was wearing, it was time for Mike Lord's next whisky and cheese class. Varying the format slightly, Mike gave us two glasses so that we could compare peated and unpeated whiskies with the cheese and treated us to his in-depth expertise on the subject – his favourite combination with whisky. Glen Elgin 12 and Talisker 18 reappeared as did the Balvenie 21 Port Wood and was joined by a subtle and lightly creamy Clynelish 15, at 56.4%, from Cadenhead's 'Authentic Collection'. A Benriach 12'Arumaticus Fumosus', from their 'Daftus Namicus' series, reviewed in May 2008, completed the whiskies. Our cheeses were a Drumloch Scottish Cheddar, a cave-matured Cheddar, made in the town of Cheddar, a vintage Cheddar, a smoked Applewood cheddar and a Lanark Blue cheese which was made from ewe's milk. I leave the readers to experiment with these pairings and to draw their own conclusions and add only that the Balvenie 21, at 40%abv, could perhaps have benefited from higher alcoholic strength had an amiable quality to it even if I found it hard to differentiate flavours but it is probably an after dinner whisky which meant that the middle of the afternoon was perhaps the wrong time to drink it.
For the Duncan Taylor session, the colourful Jacqueline Sullivan filled in for Mark Watt who was in Japan. (His drinking session in Dufftown the night before got out of hand and that's where he woke up.)
A Battlehill Miltonduff 8, at 43%abv, reappeared from the May 2008 festival and was an enchanting way to start and we moved onto the 1979 'Rarest of the Rare' Pittyvaich, at 48.3%abv, which smelt of fruit crumble and which Jacque found tasted of clementines. The finish was dry and had a slight bite indicating that this long demolished distillery supplied whisky for the Bell's blends. Jacque also told us that this range only applies to distilleries that have been knocked down and that the stills from this one have been moved to Clynelish.
A Lonach Range (two or more casks) Glen Grant 38, at 51.7%abv, nosed of treacle and a light sherry. This had come from refill sherry casks and was spicy and graceful and very easygoing, despite its' advanced age. Jacque finds that this fills the mouth and pointed out the difference between Mark Watt and a coconut. (You can get a drink out of a coconut.) A 1984 Highland Park, also from Lonach and at 50.9%abv, had been matured in refill bourbon casks. The nose was of vanilla and sherbet and it tasted sweet and exceptionally creamy.
An NC2 Caol Ila, at 54.4%abv, had almost no colour and was exceptionally light in character, tasting almost icing sugar-sweet. The finish was sweet with only slight peat and smoke and a little pepper. Rounding off was a stellar bonus dram from Mark's beloved Caperdonich. This 1968 vintage was 51.8% and Jacque reckons it tastes of tropical fruit though I found pepper on the nose.
Keeping up the pace and the quality of the greatest Sunday ever, Robin Laing turned up and varied his format from the spring somewhat by bringing three bottles from the Scotch Malt Whisky Society (SMWS) and comparing these to three bottles from the Whisky Shop Dufftown. Each bottle was cask strength.
Glenlivet Nadurra 16 (batch 1007D), at 57.7%, is that distillery's answer to Aberlour A'Bunadh. It smelt of sherbet lemons and tasted of wine and nuts with a warming finish. An SMWS Craigellachie 8, 61%abv, was from a refill sherry butt but had the colour of a first fill 15 year old. I gleaned the attractive scents of coffee and Bovril and found it spicy with sherry and maple syrup. There was also no rawness about it and this kind of whisky is a godsend to any writer, professional or amateur. Robin told us of the surreal way in which tasting notes for SMWS bottles are composed by committee.
A 25 year old SMWS Aultmore, at 55.7%abv, had a floral nose and brought to mind 'Refreshers' sweets with a slight effervescence about the taste. The Parma violets finish made this pure self-indulgence in a glass bringing to mind all manner of sweets I hadn't had in decades. Robin's view is that this distillery is consistently good though chances to taste it as a single malt are rare. He added an amazing aside that the mash from this distillery was once controlled from a laptop computer in Germany – an astounding mental picture. Also rare are examples of Glencraig malt whisky. This was produced between 1964 and 1981 at Glenburgie, using Lomond stills. A 1974 SMWS expression brought to mind more memories of childhood sweets and made me wonder how I have any teeth left. Fizzy Sherbet was my first impression on nosing and the taste was of malt and lemon curd with a soothing finish. Interestingly, Robin talked of the emotional impact of such drams, something that the younger whiskies do not have. How much has the world moved on since the whisky was made? Are the men who produced it still around? All thought-provoking stuff.
A 1990 Adelphi Mortlach was described by Robin as 'Viagra in a glass' and had him talking about the alchemy and magic of whisky. (See? Bet you didn't believe all those earlier reports when I said Adelphi were purveyors of magic potions. Now it has been confirmed by an expert). At 57.5%abv, this smelt of coffee and treacle with rich heavy treacle to taste. We ended with Old Ballantruan, covered in many previous reports.
Even more entertaining were Robin's stories of epic battles between King Malcolm and the Vikings and he read a poem from his newly reprinted 'Whisky Muse' book. A book on the legends of the isle of Islay is on the way, as is one about Highland distilleries. Speyside distillery is apparently bringing out a heavily peated expression but the piece de resistance were the songs about Willie and his inflatable companion, David and Goliath the horse and the eye-wateringly funny 'Closing time'. Watch out for the footage of the night in the near future. Several encores followed and the evening ended with a long and thunderous round of applause.
The day came to a close just in time for me to avoid falling down the wrong leg in the trousers of time, tumbling past the odd socks of obscurity and ending up in the boots of befuddlement, I'm sure you know how this feels, and, after Monday morning off, George Thomson, distributor for the Vintage Malt Whisky Company, took us through the 'Cooper's Choice' range. George works for Stella brands and, as we looked at the collection, all bottled at 46%abv, he presented us with a rarely seen perspective at the festival: that of the major industry player.
As we listened to recollections of working for Bell's and White Horse, I found a 2001 Auchentoshan to smell a little spirity but did like the attractive flavours of bourbon and peaches and its' crisp character making it a fine aperitif in George's view. A 1994 Aberfeldy was more substantial, tasting of nuts and bourbon and a longer finish than the first dram. A Craigellachie 13 had a sharp nose and some off notes, tasting rather bitter and dry.
As George recounted the accidental discovery of maturation when a cask was buried and not recovered for four years, we had a 1993 Mortlach that was paler in colour than one would expect from maturation in a first fill sherry cask and had a fine balanced quality to it with light sherry being the predominant taste. A 1991 Caol Ila had an almost liqueurish nose to it with light pepper and peat ghosted over the tongue followed by a hint of smoke. George admits to not being an Islay lover but this was to his liking. The pick of the bunch was a 1999 Glen Ord, George's favourite as well, which smelt of icing sugar and had notes of cream and smoke.

The last master class of the festival was the always eagerly anticipated Alex Bruce with some more cask strength magic potions from Adelphi. Official tasting notes were, as usual, from popular writer Charles Maclean. Returning to a favourite theme of his, Alex brought a sample from a 1978 Cameronbridge grain whisky, at 56.6%, which had not yet been bottled and invited us to contribute notes to the bottling. This was exquisite, tasting to me of the richest, softest and most complex bourbon and a particularly attractive nose making it the Scarlett Johannson of whisky. Not wishing to contribute utter rubbish in seriousness, I kept this mince to myself and left it to the professionals with Robin Laing later telling me that he had loved this as well and had got an orchard full of fruit flavours with bananas standing out. (An object lesson on the difference between a man who does this for a living and a man who does not.) Interestingly Alex added that this whisky might well have begun life in a sherry cask before being re-racked into a bourbon cask.
A 1993 Cragganmore, at 59.1%abv, smelt leathery and had the sweetness I associated with 'Wham' bars followed by some delicate smoke to end with. Alex jokingly refers to this distillery as 'Craggers', which rather sounds like a character from Biggles. Giving a 1978 Glenlivet, at 52.1%abv, a couple of minutes to breathe will reward the taster with a supremely mellow nose. Flavours of grass and lemon zest came to mind and a vein of smoke trickled through this one. The finish was long and dry and Charles MacLean finds freshness and apple-flavoured 'Chewit' sweets continuing the recurring theme of the weekend. A 2000 Glenrothes, at 58%abv, confirmed my suspicion that I had tasted it blind in the spring. This was one of a clutch of seven casks from the same year, including a 6 year old bottling from the previous spring that was not to my taste though well-received by everyone else. The nose was of Bovril but that was the only thing about it that suggested wet Wednesday nights at the football. The official notes accurately describe it as smooth and rounded with a hint of pomegranate and fresh green plums, insert your own punch line, and though the rich, sweet whisky divided the class, no one thought it needed more age so I made this my pick of the session. (Maybe Alex used the wrong ingredients in his last batch of magic potion and that's why I didn't take to the 6 year old bottling.) A 1993 'Breath of Isles', at 56.2%abv, had a great combination of peat and sweetness and 'beaded' nicely indicating great mouth-coating quality. There was also saltiness and seaweed on the palate, something I only ever get when tasting Talisker. Alex then took his customary round of applause and bade us farewell.

After running like hell up to the shop for a bottle of Glen Rothes, I returned to the museum for the dregs party held there as its' future hangs in the balance. At this watershed point for the museum and the festival, I'd just like to close with some more random observations that didn't really fit in anywhere else:
Popping up behind people and saying 'Bing, bong, bingely beep!' doesn't half wind them up. (I shall try not to do this more than two or three hundred times at the next festival.)
If anyone saw the air above Glenrinnes turn blue, that will have been me going over on my ankle umpteen times. (Sorry about that).
To Glenfiddich: can we have some single cask whisky of the standard I had on Saturday night made available to buy? It was way too good to be diluted down and blended away.
My attempts to teach the words 'Cue ball', 'Slaphead' and 'Baldy' to a young Norwegian child came to naught – obviously my pedagogical approach needs revising.
It is disconcerting to go out drinking in Dufftown and wake up in Japan but Mark Watt did manage to get used to it after the first thirty-two times.
It is also disconcerting for a singer to have his own songs played back to him, as Robin Laing showed me. This never happens to me as I can't write or sing to save my life - an object lesson, I'm sure. However, if the calibre of my notes is not improving, the standard of my recommendations is and Robin told me that he picked the Glenlivet Nadurra because of what I had said to him. (Smug mode).
In closing, I'd like to thank everyone involved in organising and running the festival and, in particular, Mike Lord, Steve Oliver, the wonderful people at the 'Coffee Pot' and La Faisanderie for keeping me going through the weekend, to Andy, Val, and Claire at the Whisky Shop, to Mike Hendry, to Renee and Glo and Alan and Susie at the Tannochbrae
I'm off to hunt wigs, you've probably met some of my customers, and, hopefully, I'll see you again at the next festival, an event guaranteed to be even more stylish than a tumble-dried Orang-utan.