The first 9 months of Whisky-news.com
This site web, www.whisky-news.com has been launched almost 9 month ago, on the 16th January 2006. Since then, 9541 users have consulted my website and browsed through 23000 pages pages (see Graph 1), with the majority visiting the English pages (72%) than the French pages (28%).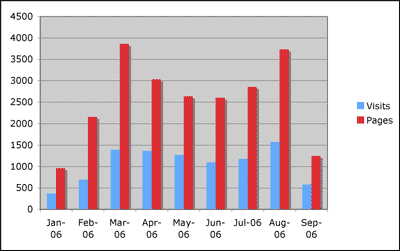 Graph 1: Number of visits and pages between Jan, 16 and Sep, 11, 2006.
The content of www.whisky-news.com will continue to grow during the next months. The list of distilleries that I will add in the "Distillery in Focus" will mainly depend on how time I will be able to invest. During the last months, I have visited quite a few distilleries and next week I will be travelling between the Speyside and Orkney to take photographs of a fair number of distilleries (Highland Park, The Macallan, Tamnavulin, Dalmore, Glendronach, Cragganmore and many others).
The Tasting notes section will expand with samples from other non-previously distilleries such as Bowmore, Littlemill, Tormore, Ardmore and many others.
New books review will also be added and a new report on Peat and Phenol is in preparation
I am always looking for whisky samples. So please feel free to send me some samples. I would delighted to taste the whiskies you have to offer and the tasting notes would be then posted within 3 weeks.
Christmas is coming and new releases are to be expected. Keep a look at the news.
Slainthe
Patrick
For samples, here are my contact details.
P.Brossard ©Sep. 2006