Interview of Andrew Gray, Sales Director & Co Proprietor of the Bruichladdich Distillery and Murray McDavid
"I had the pleasure of meeting Andrew Gray, Sales Director & Co Proprietor of the Bruichladdich Distillery and Murray McDavid brand of independent bottlings, during the first Murray McDavid tasting held during the Feis Ile 2008 on Islay. Andrew has kindly answered a few questions about Murray McDavid.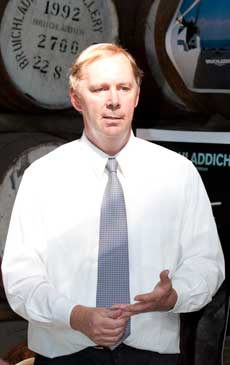 Andrew Gray during the first Murray McDavid Master Class at Bruichladdich distillery
Whisky-news: Murray McDavid is an independent bottler and quite well known amongst the whisky enthusiasts, but not the origins of the name. Where does this name come from and what is the relationship between Murray McDavid and Bruichladdich?
Andrew:
The names Murray and McDavid are the family sur names of some of my fellow Directors Scottish family predecessors.
The Murray McDavid brand of independent whisky bottlings is wholly owned by the Bruichladdich Distillery Company Limited (BDC) and is an indication of BDC's interest and respect for whisky where in addition to selling Bruichladdich we sell a range of approx. 50 other Distilleries single malts under the Murray McDavid brand in the way we believe these superb single malts should be bottled – non chill filtered , with no artificial colours or sweeteners .
Whisky-news: For the readers, could you please explain what is your role in Murray McDavid? And is Jim McEwan involved in the selection of the casks bottled under the Murray McDavid range?
Andrew:
My role is to scour the market to identify supply sources of good quality casks of single malts I believe will be of interest to our customers , in consultation with Jim McEwan's encyclopaedic knowledge of single malts , and then negotiate to buy those casks. Once the casks arrive at Bruichladdich Distillery Jim McEwan will evaluate each cask and then will decide if he wishes to re-cask them for additional maturation and decide which warehouse and position within the warehouse he wishes the further maturation to take place.. At any given time BDC has a range of empty casks (new oak , fresh bourbon , wine , port , Madeira , rum , cognac , sherry etc – procured by any of the 4 executive Directors , Mark Reynier , Simon Coughlin , Jim McEwan and myself. I then discuss my an annual and 5 year forecast of which malts I wish to sell during each year with Jim to give Jim time to prepare the casks for bottling in line with the forecast . I have worked with Jim for the last 20 years approx and work well with him – what's not to like , he is a genius.
Whisky-news: With the shortage of old matured whisky, how is now the situation for you, do you manage to find new casks?
Andrew:
It is always a challenge for relative new boys on the block in the whisky industry like ourselves as we don't have long standing arrangements passed down through the generations with whisky companies in the industry as many of our competitors do so we have had to work with a variety of sources which I do not wish to reveal , in the same way that our competitors do not reveal their supply sources.
However I think we have many advantages over our competitors – we are able to source a better variety of premium empty casks for re-casking – eg. wine , rum , bourbon , sherry , port , Madeira , cognac etc , and have very well developed palates for judging flavour nuances which I have not found to the same extent in other scotch whisky companies , and we have the perfect micro climate on Islay to develop quicker maturation , and then have the ultimate secret recipe , Islay water to reduce form cask strength to 46% for our core range bottlings . Give me Islay water over Aberdeen , Glasgow or Edinburgh water any day.
Whisky-news: I discovered the Murray McDavid products with the first Mission serie, then the range expanded with additional Mission series, the Mission Gold, and the Celtic Heartland range. Could you please explain the differences between the different series?
Andrew:
Certainly.
We have 5 categories of independent bottlings , because we love spirits :
1. Core Range - aged anywhere between 3 years to 17 years of age , and bottled at 46% alc./vol. at Bruichladdich Distillery with Islay water at 46% strength in a standard whisky bottle and silver tin
2. Mission Gold series - aged usually between 18 to 29 years of age but sometimes will feature malts younger than 18 years if the casks are truly exceptional bottled at cask strength at Bruichladdich Distillery in a standard whisky bottle and gold tin
3. Old Vintage Mission series – aged 30 years and over , bottled in the original Mission bottle and packaged in a wooden box
4. Celtic Heartlands series – aged 30 years and over bottled in an expensive decanter bottle and presented in a more expensive presentation box . This is our super premium range of independent bottlings for rare small parcels which Jim reserves for this range.
5. Renegade Rum series of independent single distillery rums which I introduced to BDC because of my love of rums and which we re-cask at Bruichladdich Distillery to create distinctly more interesting rums than are generally available. Try them for yourself , I am confident you will like them.
And who knows we may introduce some other categories in years to come as we like to offer quality and choice. Life's too short to miss out on flavour experiences these ranges offer .
Whisky-news: Over the last years, the proportion of Additional Cask Evolution (ACEd) in the Murray McDavid range has significantly increased? What is the reason?
Andrew:
I am pleased you have asked me this question as it is generally misunderstood.
We wish to create quality and variety as we believe spirits are a mood and occasion drink , a different flavour will suit a specific time of day , day of the week , on arriving home from work , pre-dinner , post dinner , weekends , late at night , on your own or with company etc.
Quality - as some malts offered for sale to independent bottlers by suppliers in the industry have been are matured in tired casks (casks that have been used for maturation too many times or for too long a period) we wish to re-cask them to reinvigorate the quality of the spirit in the original cask. With Islay's unique sea breeze atmosphere which speeds up maturation we are able to bring the malts back to their best in a relatively short period of time
Variety – we prefer to offer consumers the chance in Murray McDavid to try their favourite malt in a style that you cannot buy from the Distillery itself – eg. Macallan additionally matured in Chateau d'Yquem or Chateau Lafite or Amarone wine casks. We are not implying that Macallan is a boring malt and has to be re-casked to be interesting , quite the reverse , we think Macallan is an exceptional malt but rather than copy Macallan 's Fine Oak series with a wee copycat bottling in the same style we like to create something that is significantly different which Macallan fans may want to try as an alternative. However I wish to make it clear that we are not trying to compete with Macallan and sell huge quantities of Macallan , no , we are simply bottling a range of limited release/edition quantities of a large range of malts (up to 50 different ones) for malt enthusiasts to try at home for a special occasion.
This is in keeping with the scotch whisky industry's heritage where wine and rum casks were used for hundreds of years to mature scotch whisky in before sherry and bourbon casks started to be used. Indeed sherry (as well as port and Madeira ) only started to be brought into the UK in casks for consumption because of the Napoleonic wars made the trading routes with France became too dangerous for continuing to import Bordeaux claret wine into the UK .
It is not a marketing gimmick as some of our competitors or fans of other whisky brands have claimed – which is very unfair. We don't have any marketing budget other than great people , great whisky and great tastings – whereas often the criticism comes from brands or fans of brands with huge marketing budgets . However it is not my position to criticise others , it is my role to highlight what's interesting or unique about our own brands.
Whisky-news: In some recent bottlings, some whiskies have ACEd in more than 1 type of cask (e.g., sherry & Bourgogne). How do you define the duration, number of "ACEd" and length of these treatments?
Andrew:
This is simply to add additional layers of flavour to some bottlings. We limit the times we do this as it's an expensive process because with each re-casking you lose some of the whisky (in the vat , in the filling hoses , evaporation in the air , spillage , and in the cask itself each time it is filled) not to mention the labour time involved in doing this. But as we are a quality driven company quality is more important to us.
Whisky-news: Why is Murray McDavid so discreet on the web? Is a new website under construction?
Andrew:
It seems that way doesn't it. Several reasons :
(i) we don't have unlimited stocks or staff so managing what is arguably one of the most popular , interesting and interactive websites for Bruichladdich is very time consuming with up to 500 e-mails a day to manage. To do the same for Murray McDavid would be a tough ask particularly as the size of the range would generate even more enquiries if we allowed it to.
(ii) with limited Murray McDavid stocks the range changes are more frequent than in the Bruichladdich range and so it would be a full time job to keep the site updated and current. We don't really want to do this as it would mean we would have to increase the Murray McDavid prices which would make it less affordable to may whisky enthusiasts.
(iii) we have no aspirations to build Murray McDavid into a huge mega brand , we are quite content and busy enough with building the Bruichladdich brand . It is very pleasing however that despite what may seem like careless neglect interest around the world has increased sales of Murray McDavid by 300% over the last 5 years simply through tastings , packaging development , range and cask selection and word of mouth.
Maybe we will spend sometime in the future to do this but I guarantee that as soon as the website is updated it will be out of date 5 mis. later with as far as stock developments are concerned with one bottling selling out or a new one being introduced.
My advice to Murray McDavid fans is to buy quickly and buy more than 1 bottle if you have a real favourite as any given bottling may sell out soon and if you want more information e-mail me : andrew@bruichladdich.com
My team will do its best to provide whatever information is required – within our resource limits.
Whisky-news: If someone like me is interested in knowing the most recent (and future) releases of the Murray McDavid products. How should one proceed?
Andrew:
E-mail me at the address above and tell me in the e-mail which country you live in and I , and my team , will liaise with the distributor in the country you live in to let you know which Murray McDavid bottlings are currently for sale in your country , where they may be purchased , which new Murray McDavid bottlings will be coming into that market in the future and when so that you may reserve stocks with your chosen retailer , and details of future Murray McDavid tastings. If for any reason we do not sell Murray McDavid in your country we will put in touch with a reliable global mail order company which can supply Murray McDavid if the laws in your country allow it.
I would be very interested to find out if you can't buy Murray McDavid in your chosen whisky shop , particularly if the shop already sells a wide range of single malts , as maybe I can help and convince your chosen retailer to stock a range of Murray McDavid as well , or find a distributor in your country if we don't already have a distributor.
Whisky-news: What are the plans for the future for Murray McDavid?
Andrew:
At one time it was to expand the range of spirits being sold under the iconic Murray McDavid brand and we experimented with rum but it didn't work as the rums were placed on shelf beside the whisky rather than beside other rums so if we do introduce other spirits we will do so under other brand names like Renegade Rum where our dare to be different style makes us a renegade within that spirits category.
So for Murray McDavid I would say it is simply more great bottlings and tastings from the Murray McDavid team to keep life interesting.
Thank you very much Andrew for taking the time of answering all those questions.
www.whisky-news.com ©29 Aug 2009