Limburg Whisky Fair 2014, 17-18 Mai
click here for the photo gallery
With the sun rising under a blue sky, I made a confortable journey to Limburg for a new edition of the Whisky Fair. This year, the fair was a later date than previously and one of the changes I noticed was the opening of the fair at 11h instead of 12h. How did this improve the situation?
The queue at the main gate at 11.30 was half of what you could see in the past at 12h and it moving rather fast.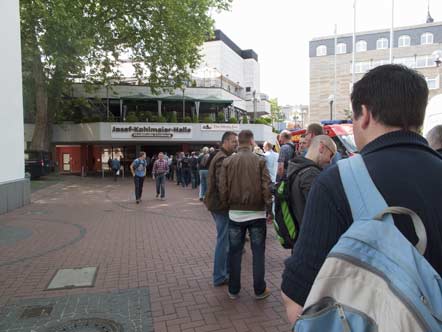 View of the queue at 11.30 on Saturday

The entrance fees remained the same, 10 euro for the ticket on site or 11 euro for the pre-sale.
Inside, it was immediately packed and the access to the main stage was already congested. I just made a couple of meters before I met an international group of friends. A nice discussion followed thereafter and shortly afterwards, some drams were poured, including an Isle of Jura vatted in 2002, the cask 1124 composed of 3 years old peated Isle of Jura vatted with a much older non-peated Isle of Jura. A good and slightly peaty and spicy Isle of Jura (and thanks to the generous owner of the bottle). With whisky talking, I tend to loose the notion of time and based on some recommendations, I move to Sansibar to taste their Glen Garioch 22 YO. A rather round and waxy Glen Garioch, with a touch of ginger and some nice round peat smoke. More smoky than peaty. A good whisky. It was followed by a round and mellow Tamnavulin 45 YO, soft, rather fruity and with pleasant notes of banana. I do not know this brand, but the selection was interesting, with a fair number of aged to very aged expressions.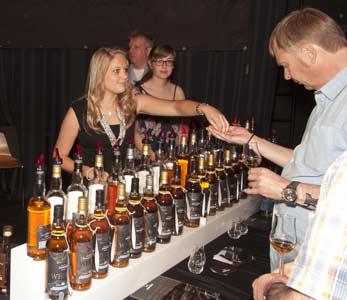 Part of the Sansibar stand
My next move was to the tent, to collect my order at Lions whisky, who is proposing a very nice list of rare whisky samples. I tasted there a sweet, juicy and slightly floral Greenfield Pure Malt 1965 5 YO that tasted good the Speyside. Surprisingly matured for a 5 years old. I would not be surprised if the "old bottle effect" worked positively on this whisky. I move then sideways to Whisky Antique for sampling some very sought after (and expensive) bottles such as the Bowmore Bicentennary cask strength, Macallan 1940 or a deliciously smooth and fruity Longmorn 20 YO bottled at 56.8% for the Italian market. This was the stand with the most extensive number of old and rare opened bottles.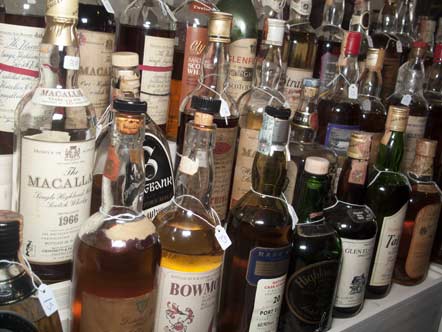 Impression of the whisky selection from Whisky Antique
The next move was at The Whisky Agency to taste of couple of their new additions to the Liquid Library, with an intense, aromatic and slightly rough and oaky Glen Garioch 21, a heavily peated, dry and tarry Ardmore 14 YO before moving to a round, mellow and very grassy Littlemill 24 YO.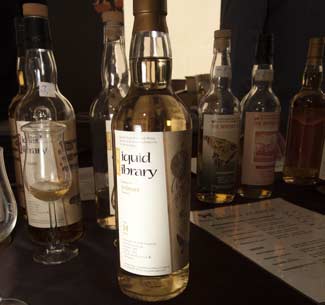 Some Liquid Libary single malts from The Whisky Agency
At Whisky Kanzler, I met again some acquaintances and based on their recommendation, I tasted a very waxy, round, smooth, mellow, slightly mineral Clynelish 23 YO dumpy bottling from Cadenhead's, with no distillation date, but very likely distilled around 1965. It was followed by single cask bottlings of GlenDronach for Whiskykanzler in Berlin, varying between the sweet sherry style to the rather rubbery one. My last choice on that side of the stand was a very sherried and moderately peaty and old-fashioned Springbank 12 YO from James MacArthur.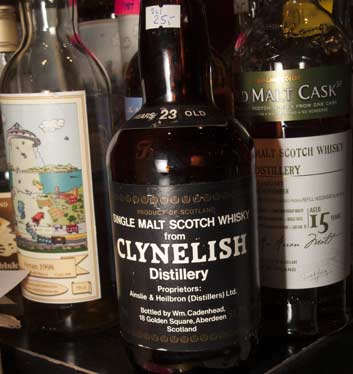 The old Clynelish at Whisky Kanzler
On the other side of the stand (the Dutch Connection corner), I stated with a rather austere and mineral Talisker 1957 Gordon & MacPhail, with nice notes of dry sherry and chocolate, followed by a more peaty Bowmore 1971 14 YO for Sestante in the same style and a more maritime Caol Ila 1966 19 YO, and to finish with a 1973 15 YO Ardbeg with nice medicinal and iodine notes.
I moved then to more recent bottling, with the Machir Bay 2014 from Kilchoman, with a flavour profile reminding me strongly of the 2013 version. The Loch Gorm is a 100% oloroso matured Kilchoman with a sweet sherry influence enhancing the maritime flavours and contributing maybe to some additional impression of maturatiy. I enjoyed this one much. Some bottles of the Kilchoman 100% edition 2014 made their way to the fair before their official launch in a couple of weeks. I found it less matured than the two others, less peaty, rounder and slightly more oaky. A whisky in progress.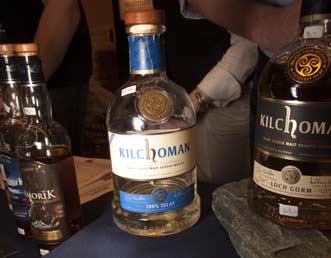 Some of the new Kilchomans

With time running, I move to stand of the Italian collector Giovanni Giulliani, hosting a rather large range of old standard bottlings at fair prices (3-5 euros), where I enjoyed a deliciously smooth and nicely sherried Jameson 15 YO from the 1980s, followed but another smooth, but rich and waxy old bottling of Cardhu 12 YO before moving to a rather grassy, round Old Fettercairn 8 YO tasting nice notes of pastries. As a farewell dram from the main hall, I went for the delicious and peaty Glen Cawdor 1976 Samaroli, a whisky distilled at Glengarioch distillery, a whisky of a quality matching (to my opinion) the one from other famous "peaty" distilleries from Islay or the Highlands.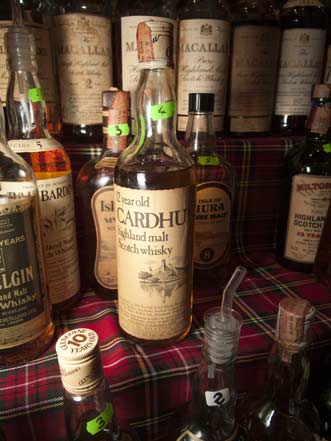 Some bottles opened by the Italian collector Giulliani
With my remaining time, I made a break at the stand of Whisky Fair to taste most of their new peated release, starting with the 1989 peated Jura, mellow, complex, with some carbolic flavours and moderately peated (more than the last 1989 from Signatory). By comparison, the 1994 BenRiach for the Whisky Fair was more peaty, dry, tarry and intense. The Arran Peaty for the Whisky Fair was less peaty than the signatory, rounder, more floral, malty and on vanilla.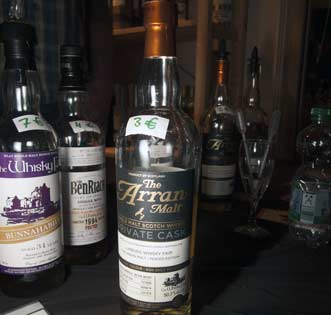 Some of the Whisky Fair bottlings.
With that, it was time to catch my train to go back home.
The day was intense and I tried to taste as many old whiskies as possible, since few whisky fairs can match Limburg in this category. I would have liked to taste more recent bottlings from the dynamic German independent bottling companies, but a choice had to be done. Discussions with other whisky enthusiasts are always interesting, but for sake of time, some were shortened.
My impression is that the number of old and rare whiskies are dwelling and I do not recall having seen so many whiskies priced at 80+ euros for 2cl as this years, probably reflecting the rarefication of such products on the markets.
It was a very enjoyable day and I take the opportunity to thank all the whisky enthusiast with whom I shared a dram or a discussion.
See you next year!
Slainte
Patrick
www.whisky-news.com ©17 May 2014