Whiskyfair Limburg (21-22 Avril 2007)
Presentation:
Limburg is one of the most important whisky fairs in Germany, if not the most important one. The full list of the whisky detailers and brands present at this festival can be consulted here. Limburg is a city located North-West from Frankfurt (about 1h30 from Frankfurt by train).
As you can see on the photograph below, the event was well frequented and the first thing that one notices is that everything is well organized.
Click here for the images taken during the whiskyfair.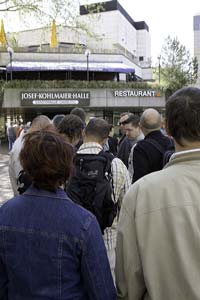 Limburg, April 21st, 2007 at 11h40: 50 m of queue before being able to enter.
How does it work?
For the entrance fee of 7 Euros you will get a glass and afterwards you pay for each dram. Just select what you want to drink, pay the price indicated on the label or the etiquette and you will receive 2 cl of your selected whisky. The prices vary between 3 and 25 euros (maybe a bit more). On the day of the event, you could assist to whisky tastings or master classes at the price of 18 euro. Unfortunately, since I only attended the festival on Saturday, I focused on selecting and tasting a few interesting drams.
The whiskies
The choice of whiskies available for tasting was very large, with some stands dedicated to only a distillery or a group [e.g., BenRiach, Glenrothes, Kilchoman, Glenmorangie (including Ardbeg)) or independent bottlers (e.g., Jack Wiebers (JWWW), Compass Box, Chieftains, Scotch Malt Whisky Society, Blackadder, MacArthur, Scott's selection, Berry Bros and Rudd, Duncan Taylor, Signatory, Douglas Laing or Whiskyfair).
I tasted quite a few whiskies, and here are my first impressions, which started with a Brora 1977 Douglas Laing Platinum, 54.9% bottled in 2003, a heavily peated Brora with a strong sherry influence, woody and some saltiness. A bit rough and not a flawless Brora, but I enjoyed it anyway very much. The dram was overpriced (12 euro) knowing that the bottle was still available in some places last year for 120 euros.
My second dram was a Glen Grant 1969 from Berry Bros, 46% bottled in 2004. At the start I had a very good impression, with a nice light and floral nose, with some berries, but then, in mouth, the sherry influence got very strong and was very tannic, with an unpleasant "saw dust" feeling.
Glen Scotia is often a neglected distillery, but some of their whiskies are very good and I opted for a Glen Scotia 1991. 15 YO, from Cadenhead, matured in sherrywood and bottled at 57.8%, a very smooth and round whisky, matured very likely in a cream sherry cask, it was deliciously smooth and mellow, with a strong sherry influence mixed with a nice maltiness and a little bit of peat. A very creamy whisky.
Before the lunch break, I tried a Caol Ila 1969 from Gordon and Macphails, 60.4%, bottled in 1984. A quite special Caol Ila, with peat combined with pineapples and citric flavours. It was also bitter and quite rough. In spite of a surprisingly long finish, this malt was not too much to my liking.
After a relaxing lunch with a Swiss friend, I started the mid-afternoon session with the Caol Ila 1984, 22 YO, 55.9% from the Whiskyfair. I was quite eager to taste it, since I recently tried the Caol Ila 1984, 22 YO from Adelphi, which I found quite different from the other vintages. As the Adelphi, I found it less peaty than the other vintages, more mellow (or the mellowness gives the impression of being less peaty?), quite farmy and without the characteristic "hemp cord" flavour of Caol Ila. The sherry influence merged deliciously with this rich and complex Caol Ila and the result is a very nicely equilibrated whisky.
The next malt was the Tobermory 1972 bottled in 2007 by whisky-doris at 49.5%. A big and thick malt, from a first-fill sherry cask. Rich, very complex and spicy (nutmeg), malty, with a short but bold finish. Much better than the current standard bottling of this distillery. A very good surprise.
To continue with the sherried whiskies, I then tasted the Longmorn Scott's selection 1971 bottled in 1999 at 57.8%, a silky and smooth Longmorn, on blackcurrant and other berries, from a flawless sherry cask, with a long finish in perfect equilibrium. A subtle whisky with finesse.

The famous Clynelish (Brora) Marine's hotel.
Finally, following the recommendations of some malt maniacs (and maltmaniacs), before my leave, I went for a dram of Clynelish (Brora) 14 YO bottled for the Royal Marine hotel at "no less than 92° proof" (46°), a very old and sought after Clynelish (Brora), with a beautiful peatiness, long finish, which had matured superbly. Surprisingly complex for its age. In short notes, a superb Clynelish (Brora). In addition to these whiskies, I met a few whisky enthusiasts that I know from a whisky forum and got to taste the Bowmore 1966 from Duncan Taylor, a beautiful Bowmore, even more fruity and better than the 1968s Bowmore from DT, which are already a reference. Otherwise, I got to nose a very nice peated and extremely fruity Longrow from the 1970s, a very pleasant Lochside 1966 35 YO from Douglas Laing, an old Rosebank from the 1980s and a few other very good whiskies.
General Impression:
The choice of old whiskies ("oldies") available for tasting at the Limburg whisky fair was impressive and quite a few distillery managers or distillery owners where present on site (e.g., Alan McConnochie from BenRiach, Anthony Wills from Kilchoman, Billy Stitchell from Caol Ila, and Andrew Shand from the Speyside Distillery). Lots of detailers were present and there was quite a large selection of old bottles for sale at reasonable prices at some stands while quite pricy in some others. It was very crowded. I had the opportunity to meet and talk to many whisky enthusiasts and had some lively discussions about whisky and enjoyed my day very much. On the downside, it was quite difficult to find some brands (e.g., Glenfarclas, Balvenie, Macallan) and the selection of recent products was very limited to the highly priced ones (e.g., Rare Vintage collection from Signatory, Rare Auld serie from Duncan Taylor), in comparison to what is available in Swiss whisky fairs. Independent from the Whiskyfair, the majority of my train connections were delayed, but I managed to go home as expected!
Conclusion:
The Whiskyfair in Limburg was a very interesting whisky event, nicely organized with an impressive choice of oldies and whiskies. Due to the location, it is also a great opportunity to meet up with whisky enthusiasts from Germany, the Netherlands, Belgium, France and other European countries. In addition, you are given the opportunity to buy and taste some whiskies specially bottled for the German market. However, the choice of whisky is not broader than on some Swiss whisky fairs (i.e., the whisky ship in Zürich). If you are leaving not leaving to far from there, then you should definitely visit it!
www.whisky-news.com ©22 April 2007