A second trip to Japan:
Part 2: Tokyo and its whisky bars (for Part 1, click here)
For the photo gallery, click here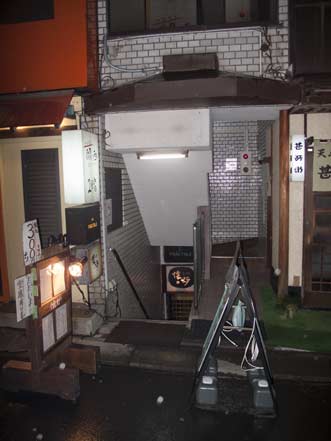 The discreet entrance to the Mash Tun
Upon arriving in Tokyo, I went the same evening to visit the Mash Tun bar. I found the place relatively easily. The bar was much smaller than expected, but filled with nice bottles. The choice was interesting and very diverse. I started first with a 1971 and 1979 BenRiach Single cask for Shinanoya BB1, with the 1971 being a nice old peated whisky, while the 1979 had a strong sherry influence, on dried fruits and hummus. The choice of Japanese single malts was also rather impressive and I tasted the whole range of Karuizawa available (1996 cask 3684, 2000 for Bar Show 2013, including two bottlings from the SMWS (132.2 and 132.3). These Karuizawa will be reviewed later. The SMWS Yoichi 116.19 virgin oak was smooth, well balanced, slightly creamy with a well integrated moderate peaty influence. Yoichi is one of the few distillery using regulary virin oak casks, This was an exclusive bottle for Japan. From Yamazaki, I tasted a delicious Owner's Cask from 1986 for Bar Barns, as well as the heavily sherried version for the Whisky Shop. The Whisky Shop is the Suntory shop close to Osaka's JR train station, who has some exclusive bottlings. The Yamzaki Sherry Cask 2013 was not sold in Japan, but I could taste the 2012 version, which was a very smooth, juicy and fruity version. A very pleasant whisky to drink. One whisy that I enjoyed also very much was the 1990 Hanyu bottled for the Bar Show 2013 : complex, with some humus, a few mushrooms, a touch of smoke and a delicious structure. The discussion with Toru Suzuki, the owner was very pleasant and instructive. Good to know for foreigners, I had no problem of having a discussion with him in English. And for the lovers of Longmorn, the famous G&M Longmorns for the Mash Tun are empty. I enjoyed my time at the Mash Tun very price, with a wide range of products, which were failry priced (the price for the whisky I tasted ranged between 2000 and 5000 yens for a full shot of 30 ml) compared to most other whisky bars I visited in Tokyo.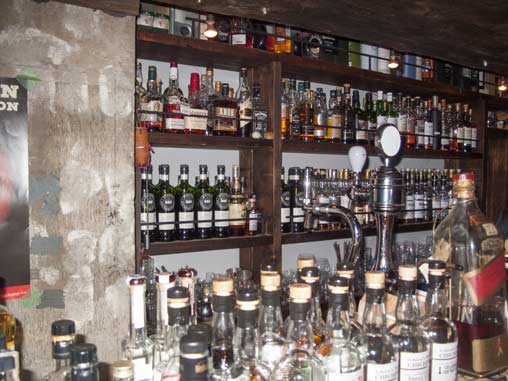 A view of the bar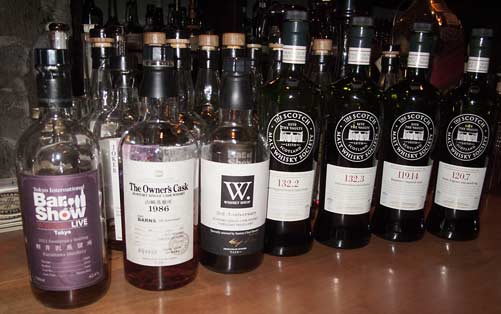 Most of the bottles tasted that evening
Day 5: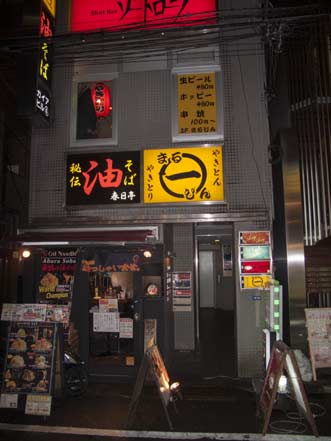 The entrance to the Zoetrope bar

Zoetrope is well know for its specialisation on Japanese whiskies. The list was exhaustive and I selected all Karuizawa's I have tasted until now. The first three were good (1979 cask 7752 1981 cask 103 and 1981 cask 6256), but the one I enjoyed the best was the Distillery only bottling (1994 cask 372). It is rather young for a Karuizawa (14 year old), but it is very intense, lively, spicy with rich sherry notes. Delicious.The Hakushu 1992 Owner Cask had a moderate sherry influence, rather mellow and with only a slight fruitiness. I also tasted a Yoichi 20 YO Single Cask for the distillery, with had a delicated and light smooth sherry influence combined with a light complex, slightly mineral peaty influence. The 9 YO Hanuy bottled for Zoetrope is a Rum matured version, very intense, oaky and spicy, with a moderate Rum influence. Not for the faint hearted. Asking if the Single Cask bottlings of Yoichi distillery only were discontinued, I was informed by the bar owner Atsushi Horigami, that Nikka apparently discontinued them, due to Chinese tourists buying all the whiskies they could carry in order to resell in China (Hong-Kong) and Taiwan ! The bar in itself is also rather small, but well crowded. In that evening, there was British couple, a table with French and on the bar, a Swiss and German Tourist. The Zoetrope bar is popular also amongst non-whisky affocionados, since it is listed in the Lonely Planet and several website. And for the fans of Hanyu, this is the place to go, with approximately 20 different bottles available for tasting.
Since I was not well, the evening tour was short.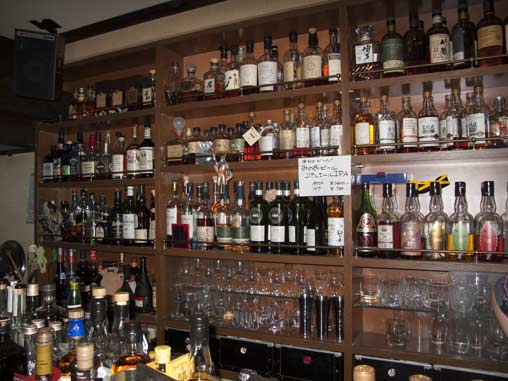 Most of the bottles from the bar
Most of the Karuizawa tasted on that evening
Day 6 :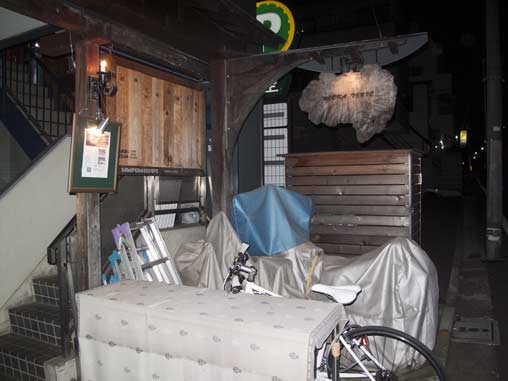 The entrance to Wodka Tonic

I already visited Wodka Tonic during my first trip to Japan and since it was located very close to my Hotel, I went there for tasting a few whiskies, including a very good old, juicy, fruity and complex Dalmore 12 YO, with an elegant and smooth sherry influence, with some subtle tobacco smoke and humus. The BenRiach 1976 for The Whisky Agency was on a thick and juicy sherry influence, without too much tropical fruity notes, but quite some peat smoke in it. The last dram of the night was the Cardhu 15 YO Manager's Dram, a rather smoky and complex version of Cardhu, with some humus and rather strong tobacco leaves flavours. Very good and quite different from the currently available versions of this distillery. Of note, it seems like a few of the bottles I tasted back in January disappeared from the shelves. I was tempted by a Willie Napier 1945 44 YO Pure Pot still Irish whisky, but consdering its price (was 10,000 the shot), I stopped there and enjoyed a good and welcomed nice of rest.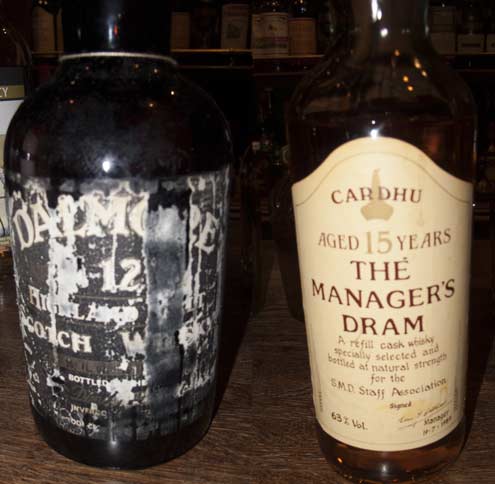 Some of the whiskies tasted on that evening
Day 7: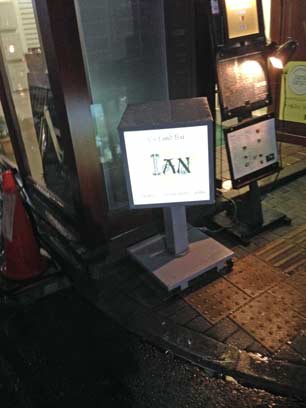 The entrance to the bar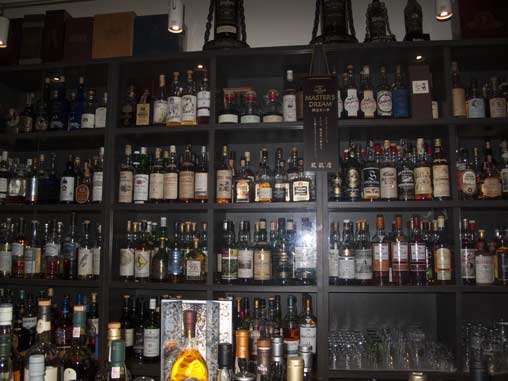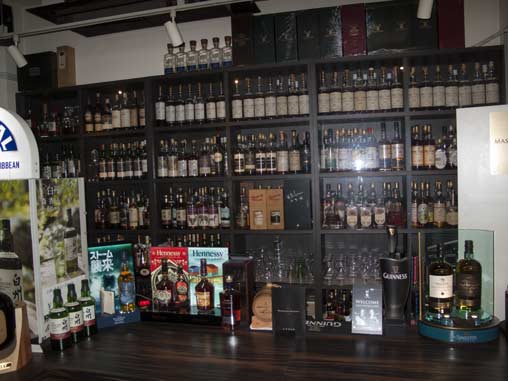 View of the two walls of bottles

With work done for the day, it was time to visit the Y's Lan Bar Ian, which was recommended to me by Japanese Facebook fan. According to the website, the bar opening was 17.00 and I arrived there at 17.15, unfortunately, the door was closed. I decided then to take around, visit some nearby shops, rather posh, in the style of Galleries Lafayette in Paris or Harrod's in London and returned at 17.45: door still closed. Since it was still early and I was slightly hungry, I went to a noodle bar to get a light meal and decided to give a last try to the bar. Good news, the small rotating sign of the bar was lit and outside and the bar was opened!
The display of bottles was rather impressive; with about 1500 bottles and most of the new Diageo Special Releases 2014 were on the bar. The choice of old Macallan and Springbank was particularly impressive, but I went first for one of my favourite distillery, a Glen Garioch 1966 43% from Samaroli: a delicious, rather waxy, peaty, aromatic whisky, with some tobacco leaves, humus and a nice complexity. The Springbank 1966 was excellent, slightly peaty and smoky, well balanced, with a rather sweet sherry influence and a dash of harbour flavours. The 1964 was even better, more mineral and peaty, as well as heavier sweet and mineral sherry flavours. Simply delicious and one of the best Springbank I ever tasted. The 1979 Springbank Cadenhead's white label was also very good, but not as smooth as the previous two and more spicy. The Linkwood 1964 from Signatory was very smooth, slightly floral, with sweet and juicy sherry notes and a whiff of smoke. Afterwards I went for an old rare Very Very Old Fitzgerald 12 YO 100 Proof (at the bargain price of 500 yens (less than 4 euros for 1.5 cl, since it was considered of being as rather quality by the owner): the nose was elegant, smooth, with some corn syrup, some other cereals as well as a touch of rye spices, while the body was very smooth, slightly grainy and soft, with a rather soft and short finish. Much lighter than most Bourbon I have tried so for and almost no woody influence. I was very pleased to be able to taste for once the famous Tormore 1966 Samaroli 57°C. The whisky was a very smooth, floral, with pronounced sherry notes on the leather side, without any rubbery notes. A well made whisky from an excellent sherry cask. Very good indeed. I moved then to the peaty side with a 1974 22 YO Ardbeg. The nose was very good, on complex maritime, peaty and smoky flavours, combining some good "dirty" flavours. However, probably due to its low strength (40%); it was rather weak on the palate. The 1974 Ardbeg cask 4989 was more intense, with a longer finish, but mellower as well. I initially planned to stop there, but the choice being so tempting, I went then for a few more whiskies. The Mortlach 1951 Private Collection had a good thick, chewy note on chocolate, leather dried fruits and floral notes on the nose, but it became then very sappy on the mouth, rather astringent, with some soap and eucalyptus. Too much time spent in the cask to my liking. The Bowmore Bicentenary 98.8 Proof cask 332 was nicely intense, peaty, smoky, spicy to very spicy, with some fruity and maritime notes. Very good. The Dalmore 1960 25 YO OB had a beautiful smooth balanced sherried flavours and with a very good complexity. A very good example of a rich and complex old-fashioned type of Dalmore. Excellent. Convalmore is a distillery that I appreciate. The version "The Costumes" from Moon was rather sweet, slightly floral, smoky and peaty, with certain fruitiness. Very good. The Takesturu 35 YO was a very nice, complex, rather spicy whisky, a slight peatiness. The initial delivery on the palate was rather tannic, but this faded and pleasant sweet fruity notes replaced it. Another whisky good whisky! My last whisky was an elegant, sweet sherried Port Ellen 1982 for Tokyo 3Rivers, with a subtle peatiness and pleasant maritime flavours. Not the most peated Port Ellen, but well balanced. Finally, before leaving I was offered a glass of Yamazaki 1984 that Yuktaka Yokoya just received from Suntory. The nose was excellent, very smooth, with an elegant smooth sherry influence. The initial attack was rather tannic, soapy and astringent, but this then the magic of operates and a beautiful and rich malt on leather, smooth, mellow delivery of intense sherry notes, with some lacquer and fruity notes came into play.

I really had an excellent time there, with beautiful whiskies! Although the area around the bar was luxurious, the prices were surprisingly low, with the drams mainly around 2000-2500 yens! With the Mash Tun, it was my best experience in terms of quality-rarity/price in Tokyo. Highly recommended!

In addition, one client at the bar kindly offered me a set of "whisky labels/postcards" he made for another whisky bar in Tokyo. Thank you!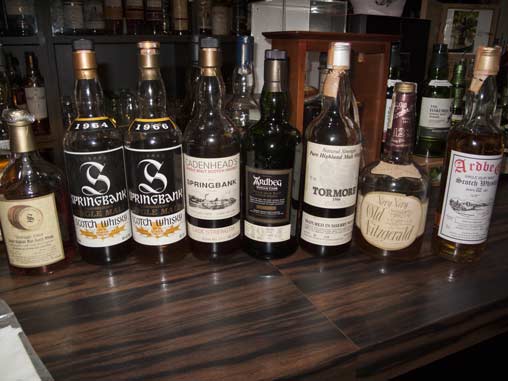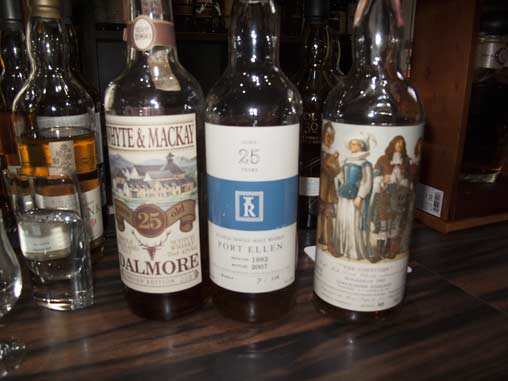 Most of the whiskies tasted during that evening at Y's Lan bar Ian
With that, I wanted to have a short visit at the Crane in order to taste a few other whiskies I spotted during my first visit there in January.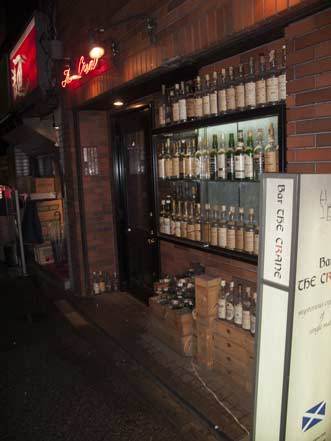 The entrance to The Crane
At The Crane, my session started with a smooth, elegant, fruity, slightly spicy Glen Moray 1959 OB with a rather subtle sherry influence contributing to some sweetness. Excellent. One of my main reason was to taste to return here was the Glen Scotia 8 YO bottled in the 1950s: a slightly maritime, smoky, austere whisky, with some seaweeds and grassy notes. An old style of Whisky that I enjoyed very much. It gave me the impression of tasting a Glen Scotia 14 YO Dumpy from the 1990s with an old bottle effect. The Knockdhu 101.1 for the SMWS was a very good, rather spicy and intense, with some tobacco and peat smoke, as well as some honey and grassy note. The Glenugie 1966 from Samaroli started on aromas of humus, honey and tobacco leaves, with some waxy and slightly smoky influence, before the pleasant sweet and fruity notes from this distillery are coming. Excellent. The nose of the Highland park 1957 22 YO from Cadenhead's bottled for Samaroli was elegant, smooth, complex, rather mineral, with some heather, honey, chocolate and candied fruits on the nose. Unfortunately, on the palate I found it rather weak. It could be that my palate was not sensitive enough then. The Springbank 1965 27.23 from the SMWS was an elegant, mineral, smoky sherried version of Springbank, complex and nice balanced. Another great Springbank. As a farewell drink, I was kindly offered a 12 YO Jamaican Rum bottled for Whiskyteca Giaconne. I am not an expert in Rum, but I found it rather pleasant: with a mineral nose, intense, rather complex and well balanced. The sugary aromas were on the low side. The alcohol dried my palate very shortly after the first few drops. This is then I realized that it has been bottled at an impressive 74 %! With a strong dilution, the nose remains sharp and mineral and more sugary. On the palate, it was rather mineral, with nice pleasant notes of glucose syrup. In term of prices, they were markedly higher than in the previous bar, with most whiskies costing about 4500 yens the ½ shot (15 ml).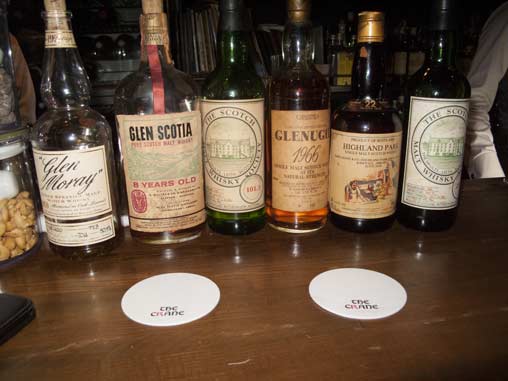 the line-up of the evening at The Crane
With that, it was time to return to the hotel, pack my luggage before an early wake-up and fly back to Switzerland.
Although it was raining almost everyday, I enjoyed my second trip to Japan. The program was less intense than my first trip, but it remains rather exhausting, since it involved almost 5 hours of travel per day. Travel by train worked well, but travelling outside the major urban areas, is more complicated.
Travelling inside Japan requires a lot of preparation. For the first 3 days, I probably spent as much in preparations (hotel booking, distillery visit arrangements and train schedules) as the effective there. Many thanks Misako for all your help!
Following my first report about Japan, I had a few request for more information about travelling to Japan.
Based on my experience, here are some advices:
Please make sure to always have cash with you. Taxis might accept credit cards, but in remote areas, the credit card terminal might not work due to connections. Therefore, you will have to pay cash.
Book early to save on money
If travelling by train, consider the JR rail pass and make sure to order it at least a few days before departure. In the main trains, non-reserved seats might be limited. Therefore, try to reserve seats at your arrival at the airport in order to ensure to have staff who might understand you in English. It might be time consuming to purchase tickets in the JR train stations and in addition, directions might be confusing. In major stations, try to be there at least 20-30 min before departure.

Also, when you are preparing your schedule, make sure to record the platform information, time and train name, as well as the name of its destination and its direction.

Make sure to have all these information on a paper form
Record not only the names in Romanic letters, but in Japanese as well. For the hotel reservations, if possible, print a copy in Japanese as well.
Few people speak English or any foreign English. Even if they speak some English, they might not have understood you. Make sure to have maps with you and a piece of paper and paper to make drawings. This helps.
Japan is a rather expensive country (like any Western country). In remote areas, you can find decent hotels for 5-7,000 yens a night, breakfast included and almost the double in major cities. For meals, consider about 1500 to 3000 yens for a normal meal. As cheaper alternatives, you might get noodles and other similar type of food for a few hundred yens. In most restaurants, pictures are available on the Menu, but in small restaurants, this might not be the case. And do not expect to see many English menus.
For taxi rides, I paid on average 2000 yens for about 10 mins (depends on distance as well). In the taxis, do not close the doors: they are opened and closed automatically by the driver.
Try to read a few books or website about Japanese culture, since some practice in Japan might be very different from Western countries (e.g., no hand-shake, no shoes inside). Some behaviour might offend them. Do not be rude, be patient and speak English very slowly.
In Tokyo, there are 3 main metro/trains companies (Tokyo Metro, Toei and JR). Since the tickets from one do not work with the others, please make sure to buy the tickets close to the gate where you need to take the metro to avoid any surprises. A daily ticket allowing you to use all companies is available by rather pricy.
Slainte,
Patrick
17 April 2015
Informations :

Hakushu distillery, http://www.suntory.com/factory/hakushu/
913-1 Hakushuchotorihara, Hokuto 408-0316, Yamanashi Prefecture
Tel: +81 551-35-2211
Open: 09:30 to 17:00. Free. Booking required. Audio guide in English, Chinese and French available.
Shop with Beam Suntory products and bar with wide range of whiskies (from Scotland, US, and Japan)

Fuji-Gotemba distillery, http://www.kirin.co.jp/products/whisky_brandy/gotemba/index.html (only in Japanese), Shibanuta 970, Gotemba-shi, Shizuoka-ken, 412-0003.
Tel: +81 550-89-4909
Free. No guided tours in English.
Open: Every day from 09:30 until 17:00
Shop with several distillery only bottlings

The Crane, http://www.the-crane.com
Akebono Building (1st floor), 2-3-3 Ikebukuro, Toshima-ku, Tokyo, 171-0014, Japan
Tel: 03-5951-0090
Open: 17.30 until 05.00 and until 04.00 on Sundays
Mash Tun, http://www.themashtun.com
2F, 2-13-3 Kami Osaki, Shinagawa-ku, Tokyo
Tel: 03-3449-3649
Open: 19.00 until 03.00 daily or on Sundays from 19.00 until 24.00

Wodka Tonic, http://wodkatonic.tokyo
Tokyo, Minato, Nishiazabu, 2 Chome−25−11
Tel: 03-3400-5474 from 18:00 until morning.
Open: 18.00 until morning, every day.
Y's Land Bar Ian, http://bar-navi.suntory.co.jp/shop/0X00220902/
Japan, Tokyo, Chuo, Nihonbashihoncho, 1 Chome−43, B2F (2nd undeground)
Tel: 03-3241-4580
Open: circa 17.30-18.00 until ???
Zoetrope, http://homepage2.nifty.com/zoetrope/
3rd floor, Gaia Building #4, 7-10-14 Nishi Shinjuku, Shinjuku-ku, Tokyo
Tel: 03-3363-0162 from 19:00 until 04:00 every days, except Sundays.