Autumn Speyside Whisky Festival 2014
Report by Bruce Crichton

After the series of bit parts I had recorded for 'The Texas Chainsaw Massacre' were cut, I headed to Dufftown. The surgeon was able to reattach and, with the foot literally on the other hand, the Autumn Speyside Whisky festival was just what I needed and after many days of great whisky, food, music, tours, kiwis, wallabies, hakas and a bucket of Kininvie, here is my account of it.

This report is only a rough guide and may contain factual errors, for which I apologize in advance. Tasting notes are subjective and comment is added from experts present during note taking. Most often, I find myself able to describe the taste of sweets extremely well and the reader is invited to speculate how I have managed to reach adulthood with any teeth remaining. To shorten the report, I refer the reader to previous reports and tastings if a whisky re-appears. I also assume the reader is familiar with widely available bottlings mentioned. Any cask samples, discontinued releases and fill-your-own (FYO) tasted are described briefly, as these may not be available to buy. When water added was, literally, one drop and whiskies were 40%abv, if the strength is not otherwise indicated.

'It all started with a big dram' at the Whiskyshop Dufftown
On Thursday afternoon, Whisky Shop Dufftown (WSD) owner Mike Lord presented 3 drams to begin the festival with. Mike had had a barren summer with cautious crocodiles wisely avoiding his waterhole because his death roll is a terrifying sight to behold and even Luis Suarez fears his bite. In this tasting, he presented the 3 most interesting whiskies he had come across recently.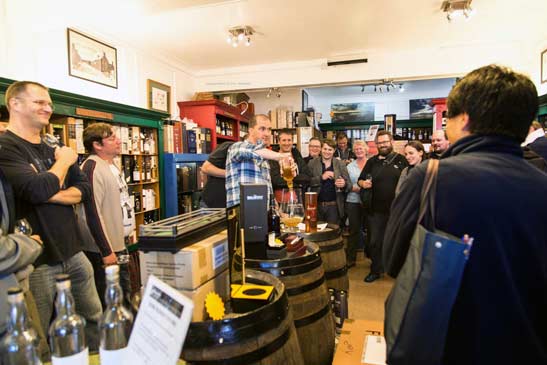 It all started with a big dram'

After Mike emptied a bottle of Benromach's excellent 10 year old into a giant snifter glass for a charity event over the weekend, we tasted Diageo's flagship 'Rare Old' Mortlach, at 43.4%abv. A somewhat controversial release, this contains whisky between 6 and 21 years old with Diageo aiming to keep the product consistent. There was much less sherry character than the popular but discontinued 16 year old 'Flora and Fauna' bottling and I found the nose to be almost magical with sherbet and fruit crumble and there was some bourbon cask fruitiness present with the taste being both crisp and sweet. Mike commented that Mortlach has recently doubled in size and has gone from the smallest distillery in Dufftown to being the second largest.

As this was going on, Brett the kiwi made a surprise re-appearance, sparking a discussion that ended with the conclusion that the England rugby team should do a Morris dance when the New Zealand rugby team are doing their haka and should probably do a Morris dance before every match they play.

Highland Park 'Dark Origins', at 46.8%abv, had been taken from 80% sherry casks and did have a somewhat rubbery nose that dissipated with the whisky being given time to breathe. As Mike reminisced about the 1990's releases from the distillery, I found this to have the taste of sweet, stewed fruits and shortbread with a touch of peat.

The third and final dram, a 1991 Glenfarclas Family Cask, exclusive to the WSD, at 53.8%abv, was reviewed in the spring festival report. As we tasted it, Mike told us of his campaign to make Dufftown a recognized whisky region and pointed out that, if he succeeds, it will be the third biggest whisky region.

Glen Elgin and Benriach tours
At Glen Elgin distillery, we were greeted by Kwanele, our guide for the morning. Glen Elgin contributes significantly to the 'White Horse' blends', with the logo visible on entry. Glen Elgin is also component of the popular Bells and Johnnie Walker's blends.
Belgravia and Concerto malts are used, from nearby Burghead, with 8.4 tons of malt per mash, at Glen Elgin, and the grist is split into 8 fractions instead of the usual 3 of husks, grist and flour. Diageo believe this gives them more information, reducing variability and giving them a better extract. Fermentation is a minimum of 90 hours with the aim of producing a fruity character in the spirit.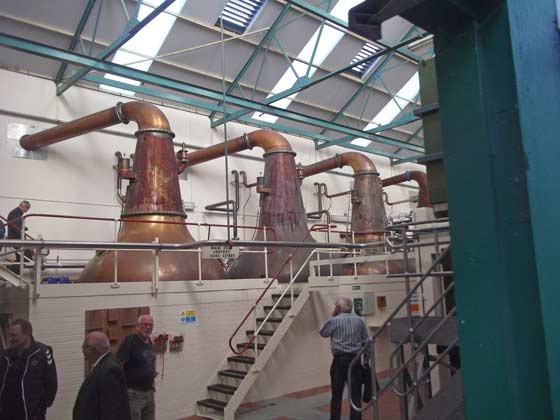 The stills at Glen Elgin

In 2012, the washbacks were increased from 6 to 9, the mashes increased from 11 to 16 and production increased from 5 to 7 days per week. Increased automation allows a single operator to work where, before, a stillman and mashman were required. On top of each washback is a soap dispenser that, in the event of a power cut, will dispense soap into the wash to prevent foam spilling over. The distillery has 6 stills and currently spirit is transported to Cambus, in Clackmannanshire, as the Auchroisk facility at Keith is at capacity. A distillery upgrade is planned for November 2014 with the spirit receivers to be replaced.
We tasted a sweet 1995 'Exclusive' from Gordon and MacPhail (G&M), at 50%abv, which had the taste of fruit and boiled sweets. This bottling has long since sold out though the curious reader is invited to the G&M shop in Elgin as there will no doubt be future releases from the company.

Moving on to Benriach, we met Ewan George who showed us a promotional DVD from the company that clearly been produced by the makers of 'Police Squad'. Last year, the distillery made 2.4 million litres of alcohol with a third being used for single malt and the rest traded as spirit. 175,000 litres of peated spirit were made and all was kept by the distillery. Interestingly, master blender Billy Walker was unaware when taking over the distillery in 2004 that he had inherited peated spirit dating back to 1972.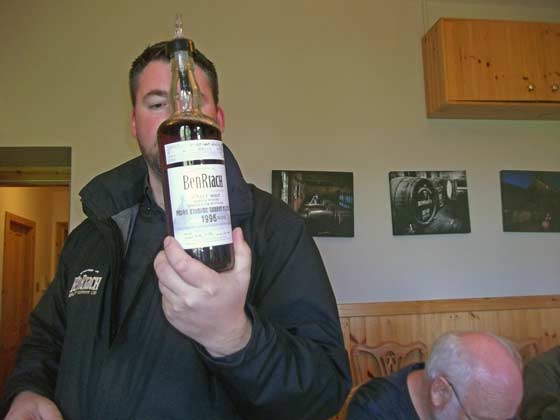 Ewan George at BenRiach
1994 was another landmark year for the distillery as then owners Seagram's bottled Benriach as a single malt, one of the so-called 'Heritage Selection'. Using Optic Concerto malted barley, the distillery uses 4 waters rather than the traditional 3, something done by both Chivas and Seagrams', the previous owners.
The short stills have a slight reflux that Ewan says imparts fruity character. Foreshots are kept short at 13 minutes to retain the fruity esters while the cut is between 61 and 73 percent while peated spirit has a cut of between 60 and 73 percent.

Spirit intended for single malt is filled into first fill casks with a small percentage filled into refill casks that are intended for blending. Demineralized borehole water is used to reduce casks. For example, the award winning 12 year old Sherry cask matured release, mostly available in the Far East, is diluted to 47%abv and left for between 6 and 8 weeks before being bottled at 46%abv.

An impressive tasting lineup began with the 1999 virgin oak finish, single cask, at 46%abv. It was sweet with vanilla and cream notes and the finish was spicy. A 1997 distillery shop exclusive, at 59.2%abv, had spent 15 years in a bourbon cask before 11 final months in a Sauternes wine cask. Ewan finds that this cask gives the whisky a caramelized taste. I found that the taste of crème brulee and first fill bourbon was too hard to resist. A 1996 vintage, at 52.4%abv, matured for the final 3 years in a Pedro Ximenez cask had tremendous sweetness from start to finish.

A 1977 Rioja finish, at 44.1%abv, bottled in 2012, was the first 'I was there' moment of the festival. Ewan found the taste of sponge cake while I smelled stewed fruits and tasted raspberry ripple. Finally, we had the 25 year old 'Authenticus', at 46%abv which apparently contains some 1985 virgin oak finish. It smelled of mellow peat, tasted of smooth and sweet peat and the finish was long, luxurious and soft.
Session whiskies by Gordon and MacPhail
Mike Paterson of G&M took time to recount the company's history, praising previous owner George Urquhart for being ahead of his time in laying down malt whisky for future with the motto 'Tomorrow is shaped by today's decisions, today is shaped by decisions of the past'.
The first of a series of possible session whiskies was a 'MacPhail's 15 year old' mystery malt. This range was introduced in 1983. Mike himself does not know the distillery this whisky is taken from though he said that 40 percent of the whisky was matured in refill sherry casks. It had mint, sherbet and cheesecake on the nose though the taste was difficult to describe and festival regular 'Boisterous Aberdonian' reckoned it had a quick finish. Mike Paterson added that the bottles of this malt whisky can be personalized while Mike Lord said that the WSD does the same thing by sticking a post-it note to the bottle. As we were discussing this, gasps of amazement greeted the announcement that a legendary peaty whisky lover enjoyed this despite it not having any discernable peat.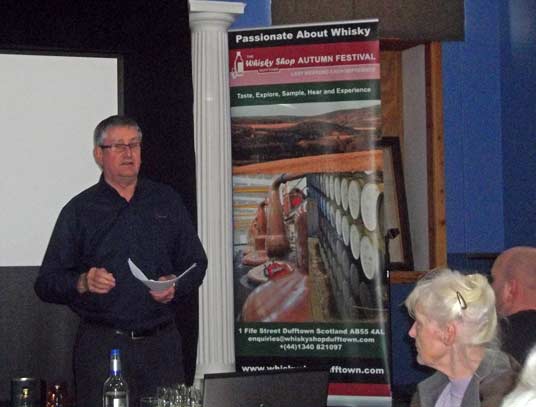 Mike Paterson during the masterclass

George Urquhart introduced the Connoisseur's Choice (CC) range in the 1960s to make available whiskies that were otherwise unavailable as single malts and, appropriately, a 2004 CC Balmenach, at a standard strength of 46%abv, was our next whisky. The distillery was owned by Diageo and current owners Inver House have never bottled it. The Balmenach had been matured in refill sherry casks and smelled of creamy soft cheese. The taste was of chewy pear drops and the spicy finish was very long.

The MacPhail's collection range appeared in 1998 and an 8 year old Tamdhu, at 43%abv, needed time to breath but, having done so, I found light golden syrup and honey on the nose while water revealed fizzy sherbet. This had been matured in refill sherry and bourbon casks, giving it the taste of fruit salad chew bars with vanilla being revealed by water. This particular range bottles either as an age statement or as a vintage. Festival regular Danny Maguire found this particularly enjoyable as it took his mind of the fact that he has tennis elbow in his knees from playing golf.
'Distillery Label' Linkwood, at 43%abv, smelled of golden honey and sherbet and tasted lightly fruity with toffee notes. The finish was short and did have a bite to it. Mike Paterson thinks it has a little bit of everything and represents a classic Speyside whisky taken from both bourbon and sherry casks.

We ended with the widely available, recently repackaged Benromach 10 year old, at 43%abv, detailed later. Mike told us to look out for the upcoming 10 year old '100 proof' addition to the range and an Hermitage wine finish. A 5 year old will replace the 'Traditional' while Mike said he was looking forward to future 'Organic' releases as the company can reuse the casks used previously in that bottling.


Whisky Corner – 'Peat in Whisky'
Appearing at a festival for the first time were Stewart Craigon and Kirsty Clarke who have their own blog entitled www.whiskycorner.co.uk . Kirsty does most of the writing for the site while Stewart runs a whisky club and the couple are available for corporate events and PR.

Beginning with the Highland Park 'Dark Origins' tasted earlier, Stewart detailed the composition of Orkney peat which, unlike other parts of Scotland, has no trees. The 'Fogg' is the top layer of peat that gives the initial smoke, the 'yahrpe' layer gives smoke and heat and the 'moss' gives heat with prolonged but less intense smoke. The barley is dried for 36 hours with 18 of those hours done with peat and the rest done with coke. (My initial thought that they would get better results with Irn Bru was, on reflection, a bit daft). As we considered this, Boisterous Aberdonian started to act up, apparently the result of his trying to smoke a hashtag. Boisterous also reckoned the whisky had a quick finish but nonetheless held its own, something he has experience of, apparently.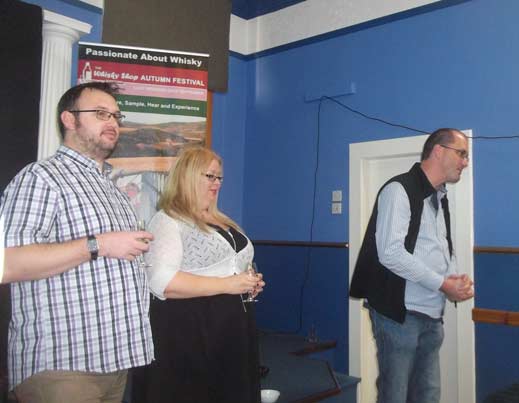 Mike Lord introducing Kirsty and Stewart

Douglas Laing's 'Big Peat' vatted malt, at 46%abv, smelled of toffee and mints, indicating that the nose was dominated by Bowmore. Light and sweet, the smoke gently tickled the palate. Port Charlotte 'Scottish Barley', at 50%abv, had light smoke and icing sugar aromas with minty and soft smoke tastes while the finish had smoked fish and salt.

An Cnoc 'Cutter', at 46%abv, was the fourth in a series of highland malts from the Knochdhu distillery, all named after cutting tools, the other 3 in the series are the 'Rutter', 'Flaughter' and 'Tushkar'.
Unusually, the distillery publishes the level of peat in the whisky instead of the barley. The 'Cutter' had just been released a few days beforehand with Kirsty and Stewart tasting all four of them, back to back with Kirsty reckoning this one had the biggest punch of the 4. After finding fizzy sweetness on the nose, I noticed chewy peat and smoked fish on the taste while water lengthened the finish.

The widely available Laphroaig Quarter Cask, at 48%abv, had the biggest punch of the tasting. A drop of water revealed smoked fish on the nose with smoke erupting on the palate with excellent chewiness and fresh wood present. As I chewed the whisky, Kirsty said she would like to see more companies state the level of peat in the bottle and, to follow, Boisterous changed topic by recommending 'Charlie Barley', purveyor of black pudding in Stornoway. At this point, I caution readers asking them to consider the fact that Boisterous was burned in a wicker man on his last visit to Lewis.

A bonus dram of the 12 year old Highland Park, at the very end, revealed itself to be back on effervescent form with lots of delightful, cheery sweetness, making it the most surprising whisky of the weekend.

Cheeky Drams at Glendronach distillery
Arriving at Glendronach on Saturday morning, we were greeted by Karen, our guide for the tour. I've reported on this distillery extensively in my reports for the autumn festivals of 2009, 2010 and 2012 so I'll say only that it was not in production this particular weekend and add a few interesting factoids.

The distillery has increased production every year since 2008 when it was sold by Chivas to Benriach in 2008. The maltings closed in 1996 at the same time the distillery did and was not reopened in 2002 when the distillery was because the building is not strong enough. However, it is preserved as a museum piece. The washbacks are made of Scottish larch and the stills are oil-heated. In the warehouse, there are octave and quarter casks as well as butts and a trial sherry, not from Jerez, is currently being tested.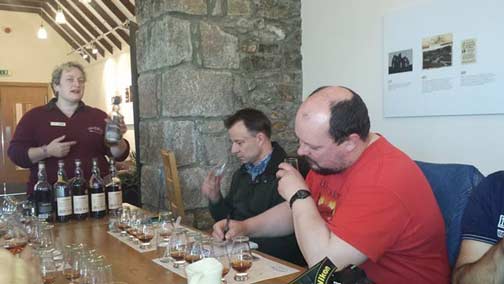 Whisky tasting at the GlenDronach distillery

At our tasting, Karen told us that her favourite from the core range is the 18 year old 'Allardice' that she finds 'cheeky' and, that instant, she was proved to be correct as the whisky in my glass told me to sod off as I was nosing it. This 18 year old, at 46%abv, has improved recently and Karen finds it chewy. I found rich fruit and sherry with wedding cake and it was a fine benchmark to measure the other whiskies with.

A UK exclusive 1995, cask 3326, at 55%abv had been matured in a Pedro Ximenez (PX) cask making it taste sweet and velvety. 21 year old Oloroso cask 39, at 58.8% needed time to breathe and reveal thick treacle and coffee. A 2002 distillery exclusive, at 56.5%abv, had been matured in a first fill PX puncheon. Surprisingly light, it had hints of syrup, fizzy sweets and sticky toffee pudding. Steve Carr found it rather quiet and not assertive though this was by no means a negative in his view. Karen told us that those who tasted it blind had thought it was much older than 11 years old.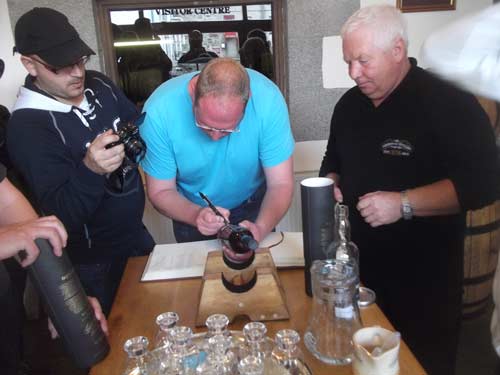 Fill your own bottleat GlenDronach

A 1993 oloroso matured, 18 year old at 56.1%abv, smelled and tasted of coffee and dark orange chocolate. A very big dram, it was both thick and chewy. The 1994 'Manager's cask' was available to fill by hand, at 58.1%abv. A drop of water revealed coffee again and the charming taste of Fry's orange cream chocolate.


Adelphi Tasting with Antonia Bruce
After announcing that Adelphi's Ardnamurchan distillery had opened in July 2014, we began with a 1992 Longmorn, at 53.6%abv, that smelled like fruit salad chew bars while Mark Watt found honey and cereal breakfast bars. The whisky had both bourbon and sherry characteristics, leading me to ponder if it had been re-racked. Vanilla and cereal notes were present throughout this tremendous whisky.

The latest 'Fascadale' release, at 46%abv, is a 14 year old Highland Park consisting of 2 bourbon casks and 1 sherry cask. Writer Charles Maclean gets red pippin apples and highland fudge while I found fizzy sherbet, apples and mints. Sitting beside me, Christian from Norway said that water revealed a lot of vanilla. On the palate, I got something between apple sauce and apple crumble together with shortbread and concluded that this would make a fine session whisky.
A 1993 Glen Garioch, at 59%abv, had come from a first fill sherry butt. Antonia got spice and ginger notes from the nose while the consensus between Christian and myself was one of orange, marmalade and chocolate. 2007 Glenrothes, at 66.7%abv, led Antonia to describe it as being like a mad peanut butter sandwich though Mark Watt asked the reasonable question: 'is there a sensible peanut butter sandwich?' This was a big and punchy dram with no obvious youthfulness discernible and water opened it to give creamy sweetness while Christian detected chocolate.
Our 2000 Ardmore, at 55.6%abv, had subtle highland peat throughout. It smelled of smoked cheese with hints of ham while it tasted of sweet smoke. Christian found vanilla, lemon zest and sugar.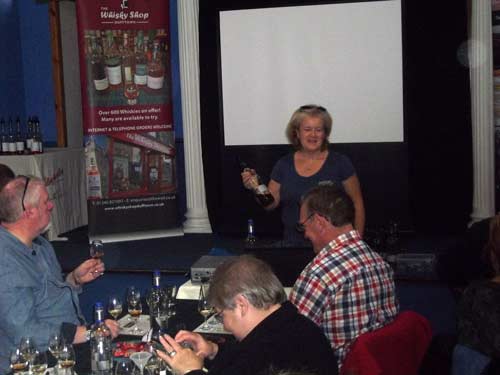 Antonia Bruce during the Adelphi tasting

Later, at the Tannochbrae gala dinner, most of these whiskies reappeared alongside a 1990 Bladnoch, at 59.3%abv. With this lowland distillery unlikely to produce again, this was a timely chance to taste a well-aged lowland whisky and it put me in mind of what Auchentoshan Valinch might be like if it was allowed to mature for at least one more decade. The whisky had been matured in a refill bourbon cask and tasted of butter on white bread with obvious notes of bourbon and spice.

Berry Brothers and Rudd,
After recovering from a bucket of 23 year old Kininvie, I returned in time for Jonny MacMillan to guide us through the best of Berry Brothers and Rudd (BBR). He began with a slide comparing a single cask BBR bottling with a thinly disguised bottle of 'Isle of Dalmorecairn' with the former being unchilfiltered and coloured and the latter not. (Each whisky is 46%abv, if not strength is not otherwise indicated). Jonny recommends rolling your glass with the whisky in it to make it look like you know what you are doing and said that the whiskies had been poured some 30 minutes previously, allowing them to breath.
As we had a 1995 Caperdonich, Jonny showed a slide of the 'picturesque' distillery using a photo taken by Mark Watt of the rubble left after demolition. This whisky had vanilla and Parma violets on the nose and tasted of light honey and fruit syrup. 1999 Linkwood, from a refill bourbon cask, was grassy and floral with lemons and delicate sweetness. Apparently, Linkwood is Gaelic for 'Distillery in Elgin'.
As a historical aside, Jonny showed us a picture of a 1909 company document, written before Rudd had joined the business. During the prohibition era, BBR had moved enough whisky through the Bahamas to give each person in the islands 8 bottles a day, although it must be taken into account that Mark Watt didn't live there at the time or the number would have been considerably reduced.
A 1998 Ben Nevis – Gaelic for 'Fairly High Mountain' – had been matured in a refill bourbon cask. The nose was slightly astringent with malt and aniseed and it tasted of warm vanilla sauce. Water lightened it considerably and it had all the qualities of a fine session whisky. A 1991 Glencadam, at 53.8%abv, led Jonny to say that the name is Gaelic for 'Glencadam' but I angrily disputed this, insisting it is Gaelic for 'Tight up beside a football pitch'. Appropriately for a component whisky of 'Stewart's Cream of the Barley', it had notes of both vanilla and cream throughout with Christian getting shortbread and pears.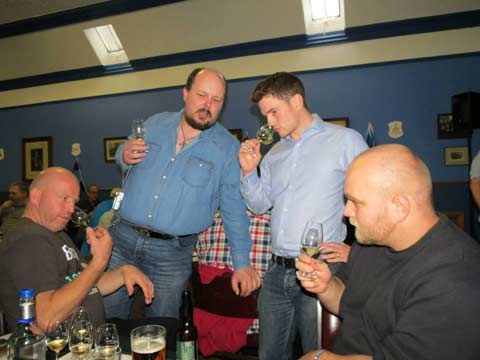 Some active discussion during the tasting

The Glencadam had apparently been extremely popular with a writer who shall remain unnamed but, for the purpose of this report, will be referred to as 'Pretentious, dopey, self-important twonk'. Playing a musical tribute to Twonk, Jonny hailed him as our lord and savior and he and I decided it was best not to mention the name of the song either, just to be safe.
A 1997 Clynelish – Gaelic for 'North Highland Waxy Whisky' – was 55.4%abv. By this time, my ability to pick out flavours, apart from sweetness and waxiness, had collapsed but this was indeed classic, bourbon cask matured Clynelish and the reader is recommended to by the 14 year old distillery bottle for a benchmark and compare the two. With time running short, I headed out after tasting a bonus dram of the delicious 'Paul John' peated Indian whisky where the angel's share is some 22%.

Antipodean Wildlife and High Visibility at Benromach Distillery
Sunday morning brought us to Benromach where Susan Colville was delighted to meet old friend Brett the Kiwi and new friend Bruce the wallaby. After watching a promotional DVD narrated by Michael Urquhart, we headed round the distillery, built in 1898 and then closed and gutted by previous owners Diageo in 1983, leaving behind only the buildings and the water supply.
Malting was carried out at the distillery until the mid-1960's, symptomatic of most of the industry. Benromach uses a combination of both brewer's and distillers yeast, making it virtually unique in Scotland. This is believed to give richness to the flavour at this manual distillery where almost nothing is automated with no pressure or temperature gauges and the spirit hand-filled into first fill bourbon and sherry casks.

Despite there not being production on Sunday, Susan donned her Hi Vis jacket for our tour and told us that Benromach and nearby Dallas Dhu, closed in 1983, were built as mirror images of each other by Charles Doig. While Dallas Dhu has been preserved with replica equipment, Benromach has changed considerably. Pagoda roofs were removed at the same time as malting was ceased on the premises.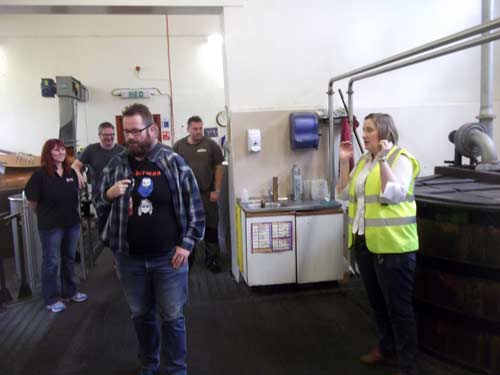 The Benromach tour

Malt from Inverness is peated to between 10 and 12 ppm while the 'Organic' expression uses no peat and the 'Peat Smoke' has as much peat as can be fitted into the barley. 13 tons of malt are used per week with 1.5 tons used per mash. One man is on each shift with almost the entire distillery fitted into one room as the new distillery is a small fraction of the size of the old one which Susan reckons could make almost 2 million litres per year, about the same size as the popular Glen Moray, a few miles away.

Fermentation can take 48, 72 or 120 hours with the longer fermentation adding nuttiness. Cloudy wort means that the washbacks do not require switchers. Spirit cutting is also done by hand. Old stock is held at Elgin while post 1998 stock is held on site. Benromach made 135000 litres in 2013 and is on course to make 250000 in 2014. 40 percent of spirit is filled into Jim Beam bourbon casks with the rest filled into Jerez sherry casks, not counting the numerous small batch experiments in progress and the 'Organic' which is filled into certified organic Missouri oak. After a cleanout, the Organic's spirit is made in January and 100 casks are filled per year while the same number of 'Peat Smoke' casks are filled in December.
The ageing warehouse will be knocked down then rebuilt and expanded though it does contain the historic 2006 cask that has the millionth litre produced by G&M. Benromach is exported to 42 countries, a remarkable feat for such a distillery of this size. In the pipeline is a 15 year old, stocks permitting.

Our tasting began with the newly packaged 'Organic', at 43%abv. This uses organic barley from Mulben, in Banffshire, and the nose had soft bourbon with warm toast and butter and a big, punchy, fruity taste. Susan prefers Benromach from bourbon casks, believing it shows the distillery character and our sample of the fill-your-own, at 61.9%abv, had a light, floral nose, tasting of vanilla, honey and cream.

By contrast, the Oloroso cask sample, at 57.6%abv, was sweet and surprisingly light, not being a Benromach A'bunadh or 105. It was improved by adding the bourbon cask sample to it.
After another taste of the flagship 10 year old, we tasted the 30 year old, at 43%abv, which is currently 34 years old, in fact, and a fine sample of the old distillery's product. Matured in first fill and refill casks, this was a luxurious evening whisky with a notably fruity taste. After that, there was a taste of history in the form of the 1976 vintage, bottled in 2012 at 46%abv. Light and creamy, this was a subtle dram.

Finally, the 'current 'Peat smoke', at 46%abv, had used barley with 67ppm phenol, in contrast to Diageo's Benromach that used no peat at all. There was smoke, salt and peat on the nose though the taste was much lighter than the level of peat would lead one to expect. There was the taste of delicate salted, smoked fish to finish with. With that, Susan removed her Hi Vis vest and promptly became invisible. (Rumour has it that she and her beloved Amazonian tree frogs had run off with Bruce the wallaby).

Morrison and Mackay Whiskies with Peter Mackay

The 'Old Perth' blended malt whisky from Morrison and Mackay (M&M) is currently on its third batch. In our glasses, however, was the first batch, at 43%abv. There was cereal and malt on the nose with smooth citrus tastes and the lemon from a lemon meringue pie to finish. As we were tasting, Peter told us that the core of this particular blend will always be Aultmore, matured in bourbon casks.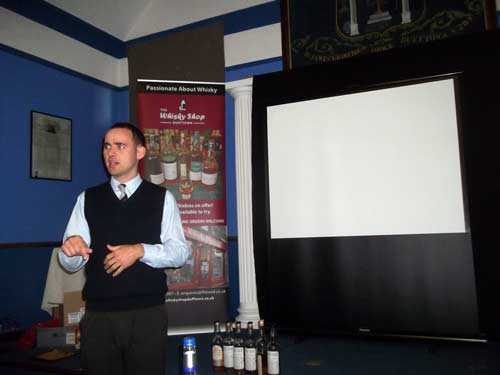 Peter Mackay

The first of four 'Strictly Limited' releases, all at 46%abv, was a 1995 'Westport', taken from two bourbon casks. Westport is mostly from a highland distillery in a glen of tranquility with an added teaspoon of whisky from a distillery in Elgin. This had peaches in syrup and cream on the nose with a mellow citrus taste and lemon curd on the finish.
Also from 2 casks was a 17 year old Benrinnes that Peter thought was the best of the range bottled this year. A dram worth spending considerable time on, it had syrup and warm golden honey on the nose with vanilla and delicate, light bourbon in the middle. Rolling this on the tongue gave a long, spicy finish. As we tasted, Peter paid tribute to Mike Lord's generosity 'coming out in spades', just like a combination of Motorhead and the Village People, I guess.

A 1995 Speyside had fudge and wedding cake aromas while Peter described it as 'Snickers in a glass' and 'a whisky for Germans'. Tasting, I found nuts and chocolate on the taste with some bitter oranges to finish.

A 1988 Celebration of the Cask Linkwood, at 50.7%abv, had been matured in a bourbon cask with three months finishing in Oloroso sherry. This whisky had two sister casks, bottled circa 2011/12, one of which tasted like millionaire shortbread. A chewy and sweet dram, I found it deliciously well balanced.

Interestingly, before finishing, Peter told us that the Linkwood was paler in colour than our final whisky, a 1997 Ledaig. This had a minty nose with toffee and smoke but was milder to taste, with biscuits and fruit present. Unlike the younger Ledaig available from Morrison and Mackay, this was more like a peaty Highland or Speyside whisky than one from Islay.


An evening with Robin Laing
Robin's back catalogue is reviewed in previous reports and, in addition, he played a number of new tracks, including one about Bannockburn, one called 'Whisky Cathedral' and another entitled 'Black Rose'. His whiskies for the evening were the Bruichladdich 'Scottish Barley', at 50%abv, 1989 'Images of Dufftown' from 'Malts of Scotland', at 53.2%abv, Port Charlotte Scottish Barley, Benromach Peat Smoke, Benriach 15 Tawny port finish, reviewed in previous reports, and the UK exclusive 1995 Glendronach PX cask, at 52.5%abv. Interestingly, compared to the Port Charlotte, the Benromach tasted lighter, despite a higher level of peat in the barley. Robin is particularly fond of the Bruichladdich 'Scottish Barley', as am I. Despite no peat, this is a big, effervescent dram with spice and sweetness in balance throughout. The Glendronach tasted of burnt fruitcake, raisins and toffee and, again, Robin is a big fan.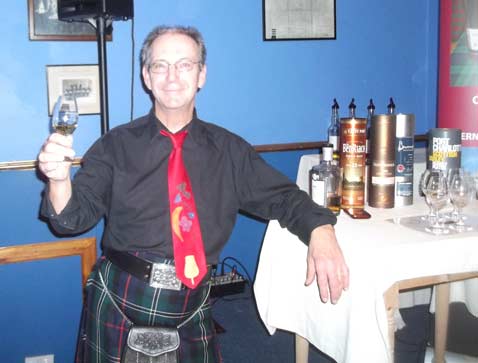 Robin Laing and his whiskies

A thought-provoker for the evening was Robin's suggestion that limbo dancing in a kilt should be made an Olympic sport – he reckons it is guaranteed TV time.
As usual, highlights from Robin's performance are available on both Facebook and www.youtube.com.
I was there at Balvenie Distillery
At Balvenie, David Mair took us round. Most of the process has been covered extensively in the reports for the autumn festival of 2010 and the spring festival of 2013 and, this time, the maltings was under repair and out of bounds. David told us that it produces between 10 and 15 percent of the malt needed. A small amount of peat is used on site and, indeed, the distillery produces peated spirit for 10 days out of the year though no bottling date is indicated yet for the whisky.

Balvenie uses different water than nearby sister distillery Glenfiddich uses although the mineral content of the water does not differ. Steeping tanks were added in 1928 and are currently in the process of being replaced, at the time of writing. Interestingly, the original stills had come from Lagavulin and Glen Albyn distilleries. These were sold and the distillery changed to one still shape though David didn't know which. Unusually, all the stills are the same shape at Balvenie.
The reader is recommended to join the 'Warehouse 24' club online for free and tours must be booked by contacting the distillery directly with a limited number of places available per tour. In the aforementioned warehouse, there are 3 casks available for to taste and bottle 200 ml of: first-fill bourbon, refill bourbon and first-fill sherry. These were soft and creamy, tasted of banana and honey and of rich wedding cake, respectively. Also available are a 1974 refill bourbon cask and a 1982 sherry cask. The old Tun 1401 is gone, replaced by the 8000 litre capacity Tun 1509. Each batch of this is compiled by malt master David Stewart and consists of 42 casks of between 21 and 40 years of age. Marrying takes 3 months.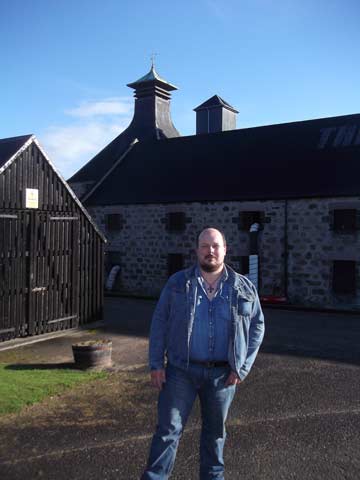 The Author in front of the Balvenie distillery

Our vertical began with the widely available 'Doublewood' 12 year old, the distillery's biggest selling bottling. After that, we had the 14 year old 'Caribbean Cask', at 43%abv, reviewed in the spring 2013 report. A drop of water opens this to reveal fudge and rum and raisin ice cream. A new addition to the range is the 15 year old 'Single Sherry Barrel', at a standard 47.8%abv. Each chosen barrel yields no more than 650 bottles and the whisky has a big punch of raisins, plums and wedding cake. David recommends a single drop of water with this one.
The 17 year old 'Doublewood', at 43%abv, is available in a miniatures pack with the 12 year old and the 'Caribbean cask'. Reviewed in spring 2013 as well, I found fizzy sherbet this time around. The 21 year old Port Wood finish was extensively reviewed in my autumn 2008 report and is a fine accompaniment to a serving of cheese after dinner.
The last 3 whiskies were batch 1 of the Tun 1509, at 47.1%abv, and samples from the 1974 and 1982 casks mentioned earlier. The first of these sold out very quickly on release and all 3 were completely beyond my ability to describe, in a short space of time and we were pushed for time by then. However, for a relatively small outlay, readers of this report can book a tour and taste these whiskies, each of which constitute an 'I was there' moment. Also, be sure to bring a glass or a small cup for best results.
Graham Dunnet of Douglas Laing
Making his debut in Dufftown was Islay man Graham Dunnet who was standing in for the absent Jan Beckers. Jan, it turned out, had headed to London where, ever the practical joker, he persuaded the mayor that it would be a brilliant wheeze to stand up at his party's conference with a brick. (Jan is reported to have purred at the success of this little jape.)
At 46.8%abv, the newly released 'Timorous Beastie' was a blend of highland malts from Glengoyne, Glen Garioch, Dalmore and Blair Athol. This whisky sparked a frenzy of comments from my table and elsewhere in the hall. I found lime citrus on the nose while Graham got barley sugar and Danny got green apples, something that Graham believes is an indicator of young whisky. Snorre found toffee and caramel while I got shortbread notes on the taste. The finish had spice, apple crumble and apple sauce with the addition of water making it minty. An exceptionally pale and delicious Provenance Mortlach, at 46%abv, smelled of shortbread and tasted of caramel shortcake with some light vanilla and peaches.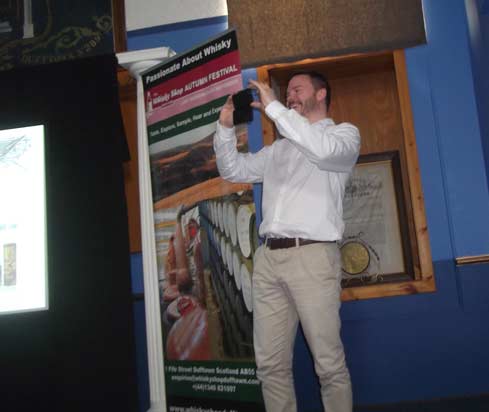 Graham Dunnet photographing the audience

An 'Old Particular' (OP) 15 year old Benrinnes, at 48.4%abv, smelled of peaches and fruit salad chew bars, tasting of bourbon and vanilla. Snorre found raspberries in this one while Leif, his countryman, found plum jam and Pat Lunn tasted salted kippers. An OP 1997 Glenrothes, at 56.4%abv, from a refill hogshead had notes of bourbon while Graham got maltiness, Neil Simpson found cereal and a lady in the audience detected marzipan. I also tasted boiled sweets with water making it revealing mint and a creamy finish.

1989 Clan Denny Strathclyde grain whisky, at 56.2%abv, had an aroma of soft, sweet vanilla with Graham getting muscovado sugar. Neil found banana flavours on the addition of water while I tasted caramel milk chocolate. Graham believes that grain whisky is ideal for the summer and I will test this out the next time that Scotland has a summer as we don't have one every year. We ended with an 8 year old Provenance Laphroaig, at 46%abv. A huge dram with a very punch, it was quelled with a drop of water. It tasted of salt, peat and smoked fish with sweetness appearing in time. The finish was long and elegant and the reader is recommended to compare it to the widely available 'Quarter Cask' official bottling.
Graham asked what was the audience's favourite and the smooth, luxurious Strathclyde won hands down.

Cadenhead's tasting with Mark Watt-Glenlivet
Unlike me, Mark Watt does not have a leg to stand on when the foot's on the other hand and those who have seen him legless confirm this is true. Introducing, Mike Lord said that Mark has pushed back the boundaries of good sense. With that, our first whisky was a 24 year old 'Small Batch' Miltonduff-Glenlivet, at 55.3%abv, taken from 2 hogsheads. This was fresh, juicy and creamy and led Mark to declare that the whole point of an independent bottler is to give you something unusual. He believes this to be a fine session whisky or 'report-writing' whisky. I found the taste of digestive biscuits with lemon meringue pie though Mark agreed with me that, despite the quality of the whisky, it is difficult to write about.

Mark says he warms up in the morning with whisky, reasoning that you wouldn't run without warming up. His 'Creations' 17 year old blended whisky contained 1977 Caperdonich with other whisky from Ardmore, Clynelish, Invergordon and Auchroisk. Stephen Lunn thought it had way too much Clynelish and Mark reckoned that was the best insult ever. Strangely enough, the previous Miltonduff could have been added to this without changing the character as the blend is delicate, creamy and sweet with lemon meringue pie. As a bonus, we had a cask sample of the Invergordon grain whisky that had been a component of the blend.

As an aside, Mark told us that the Benriach 10 year old had made him cry as he had accidentally poured it in his eye, a drink problem also suffered by Ted Striker in 'Airplane'. In another aside, Mark said his company likes to add the suffix of Glenlivet to a number of distilleries as these distilleries had done so themselves in previous decades to cash in on the name of the first licensed Scotch whisky distillery despite being miles away from both the distillery and the valley in question.
Re-appearing from May was the 23 year old Aberlour-Glenlivet, at 54.9%abv, had been taken from 2 hogsheads. As we tasted, Mark said Cadenhead's bottle bourbon and received a two-fingered salute from one audience member for that. Parent Company J and A Mitchell are the second biggest employer in Campbeltown after the local council though the council does less.

A 1985 Glenburgie should be bottled soon as a single cask release, at 57.3%abv, and it tasted of orange cream and blood orange chocolate. (Yes, this chocolate is available to buy.) Mark also said he thought the 80's were coming back again though perhaps could have lived without me telling him I would play Van Halen to him again. A 1995 Speyside-Glenlivet, taken from a refill butt and a first fill butt, led Snorre to declare it was the best from the distillery he'd had. At 62.8%abv, this was a beast of a whisky though one commentator believed that water gave it an easy-drinking character. The session became steadily more boisterous, despite no Aberdonians being present, and I tasted wine and cereal on this whisky. Mark told a story of having teeth done, which brought pictures of Richard Hammond to mind, and another of the time he was invited back to a cellar to watch a DVD of himself in action. (He declined).

A cask sample of 2001 Bowmore, from 2 refill barrels, had mint and smoky notes to it and had the character of a highland whisky, rather than one from Islay. Mark thinks that Bowmore's spirit distilled between 1999 and 2001 will be as highly regarded in 2030 as Black Bowmore is today.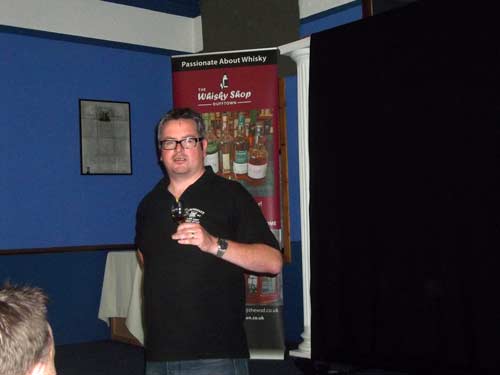 Mark Watt at work

At the end of the festival, an honourable mention must go to Alan's Tannochbrae warm-up blending of the Aberlour 10 and Monkey Shoulder which was delicious and all credit to him for spraying whisky on Robin's tongue as he sang about 'Whisky for Breakfast', the title track of his current album.

The WSD drams party saw Mike announce that Hankey Bannister Heritage had been a clear winner of the blind blends tasting while Aberlour 15 had tied with Glendronach 18 as the best whisky to pair with haggis and that Singleton of Dufftown 'Sunray' had been the popular choice to go with bacon.
With that, I'd like to thank everyone involved in organizing and running the festival and, in particular, Mike Lord and his wife Val, Vicky and Kirsten at the Whisky Shop, Warren, Gemma and the rest of the crew, Claus for the proofreading, Steve Oliver, the Tannochbrae, the Coffee Pot café, Hiro for the bucket of Kininvie and the photo, Steve and Annie for the Balvenie distillery picture.
I'm off to join a club with a really thick layer of chocolate, those are the best, and I hope to see all of you again at the spring festival.