Autumn Speyside Whisky Festival Report by Bruce Crichton. September 25th-28th, 2009. Uncut and non chill filtered!
Autumn Speyside Whisky Festival 2009
After staging a disastrous production of Swan Lake – I fell in - I headed to Dufftown. To help me recover, the Spirit of Speyside Whisky festival was just what I needed and after several days of great whisky, great food, anoraks, pigs in space, exotic wildlife, Batfink, perplexity, fascinating shaving habits and hurried scribbling, here is my account of it.

As usual, every dram was remorselessly obliterated and my slops bucket meant less than the speed limit to a man late for his date with all of Girls Aloud. Because of this, I apologize in advance for any factual errors, as whisky is not a memory aid. The regular reader will know that my tasting notes are far from expert so I have deferred to the professionals whenever I couldn't articulate the flavours in my whisky. For reasons of space, I refer the reader to previous reports and tastings if a whisky has appeared before and I have also assumed the reader is familiar with any widely available bottlings that popped up. Any water added to a whisky tasted was, literally, one drop. All whiskies were 40%abv, if the strength is not otherwise indicated. Though the peat 'punch' from the south Islay distilleries is not as big as before, this is not in anyway meant to indicate that they are bad whiskies, just that they have changed their style.
Kicking us off was the highly anticipated showdown between Susan Colville and Mark Watt, whose body is a temple – if that temple was sacked by Mongol hordes in the twelfth century. The big question was 'Who gives better tastings?' and I was the official timekeeper. Mark and Susan were to select between two and four whiskies each, totaling no more than £150 and featuring one whisky from their respective companies: Wemyss and Duncan Taylor (DTC). Each talk had to be between 30 and 45 minutes, with points lost for every minute over or under those times. Points were added by the audience for the quality of the presentation by each brand ambassador and points added, out of ten, for each whisky selected.
Mark was first, wearing his suit and tie for the occasion. His opening gambit was 1996 DTC NC2 Imperial, at 53.6%abv. A bargain buy, from Mark's beloved closed distillery, this had been matured in a Jack Daniels' Tennessee Whiskey cask and was fresh and creamy, with a slight pepperiness to it. Mark views it as a 10am whisky and reckons it tastes of custard cream biscuits. By contrast, Batch 25 of Aberlour A'Bunadh, at 60.4%, smelled of Bovril (me) or Oxtail soup (Mark). With characteristic wedding cake and toffee flavours, the experienced reader will know what to expect their batch of A'bunadh. Mark thinks that the distillery deserves more recognition as a heavy Speysider, like that accorded to Glenfarclas and Macallan. Despite its' high alcoholic strength, the A'Bunadh was not prickly, a testament to the fine work of unsung hero, Colin, who keeps hedgehogs from getting into the casks during maturation.
Changing tack, Mark followed this with a sample of the official 1997 Springbank (batch 1), at 55.2%abv. This was reviewed comprehensively in my autumn 2007 report and I add only that it was matured in re-charred sherry casks which opened up the wood again to the spirit, giving it a tremendous balance between sherry and vanilla. While we tasted it, Mark told us of the accidental filling of the triple distilled, unpeated whisky made at Springbank distillery, known as Hazelburn, being filled into casks that formerly held heavily peated Longrow and which was handed out at a Runrig gig to unsuspecting punters who expected a light smoke-free dram.
Mark closed with the widely available Ardbeg 10, which is now featuring some of the first production made, after the distillery was revived by Glenmorangie plc. To those who have not tasted Ardbeg for some years, it is much more subtle than before, with cream and a little light smoke together with the smoked fish taste often found in such whiskies. I did thoroughly enjoy this though it did make me a little sad at the thought that the old Islay 'peat monsters' do seem to be dying off.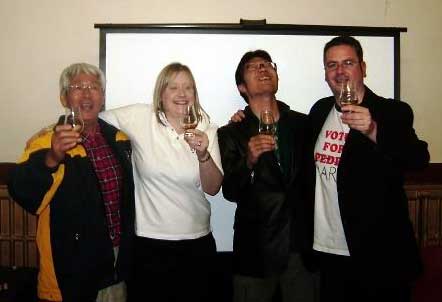 Susan vs Mark Tasting
Having ploughed through his selection, barely missing a beat, Mark peeled off his jacket to reveal a 'Vote for Mark' t-shirt and he handed over to Susan.
Susan only chose 3 whiskies for her talk, putting herself at a mathematical disadvantage right off, though the quality of her dram selection cannot be faulted. She began with 1991 Wemyss 'Spiced Figs', at 46%abv, otherwise known as Dalmore. Susan is not a great fan of the distillery bottlings, finding them rather overpriced. This bottling had won an award in Whisky Magazine's independent bottlers' challenge and had an attractive combination of cream, honey and vanilla flavours with a rather floral character.
Next up was Glenfarclas 15, at 46%abv, was weightier than the Dalmore and is in fine form these days, being lightly chewy and having trademark cake icing on the taste. Susan has fond memories of this distillery, having been a tour guide there and notes that this is distillery chairman John Grant's favourite.
Susan said that she had tried 'to get inside Mark's mind' for this event, even less advisable than a meringue lifejacket, and avoided picking the A'Bunadh, instead choosing to end with a Longrow 7 year old, at 55.8%abv, finished in Gaja Barolo wine casks. Longrow was originally a distillery adjacent to Springbank, in Campbeltown, and was re-introduced by that distillery in the mid 1970's, gaining a cult following in the intervening years. This unusual finish complemented the whisky very well indeed, giving it an attractive taste combination of smoked fish (the subject of a sworn affidavit in past festivals) and sweet syrup. Interestingly, it appears that the heavy Islay whiskies are moving toward the style of Longrow rather than vice versa. All credit to Mark and Susan for this duel and I look forward to the next such event.
I add a brief note here to thank all those at the 'Mates of the Museum' who put on the next, rather informal, event. This was a chance for old and new friends to get together with whiskies donated by the companies who had come to Dufftown for tutored tastings over the summer and was a perfect way to spend an early autumn evening.
Friday morning saw Stuart and I head to Glendronach distillery, closed in 1996 by Allied, revived in 2002 by Pernod Ricard, bought over in 2008 by Benriach and now properly signposted from the main road, with a newly refurbished visitors' centre. Frank was our guide for the morning and showed us the Dronach burn that supplies the distillery with water before demonstrating the 1913 Boby mill that crushes the barley. 3.76 tonnes of unpeated malt is used, per mash. Uniquely, to my knowledge, three new mash tuns had been installed using Deeside Larch wood rather than the traditional Oregon pine. Glendronach will produce about 1.1 million litres of alcohol this year and this spirit is filled into ex-bourbon casks as well as both Oloroso and Pedro Ximenez sherry casks. The popular Teachers' blends are a big customer for Glendronach's whisky and there are unconfirmed rumours of a peated expression in the offing. The new range includes 12, 15, 18 and 33 year old versions and the 12 tastes warmly of spice and licorice with sherry sweetness. Also to watch out for a series of vintage single cask releases, all matured in Oloroso sherry butts and the reader will have to take my word as to the quality of the 1992 vintage that I picked up, though sherry matured whisky lovers will be very unlucky not to find something to suit their taste buds from the selection available. One final note is that sister distillery Benriach has also released a series of vintage single casks.
Our afternoon began with a visit from Gordon Bruce, manager at Knockdhu distillery, to take us through the An Cnoc series of whiskies. After nosing the strongly cereal-smelling new make spirit, the standard 12 year old gave us a gentle start and it had a light, aperitif quality, smelling of Parma violets and finishing with sherbet and apricots. Moving on, we had the 1994 vintage (bottled 2008) was from one of a thousand cases released every year by owners Inver House of a given vintage. It smelt lightly of treacle and wine with a fuller taste than the 12, indicating a slight sherry character with an unusual finish of Christmas cake and cough syrup.
By contrast, the 16 year old was quite a departure, having been matured in second fill ex-bourbon casks and Gordon told us that it is very popular with distillery workers. (Knockdhu is the smallest in the Inver House stable, producing 1.5 million litres of alcohol.) Nosing it gives the smell of sticky-toffee pudding and the middle is a restrained and delicate vanilla, ending with licorice.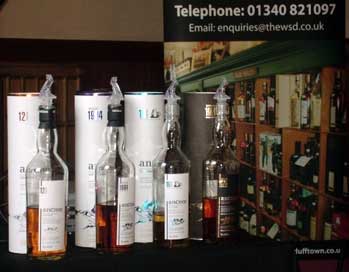 An Cnoc tasting
As we worked our way through the whiskies, Gordon noted that An Cnoc had launched in Sweden in April and had already hugely exceeded expectations. Gordon recommended our final bottling, a 1975 vintage (50%abv), as a winter dram, though I reckon it would also make a fine after dinner drink or, perhaps, a nightcap. The nose had notes of sherry and cough syrup with a very soft taste of wedding cake and toffee and a soothing, velvety finish.
As a final treat, and to whet appetites for the future, Gordon had brought along a 3 year old sample of whisky made from heavily peated malt and a 5 year old sample matured in Spanish oak, using unpeated malt. The first was very promising and brought the now familiar taste of smoked fish to mind and the second was a masterpiece in the making, smelling of coffee and having a rich, smooth taste which bodes well for bottling in the, hopefully not too distant, future. Mike Lord then paid tribute to Gordon's passion and knowledge of whisky and the audience applauded enthusiastically.
Next up, it was time to put my studies of exotic wildlife to the test as Susan Colville showed us what Wemyss Vintage Malts had to offer. I add, here, that the sherry matured whiskies in this tasting, and in others over the weekend, give brilliant results if you fill your mouth with them and roll them around on your tongue, rather than simply sipping them. Wemyss' modus operandi is not to name the distillery on the front of the packaging but, instead, to call the whisky after the dominant flavours found during tasting. Bottling is nearly always at 46%abv and, indeed, all those in this class were at that strength.
Susan opened with 1989 'Herb Garden' (Glen Garioch), which smelled both delicate and herbal. Much more expert than me, Susan found dill and coriander on the taste and I found the finish short but still charming. Susan viewed this as a good opener, using me a marker, and moved on to 1990 'Chocolate Plums' (Ben Nevis), not to be confused with an amusing little ditty by the late, great Isaac Hayes. Not a fan of the official bottling, Susan does like this one though she did not jump for joy when I congratulated her on skillfully avoiding the taste of char-grilled wombats in the whisky. (I'm sure you all know how annoying that taste can be.) More seriously, I noted some slight coffee aromas while the taste was exactly like that on the label.
Re-appearing was 1990 'Spiced Figs' (Dalmore). Bizarrely, Susan was not amused when I said that I could not taste Reticulated Pythons and she did not appreciate my monologue on the subject. (These creatures are a menace and you certainly don't want them in your whisky.) Continuing the theme, we moved on to 1991 'Ginger Treacle' (Glen Elgin) and it smelled of ginger snaps soaked in treacle with the same again on the taste as well as some dry, chewy fruits and a dark 'Maya Gold' chocolate finish. Not vastly different in character was 1990 'Toffee Apple' (Glen Rothes) and this did have a faint waft of Bovril, reminiscent of some very young examples from the distillery, covered in previous reports. This one had stood up well to the cask and was rather restrained with simply no-nonsense sherry to end with and, unsure which of the last two to buy, I simply got both of them.
An interlude allowed Susan to point out that she prefers the term 'Vatted Malt' to the newer 'Blended Malt' and she mentioned that her company has a small range of these, though they would not really have fitted in with the theme of this master class. (I can, however, attest to the high quality of the 'Smooth Gentleman' and hope to see it at the spring festival.)
Bringing us to a close was 1984 'Crumpets and Cordite' (Caol Ila), the name of which suggests that afternoon tea at Wemyss is something to avoid. However, Susan's comment of "hot, buttered toast" was extremely apt and the nose was coastal, with some light salt and smoke. Susan was honest enough to say that this would have better at cask strength and agreed with me that rolling it on the tongue brings forth a smoked fish taste though she did glower when I suggested that it was a basking shark - these taste like giant, plankton –eating cartilaginous fish.
Friday ended with Mark Watt being given the honour of officially opening the festival, which he did in his inimitably jovial fashion, all the livelier due to his recent health kick of switching his diet from empty lager cans to empty Irn Bru ones.
That proved a wise point to call a halt and, when Saturday afternoon came around, Steven Rankin of Gordon and MacPhail (G&M) had arrived to find a packed house ready to greet him and his whiskies taken from the 'Connoisseur's Choice' range (CC), all at 43%abv. Steven is the grandson of George Urquhart, one of the founders of the Elgin-based business, and he demonstrated a fine passion for whisky with a considerable grasp of both history and the vision required to keep a niche market business going.
An excellent opener was a 1993 Glendullan (bottled 2008) that had been matured in a series of refill bourbon casks. The thrilling nose brought to mind syrup, Wham bars and Refreshers while soft, elegant vanilla tickled and caressed the palate gently before some cream lingered at the finish.
As we considered our whiskies, Steven expertly retold the company's history and noted that they had focused on single malts at a time when they were unavailable and when blended whisky was regarded as king. The CC range represents 51 distilleries and the company buys new spirit, not mature stock. As a result of this longstanding policy, they have vintage whisky available from most years, including the Second World War years where production in most distilleries was closed down. Interestingly, G&M missed out on buying Strathisla distillery by £6, in the 1930's, and also missed out on Benromach, some 60 years before they eventually acquired and revived the then closed distillery.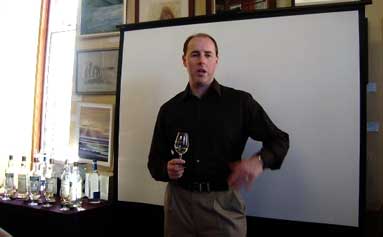 Steven Rankin from G&M
Returning to the whisky, a 1993 Pittyvaich had a deliciously cereal and malt nose with a dry, slightly fruity taste with a lively, warm finish. This distillery is long gone and the official version is very dark from sherry maturation, so this very pale example was doubly interesting and a real bargain buy, to boot. Nearby Dufftown followed, a 1997 vintage smelled of nuts and autumn fruits and tasted of dried spices. A 1992 Glenallachie prompted an Australian gentleman to liken it to Chenin Blanc wine on the nose and the taste to 'Granny Smith' apples. I found the finish short but mostly of vanilla. By contrast, a 1991 Allt-a-Bhainne had an interesting smell of both perfume and bubble gum. Matured in refill bourbon casks, this tasted of malt and cereal as well as a little wine and some vanilla. The finish had some slight smoke and pepper.
Steven took the opportunity to tell us of G&M's dealings with the Amrut Indian Whisky distillery and drew our attention to the newly released Benromach 10 year old, which combines both bourbon and sherry matured whisky all married for a year in first fill sherry. (Having tasted this elsewhere, I find it to have an exciting raspberry ripple flavour.) Also available is the small batch Benromach 'Origins' which was made from 'Golden Promise' barley, as opposed to the standard 'Optic' variety, and which is bottled at 50%. Steven reckons that this imparts chocolate notes to the whisky.
The session's piece de resistance was 1975 Benrinnes, matured in refill sherry. Wonderfully luxurious, both Steven and I agreed that it would make an excellent nightcap. The wonderful nose had coffee, light smoke and dark chocolate with some medium dark chocolate on the middle and a warm, charming finish.
A big thank you to Steven for coming and to Mike for keeping me a bottle of this and I hope we see more of G&M at future festivals.
What better way to follow this than with whiskies from DTC presented by Mark Watt, who has stepped up his health kick by switching his eating habits to empty Diet Irn Bru cans? Not letting an errant fly distract either Mark or myself, we re-tasted the 1996 Imperial from Thursday. Such was the quality that it prompted Mark and I to lament the loss of this distillery, which makes very good whisky at a young age.
Following on, a 1997 NC2 'Distilled at Springbank' was unpeated, triple distilled and matured in an ex-bourbon cask (54.4%abv). This smelled exceptionally sweet with both honey and Refreshers and combined cream and golden syrup flavours before finishing with delicately slight smoke.
Once again, Mark had brought a Caperdonich older than me and this 1972 'Rare Auld', at 47.8%, had been matured in a refill bourbon cask that had some fresh wood ends added, giving it a spicy quality. Mark's favourite distillery has been bought by Forsyth's coppersmiths and will be turned into a warehouse. Keeping up the standard, this had Wham bars again to nose but its' restrained, spicy taste made it seem younger than 36, though the finish was soft, long and soothing. Mark also points out that DTC are down to their last 150 casks of 1972 Caperdonich, so snap this up quick before Mark finishes it himself. (Who knows? I may yet find out what a Caperdonich younger than me actually tastes like.)
Moving on, a 1970 sherry matured Glen Grant, 51.6%abv, had both toffee and treacle aromas with the same again to taste and a velvety finish. Mark has come a long way in a short time, pointing out that 'licking a fencepost' has now been translated into Japanese and this dark whisky moved him into an epic rant, worth the price of admission alone, about adding colour to whisky. (Mark tells us that he once saw 4 people drink Loch Dhu from one plastic thimble cup and it still was not empty).
Two more 'Rare Auld' bottlings brought us to a close, the first being a very mellow 1982 Bowmore, at 52.3%abv, whose smoke had faded from the nose to leave lavender and violets plus some beautiful vanilla cream and spice flavours with only the ghost of smoke at the very end. All of which had Mark and I reminiscing about standard Islay bottlings and the diminished 'attack' from such whiskies, especially Laphroaig. A 1982 Caol Ila, Mark's favourite Islay, had retained its' classic character, both smelling and tasting of salt and smoke and still surprisingly sweet before the smoke ghosted gently away at the end.
It just isn't Saturday night in Dufftown and, so, I headed to the Tannochbrae restaurant where Allan and Susie served up some more fantastic fare with whiskies and great company from Robin Laing who had brought a series of bottles from the Scotch Malt Whisky Society which were Arran 1998 'Banderas in a Tuxedo' (53.3%abv), 1982 Linkwood 'Will lead you up the garden path' (55.9%), 1979 North British grain 'Conversation Provoking' (53%abv), 1990 Littlemill 'Black Magic in a lady's drawer' (56.4%abv), 1993 Cragganmore 'Reformed Sinner's dram' (60.4%abv) and 1998 Ardbeg 'Keith Richards meets Socrates' (57.3%). These whiskies went beautifully with each superlative course and are available only to society members so I add merely that the Cragganmore was almost A'bunadh-like in its' sherry character, the Littlemill was a very rare chance to taste whisky from a demolished Lowland distillery and the Ardbeg, amazingly, smelled of Strawberries because it had been fully matured in a sherry gorda.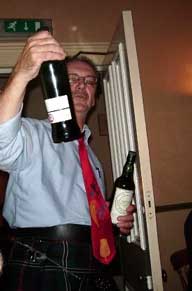 Robin Laing with his SMWS bottlings
Sunday morning gave us all a brilliant excuse for elevenses and that meant whisky and cheese with WhiskyshopDufftown owner Mike Lord – your bullets cannot harm him, his wings are like a shield of steel.
The whiskies were all official versions, being Glenfarclas 15, Speyburn 10, Ardbeg 10 and Lagavulin 16 plus an Old Malt Cask 1992 Mortlach, at 50%abv while the cheeses were from the Aberlour Spey Larder. Mike thought the Mortlach had a real cognac edge and I found it to have both sherry and coffee smells with subtle wedding cake and icing as well as excellent balance and a long, soothing finish.
The first cheese was a smoky Applewood which Mike views as a 'Whisky and cheese cheat cheese' as it seems to go with almost any whisky while our second cheese, brie, complimented the Mortlach very nicely. Then, just to show that some pairings can go wrong, we had the same cheese with Old Pulteney 12, normally a great accompaniment to any food, and the two cancelled each other out leaving a taste that Mike describes as 'old boiled cabbage'.
The reverse effect was found by pairing the Speyburn and Parmesan cheese which turned a caramel contaminated nightmare whisky into a chocolate and hazelnut delight. (Mike discovered this combo by using his supersonic sonar radar to help him.) The same cheese was tasted again with the Ardbeg 10 and it had Mike and I pondering the seeming waning of the old heavy Islay attack. Following up was Lagavulin 16 which, again, had moved away from its' old style but still went well with some creamy blue cheese from the south of France, though it could have done without the addition of caramel, especially as it sold in dark green bottles. We ended with a bonus bottle, Clynelish 14, and some crumbly Strathdun blue.
Mike headed off to arrest the mad scientist Hugo Agogo and, when he returned, we were joined by Graham MacWilliam, general manager of Macallan distillery, who brought his tremendous wealth of technical expertise with him to guide us through Macallan's '1824' travel retail range. None of this range has an age statement and, instead aims for consistency of product, utilizing the vast range of casks available to maximum effect. The attention to detail paid by Macallan throughout the long process of making whisky is detailed in my Autumn 2008 report but Graham expertly recapped it for those who hadn't taken a tour before. Some of range will be available to buy at the distillery.
The new 'Select Oak' is replacing the 'Elegancia' bottling and it had vanilla and butterscotch on the nose with more vanilla and spice to taste and a warming, if short, finish. Created by Bob Dalgarno, the 'Whisky Maker's edition', at 43.8%abv, was made using barley grown on the Macallan estate. This was more complex to nose with some ginger and toffee richness before a slightly sharp and vanilla sweet middle with a hint of spice and the finish was soft but elegant with lingering smoky. Festival regular Danny Maguire found this a little prickly, but that serves him right for putting hedgehogs in his drink.
The 'Estate Reserve' is so named because all the casks involved were matured at Macallan's vast warehouse and is 45.7%abv. Thicker and richer than the previous two, this was excellent, with fudge and ginger, oak and some chocolate orange before the finish faded slowly from the tongue leaving oak, smoke and spice behind.
The already highly entertaining session moved into top gear with a preview of the '2009 Limited Release' that will be released in a decanter, at 48%abv. This is a vatting of four first fill sherry casks, each over thirty years old, and was a privilege to be given a taste of. The nose was of chocolate orange before spices and ginger came through, giving way to a long, dry finish with apples. To anyone who is able to obtain this bottling, I'd like to say that I hope your marriage to Jennifer Lopez is a long and happy one though you might want to change your name from Jammy Barsteward as that sounds a bit daft.
More exclusive still was a cask sample that will be bottled as 'Oscuro' and is scheduled to be launched in Cannes in October, making us the first people in the world to taste this, at 47.9%abv. This is a vatting of whiskies between 1987 and 1997 vintage and coffee teases the nostrils slightly before treacle and dry oak come through, followed by a dark chocolate finish. All that remains is to thank Graham for coming along and giving us all the honour of being able to say 'I was there'. Fittingly, Robin Laing then stood up to sing his Macallan song and we gave both men a round of applause.
Evening came around and that meant the company of Robin Laing with whiskies, stories, poems and songs. The whiskies were official versions of Bunnahabhain 12, Ardbeg Still Young (56.2%abv) and Bruichladdich 16 Cuvee Paulliac wine finish plus 1998 NC2 Bowmore (46%abv), G&M 1996 Caol Ila (59%) and A.D. Rattray Laphroaig 12 (60.3%abv). The Laddie was tantalizingly delicate with sherbet, vanilla and wine, the Ardbeg was an interesting pointer in the evolution of the current 10 year old bottling and the Bowmore was the most vibrant, lively and muscular Islay of the weekend. Finally, the Caol Ila had been matured in refill sherry which had a fantastic nose, peat finally punching through the sherry before developing, with water, into a full, warm and chewy taste and an extremely long, smoky finish making it ideal to go with a thick roast beef sandwich.
This, however, was not a tutored tasting and the real highlight was Robin's latest book 'Whisky Legends of Islay'. Rather than about whisky, as such, the book is full of folk tales, island history, amusing poems and anecdotes and recounts various newsworthy happenings involving people as diverse as James May, Jim McEwan and David Bellamy. As well as songs such as 'Bruichladdich', 'Ten songwriters on the Islay whisky trail' and 'Reaching home', we were treated to cautionary tales of Uncle Wolf, a blacksmith's battle with the faeries, the lost Islay creamery, the cheese that was supposedly an aphrodisiac and an abortive attempt to revive it without a recognized cheese maker, the 'Maid of Islay' boat and the 'Macbeths of Kilchoman'. Highlights of this and previous performances can be seen on my YouTube channel. Finally, Robin warned us not to faint anywhere near Bunnahabhain distillery, as they only offer you tea as a restorative and closed with songs about the missionary, the eagle and an uncut 'Speyside Whisky Song'.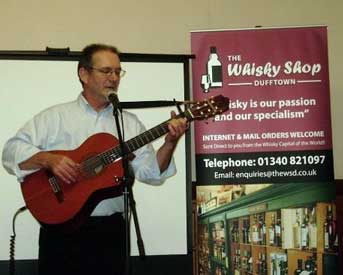 Robin Laing during the presentation of the "Whisky Legends of Islay"
After a morning shopping trip to Elgin and a posh lunch at La Faisanderie restaurant, Stuart and I headed to the hall where Whyte and Mackay's Steven McConnachie introduced us to the limited edition 'Paps of Jura' collection which are all fifteen years old, finished in European wine casks and bottled at 46%abv. Each expression is limited to 1366 bottles. Knowing next to nothing about wine, I bowed to Steven's superior knowledge with most of the interesting notes coming from him.
Steven began with the masterstroke of bringing Asda's brilliant dark chocolate with him and we opened with the 'Sacred Mountain', matured in Italian Barolo casks. Steven finds tangerines on the nose though I reckoned I got peach syrup, followed by cream and a nutty finish. Steven also notes that it is unusual to get floral notes from Jura and the ones he got here could have come from the casks used in maturation. Next was 'Mountain of Gold', finished in French Pinot Noir wine casks. The attractive nose featured marzipan and cocoa and Steven found a delicate taste of grape and blackberries. The finish was soft but longer than the Barolo finish, again probably due to the nature of the wine involved. Steven recommends this one with a steak dinner.
The whiskies appeared to be inspiring Danny, no mean feat given that he had been engrossed by a piece of paper with 'PTO' on both sides since it was given to him the previous evening. The third of the series was the 'Mountain of Sound', finished in Cabernet Sauvignon casks. This one made me exclaim, loudly, that it had the most 'Oomph!' on the nose of the series and it is worth taking a long time to smell the combination of fruit pie and homemade jam. The body was surprisingly light but tasted of smoke and, unsurprisingly, wine before it came to a lightly spicy finish. Water opened the whisky but rather flattened the finish.
As we paused, Steven took the opportunity to tell of us on an upcoming release to be called Jura Prophecy and drew our attention to the fact that Jura, together with sister distilleries Dalmore and Fettercairn have distillery-only bottles to reward visitors for their travels. Also to look out for is a possible Fettercairn relaunch and, hopefully, some more cask strength releases.
Rounding off the session was the dependable and widely available 'Superstition' and, once again, no home should be without this, given the price, and I recommend just a drop of water in each measure to make it lethally moreish. As a little postscript, Steven tempted us with the chance to taste the Oloroso sherry matured 'Delme-Evans' cask strength bottling on his next visit, something to look forward to, no doubt.
The final tasting was taken by Alex Bruce, with sister Antonia in tow, and his world famous magic potions range, now subtly altered to make you think you are a 70's Scottish footballer after drinking them.
A 1993 Clynelish (15 years old), at 58.4%abv, kicked us off with a lovely smell of honey, Refreshers and some coastal waft. Water revealed some heather-honey sweetness and lemon meringue pie though the finish was short, with just a hint of smoke. This was an unusual session of single cask releases and the only other released bottling was a 1992 Breath of Islay, at 56.6%abv. Could this have been a rare example of an independent version of the famous 'White Horse' south Islay distillery? The nose was certainly both phenolic and coastal. The elegant taste had both smoke and brine notes. (Adelphi's 'Breath of' series is so named to protect their sources and ensure a ready supply of casks. Adelphi reject up to forty casks for every one they bottle but such stock is never wasted and traded, instead, to other companies.)
The remainder of the session was a blind tasting of advance samples scheduled for release at the end of October. The first turned out to be a 17 year old Springbank, at 54.3%abv, which Alex and Charles MacLean describe as tasting like an 'overworked Hornby train set' and which I found to have both vanilla and coconut sweetness as well as brown sugar, albeit with a short finish. Second was the upcoming 'Breath of Speyside', at 54.3%abv, which is 18 years old and replaces the previous cask that sold out very quickly. I leave it to the educated reader to guess which distillery it comes from but the official notes describe it as 'Christmas in a glass'. I found cherries and marzipan on the nose with a fruity and clean taste. The third and final sample foxed the audience completely as no one recognized it as a 27 year old Caol Ila, at 57.6%abv. The fruit syrup nose hinted at a possible lowlander though the salty and smoky taste leads Alex to recommend it with blue cheese. The long finish had subtle pepper and smoky bacon and is apparently common in older Caol Ilas. The high alcoholic strength suggested that the cask was matured inland, rather than on Islay, and the fantastic bead test promising excellent mouth-coating quality.
Closing, Alex recounted being at the opening of Kilchoman distillery, on Islay, and said it was a great occasion with a lot of emotion. The island, in his view, should be known for flavour and not just peat. Also, look out for forthcoming releases of Balblair and Glen Garioch at 19 and a 25 year old Linkwood –restricted to 80 bottles. Also on the way is a 1993 Clynelish (16 years old), a 1998 Ardbeg and a 1997 sherry matured, peated Bunnahabhain which apparently tastes like chocolate and marmite coated peanuts. (No, I'm not making the last one up).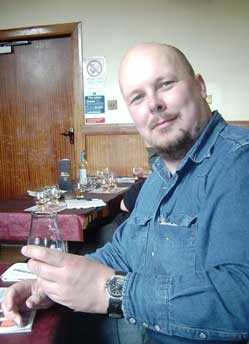 Bruce Crichton working hard for this report
Vowing to put in a tackle worthy of Graeme Souness on anyone who got between me and a bottle of 'Breath of Islay', I head to the shop and ended my festival in style with the all-new Drams party. The tackle wasn't necessary, especially as Archie Gemmill and Kenny Dalglish weren't there and I got my bottle before the party, which offered the chance to revisit festival favourites as well as catch up some drams that we had missed. This was a civilized affair where I struck up conversations with some English, some Finns and a girl from the Aquavit trail – Norway's own water of life – as well as introducing a couple from Kansas to the wonders of single cask bottling. The show was stolen by CC versions of three closed distilleries, 1981 Convalmore, 1991 Rosebank and 1993 Pittyvaich which had Mike and I recalling that both of us had been coming to Dufftown for so long, that we could both remember when Pittyvaich was still standing.
In closing, I'd like to thank everyone involved in organizing and running the festival and, in particular, Mike and Val Lord, Steve Oliver, the wonderful people at the 'Coffee Pot' for keeping me going through the weekend, Claire at the Whisky Shop, to genius bus driver Mike Hendry, to Gordon Haughton, Andy, Rene and Glo and everyone involved with the 'Mates of the Museum' plus Alan and Susie at the Tannochbrae.
I'm off to the Ning, Nang Nong, where the cows go bong and the monkeys all say boo, and I'll see you again at the Spring festival, an event much more entertaining than a piece of paper with 'PTO' on both sides.
Text and photographs by Bruce Crichton, October 2009