Autumn Speyside Whisky Festival 2015
Report by Bruce Crichton

Having read 'A History of Hairpieces' by Lord Syrup Thatch-Rug of Dodgy Barnet, also known as 'Wiggy', I headed to Dufftown. With no need to bristle or split hairs about tonsorial substitution, the Autumn Speyside Whisky festival was just what I needed and after days of great whisky, food, music, orange chocolate experiments, national anthems, lyrical prompting and basic instincts, here is my account of it.

This report is meant to be a rough guide and may contain factual errors, for which I apologize in advance. Since tasting notes are subjective, I add comment from enthusiasts present during note taking. For brevity, the reader is referred to previous tastings if a whisky has been reviewed before and assumed to be familiar with widely available bottlings mentioned. Cask samples and discontinued releases tasted are described briefly, as these may not be available to buy. Water was added to most drams, given the alcoholic strength and readers are invited to decide how much a particular whisky requires, if any. The whisky is 40%abv, if the strength is not otherwise indicated and chronological order is broken, where appropriate, to provide a comparison for the reader, along with possible serving suggestions.

It all started with a big dram at the Whiskyshop Dufftown

Thursday afternoon drew to a close as Whiskyshop Dufftown (WSD) owner Mike Lord poured a big charity dram of Springbank 15 year old, to raise money for Fibromyalgia UK. Mike was also celebrating being resurrected by a secret ritual after he had been destroyed by his nemesis, Doctor Van Helsing who had exposed him to sunlight. (The details of the ritual were kept secret by his minions.)

Mike said he had noticed that many of his Facebook friends seem to be having more exciting whiskies than he was so he had chosen the new Glen Scotia 15 year old, at 46%abv, on the recommendation of Moist Von Lipwig. Established in 1832, the Campbeltown distillery had gone bust many times and although, being geographically the closest Scotch whisky distillery to America, sales had increased during prohibition. Mike had always found that independent bottlings were better than the distillery's but this one, matured in first fill sherry casks, was earthy and more oily than Springbank, its more illustrious neighbour. Beginning a theme that would last the weekend, Mike noted that these two distilleries constituted a region while Dufftown did not. On the taste, Mike found smoked, sweet wine with toffee and chocolate while I detected cereal and ginger with a long finish that had hints of smoke.

Adelphi's 21 year old 'Liddesdale' was from a single, first fill oloroso sherry cask. Most of the company's new releases had gone overseas and the WSD is often the only shop in Britain that they are available to buy. The barley used had some 35 ppm of peat and, having tasted it, probably highland peat. This Bunnahabhain was sweet and soft with light smoke and to be savoured at length. Mike thought it smelled like spiced oranges at Christmas.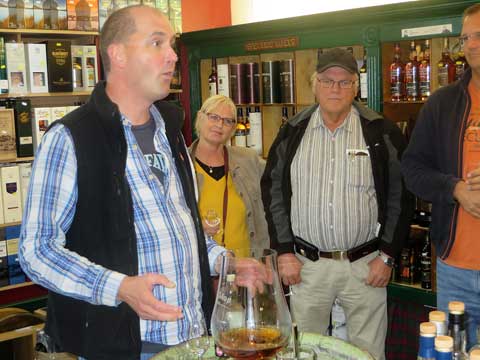 It all started with a big dram and minions

2008 Kilchoman, at 46%abv, was the distillery's oldest ever bottling. For cash flow, early casks had been sold off and this bottling had come from first fill bourbon casks, something that Mike thinks suits Kilchoman though, in his view, the spirit is not consistent yet. There was peach syrup, vanilla and smoked fish on the nose and light, sweet smoke on the taste with lemon, smoke and pepper to finish with. Phil Yorke found smoked apples. Longrow 12 year old 'red', at 52.9%abv, had spent 11 years in bourbon casks with 1 year finishing in New Zealand Pinot Noir casks. There was smoke and red wine on the nose with a chewy taste and smoked ham. A Canadian in the audience tasted black cherries while Warren Marsden found that water killed the nose. I thought that water opened the whisky to reveal orange and sherbet notes. For best results, readers should roll this on their tongue.

Chief minion Vicky Keough presented a mystery whisky that turned out to be Oamaruvian 16 year old New Zealand whisky, at 58.4%abv. There was leather, sherry and orange on the nose with Vicky finding it reminiscent of 70's Glenfarclas while I found it reminiscent of 1972 Glendronach. Vicky got the taste of rum, sherry and port while I thought it tasted much older than its years. The finish was drying.

Train to Keith for 'Straight from the cask at Strathisla distillery'
Taking the train from Dufftown to Keith, we were given a complimentary dram of Strathisla and arrived at the distillery for the always informative and delicious 'Straight from the cask' tour. (Details of the process have been well documented in the spring 2012 and autumn 2013 reports.) John was our guide for the tour and gave us a potted history of the distillery and the Chivas family, owners since 1950 although the brand was bought over by Pernod Ricard early this century. An interesting story was told about the curious experiment with peated barley, resulting in a whisky known as 'Craigduff' that is not highly rated, apparently, even as a collector's item. Even more interesting is the fact that spirit is piped to nearby Glen Keith to save space while the old filling hall is used for entertaining. There are some 4 million casks held on sites in Keith and a further 2 million in Paisley.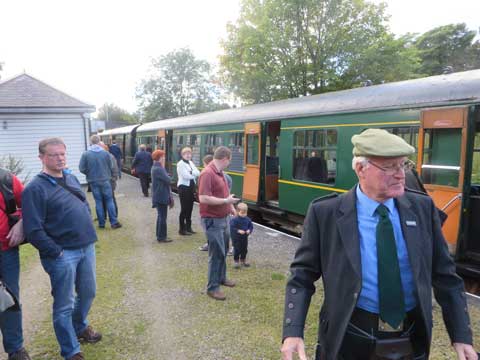 Train to keith

In the warehouse, we saw some six Japanese 'Mizunara' casks that will add the taste of sandalwood to the Chivas Regal blend. Tasting the widely available 12 year old, I found nuts, fruit syrup and Turkish delight on the nose with malt and vanilla on the taste. A drop of water unlocked light, golden honey notes while Steve Carr allowed his to sit for a while with the water until it became extraordinarily creamy.

The first of four 'Cask Strength Edition' (CSE) whiskies was Glenburgie 20 year old, at 50.7%abv. John detected apricot notes, as did I with further syrup on the nose followed by spice, fruits and cereal on the taste with a hint of wine. This was a very 'Ballantines' dram, as was the next one from Miltonduff, a 16 year old at 52.9%abv. There were notes of barley sugar, candy floss and Edinburgh rock with a chewy, malty taste.

Tormore 15 year old, at 57.4%abv, had both Edinburgh rock and fruit cream sweets with Wham bar notes. There are two distillery bottlings available: a 14 year old at 43%abv, and a 16 year old at 48%abv. Neither were available to taste but are intended for export markets.
John had an interesting aside, pointing out that some casks of Scapa had been found years ago with no indication of age so they were filling into new casks and the age was counted from then on though one worker said that the whisky was 10 years old so the remaining bottles of Scapa 16 are, in fact, 26 years old and this particular release has been discontinued.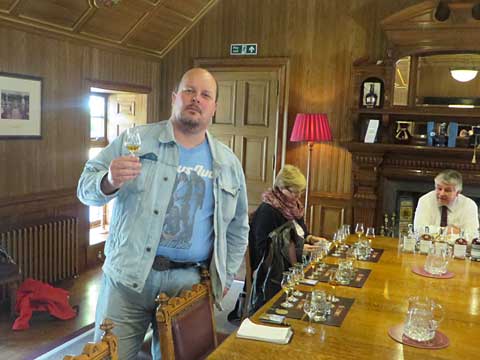 Strathisla quo
Also discontinued is the Longmorn 16 year old, at 48%abv, which has now sold out and will be replaced by three new expressions. The 15 year old CSE bottling, at 56.9%abv, was John's favourite of those on the table. There was fruit salad on the nose with malt and fruit on the taste. We closed with a 1980 30 year old 'Deoch and Doras' Glenugie, at 52.13%abv. This and a 1973 Inverleven are both from demolished distilleries. Reviewed in 2012 and 2013, this whisky is best left to breath for a while before drinking.
An exciting new distillery feature is the addition of a bar that allows the customer to try other whiskies from the range. While a German lady tasted the beautiful-smelling Inverleven, I tasted the 13 year old Strathclyde grain whisky, at 64.4%abv. It was very smooth and tasted mostly of bourbon, sweetening and lightening with the addition of water.

The Captain of Douglas Laing returns

No longer accompanied by Doctor Who, Graeme Dunnet of Douglas Laing continued his recurring theme of starting a session with a grain whisky, in this case, Clan Denny 2007 Girvan, at 52.9%abv. There was citrus and vanilla on the nose with one audience member getting cherries while Phil Yorke smelled dried apricots. A pipette full of water mellowed this to give honey and light vanilla. An aperitif whisky, the finish held dried fruit and was short but punchy.
An 8 year old Provenance Mortlach, at a standard 46%abv, smelled like Parma violets, peardrops and vanilla. There was the taste of cereal and malt while both Vicky and Graham detected hazelnuts.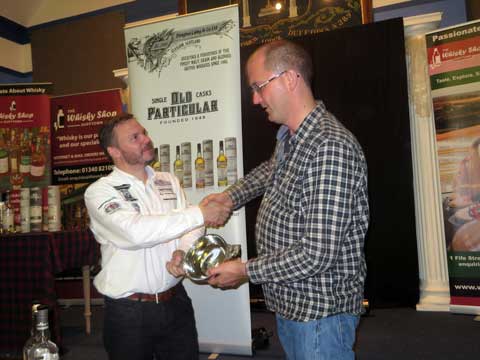 Mike congratulates Graeme for OHBC
An 'Old Particular' (OP) 17 year old Lochnagar, at 48.4%abv, had been matured in a refill sherry butt. The nose was creamy and sweet with vanilla and the taste held malt and cereal. Apparently, whisky from this distillery is a key component of Johnnie Walker Blue Label though, unlike this, independent releases of Christina Hendricks are highly unlikely, worst luck. OP 21 year old North British, at 50.9%abv, smelled rich with honeycomb sweets. The taste was a little sharp with Graeme finding ice cream and marzipan. There were also notes of butterscotch while, comparing this to the Girvan, he said that the younger dram was a summer whisky which means that Scotland will have one day a year where the whisky can be drunk.
The last whisky was an 18 year old OP Caol Ila, at 48.4%abv, had subtle smoke and light vanilla on the nose with oil, smoke, salt and fish on the taste. Graeme noted the whisky's chewy quality while I remarked on the consistency of the distillery's spirit.
Graeme said to 'watch this space' as new brands are on the way and then collected a WSD award for his company's bottling of a 9 year old Strathclyde sherry cask matured grain whisky that won the 'Rest of Whisky' category in the independent bottler's challenge. After that, he and I reminisced about the Outer Hebrides Broadcasting Corporation and looked to the corporation's future.

Orange Chocolate experiments at Glendronach Distillery

Glendronach distillery was not in production when we arrived to be greeted by Karen, our guide for the tour. The distillery's process has been described by me at length in my reports from the autumn festivals of 2009, 2010, 2012 and 2014. Interestingly, Glendronach has been experimenting with barley peated to 33 ppm which is being or will be matured in first fill sherry cask. Also notable was the fact that, until 2013, 80 percent of output went for blending.

The tasting began with a 12 year old, finished in Sauternes wine casks, at 46%abv. The first 10 years are spent in European oak before the whisky is re-racked. I smelled apple sauce and tasted both spice and fruit. Further spices were detectable with the addition of water and allowing the whisky to breathe revealed refresher sweets on the nose. Steve Carr got the taste of coconuts from it. The 18 year old 'Allardice', reviewed in the autumn of 2014, remains Karen's favourite and one she always uses for the connoisseur's tour. Also worth pointing out is that the 15 year old 'Revival' has been discontinued.
The third dram was batch 4 of the standard, non-age statement (NAS) cask strength release, at 54.7%abv. Oloroso and Pedro Ximenez (PX) casks were used for this bottling and I found light treacle with toffee and raspberry ripple. At this point, I decided to introduce my chocolate choices of 'Maya Gold' dark chocolate and blood orange milk chocolate. As we were tasting, it was announced that batch 12 of the single cask releases were on the way and will be on sale before this report is published.
Karen Presents Glendronach 12 sauternes finish

Cask 54, a 1994 -2014 20 year old bottling, at 56.6%abv, was difficult to describe but very more-ish. From a first-fill oloroso cask, the most notable taste I got was a thick fruit trifle.
Cask 202 seemed best accompanied by the Maya Gold chocolate. This 1996 vintage is 14 years old, from a highly collectable year for the distillery, and bottled at 58.3%abv. This was thick, chewy and warm with treacle, Bovril and balsamic vinegar. 3 drops of water softened and sweetened it considerably. As the tasting progressed, Karen joined me for some chocolate and we ended with a taste of the current 'Manager's Cask', an 11 year old PX cask, at 59.2%abv. This was extraordinarily sweet with raspberry ripple notes while water revealed the taste of Turkish delight. Finally, as an aside, both this whisky and Lagavulin 16 year old are perfect accompaniments for the blood orange chocolate despite the two whiskies being as far apart in terms of both geography and distillery character as it is possible for Scotch to be. Readers are invited to test this theory for themselves.

Adelphi Tasting with Antonia Bruce
As Mike pointed out that three numpties had gone to the craft fair instead of the tasting, we began with the new 'Glenborrodale' 8 year old, at 46%abv. At the time of the festival, the WSD was the only outlet in Britain to have this for sale, with the exception of shops near the castle the whisky is named after though it may have sold out by the time the report is published. One of 1500 bottles, this vatted malt contains Highland Park, Glengoyne, Tamdhu, Glenrothes and Bunnahabhain. Antonia found the smell of brandy snaps while I detected fudge and rum and raisin ice cream. The taste was sweet with orange peel and macaroon though 1 drop of water revealed saltiness and the finish was long and dry with a little smoke.
From a refill bourbon cask, a 1972 Invergordon grain whisky, at 42.2%abv, smelled of bourbon, vanilla and vast notes of coconuts. Stephen Lunn, tasting, noted that old grain whiskies have a resin-like quality. I found this one soft and delicate with elements of lemon and fruit salad. Though I didn't have any with me, I thought this whisky would go with blood orange chocolate while Antonia tasted clotted cream.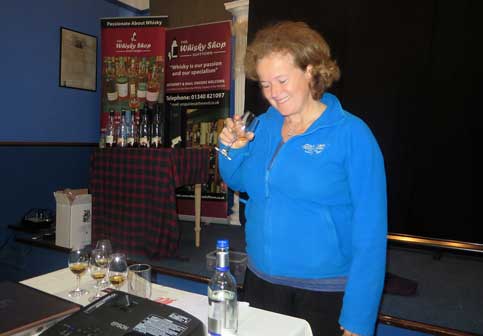 Antonia and Adelphi

At this point, Antonia updated us on the company's Ardnamurchan distillery which has now been in production for a year. The spirit is maturing fast and mould has already appeared on the warehouse walls.
1992 Longmorn, at 54.4%abv, smelled of orange, citrus and fruit salad chew bars. One of a series of casks, this is a personal favourite of Antonia's. Taken from a 'refill American oak' sherry cask, she thinks this is a 'serious whisky' though I have it on good authority, mine, that it has been seen buying books of one-liners by both Tim Vine and Stewart Francis. There were sweet sherry notes followed by orange cream and fondant that appeared with the addition of water. Antonia found bitter chocolate on the finish.
1993 Glen Garioch, at 58.6%abv, had come a first fill Spanish sherry cask. There was light toffee, caramel and wedding cake on the nose with fruit, brandy and sticky toffee pudding on the taste.
Matured in a refill Spanish oak cask, a 2003 Caol Ila, at 58.1%abv, smelled of mints and carbolic soap. Antonia tasted smoked cheese with this one. Apparently, Charles Maclean, writer of the official tasting notes, had described this as 'dead seagull washed up on the beach with plastic' so I made a mental note to avoid him as like he was radioactive, and, instead, wrote that the whisky had smoky bacon on the finish with some maritime notes and that smoke builds up on the palate over time.

Vote 'Yes to Dufftown' as a whisky region and the cradle will rock
Dressing so sharply for the occasion that he cut himself as he walked in, Mike Lord, conqueror of Megaera the Gorgon, put his case for Dufftown to be made an official whisky region or, even better, a semi-autonomous region with its own national anthem.
Mike believes that there are two whisky regions: Speyside and Dufftown with his whisky map of the rest of Scotland stating 'there be dragons here'. After noting that there are lies, damned lies and official tasting notes, Mike gave us a taste of 23 year old Kininvie, at 42.6%abv, which had fruit esters on the nose, together with sherbet, refreshers and other fizzy sweets. Describing the attractively packaged and boxed whisky as an aperitif, Mike found salted toffee, syrup and Peach Melba.
Some 40.6 million litres per annum (MLPA) of whisky are made in Dufftown and, working out the angel's share, that comes to 1 bottle per person, per day of evaporated spirit. What that actually means when Mark Watt is in town, is outwith the scope of this report.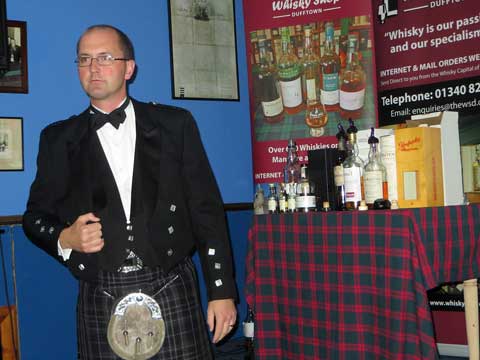 Dufftown whiskies to celebrate defeating Megaera

A 1993 Connoisseur's Choice Pittyvaich, at 43%abv, had been matured in American hogsheads. A pale whisky, there were notes of tablet and vanilla fudge. I found this to be creamy and dry while Mike noted pineapple. The distillery closed in 1993 and was demolished a decade later. After some theorizing by Mike and myself as to why the distillery only lasted between 1974 and 1993, I recalled the late Norwegian whisky expert Per Lovlie believed that the distillery was already outmoded and that if it had been built in 1979, the newer modus operandi would have kept it open. Mike concluded that it has been superseded by Auchroisk in nearby Keith. Warming to his theme, Mike compared the capacity of the various regions, pointing out that Dufftown has the capacity for 40.4 MLPA while Campbeltown, an official region, has only 2.3 MLPA. At this point, I wondered what Campbeltown man and festival regular Danny Maguire would have made of this information if he were here. Later, it was rumoured that Danny was not absent from the festival but had instead come disguised as Dracula's reflection but that is a story for another day.
Glenfiddich 'mystery', 54.4%abv, had been blended by Iain Millar especially for the Maison Du Whisky in Paris. Smelling like orange cream sweets, the whole thing tasted like the distillery's 14 year old 'Rich Oak' would taste if bottled at cask strength. Congratulations go to any reader who obtains a bottle.

Moving on to Mannochmore, Mike said you don't need to leave Dufftown, we'll bring the best whiskies to you, as we tasted his exclusive 1993 G&M bottling, at 48.8%abv, and reviewed in May 2015. Moving on to the distillery itself, it is apparent immediately that it was built in the 1970's with its kipper tie, revolting brown suit, mutton chop sideburns and disco soundtrack. Not only that, there is a bald policeman out front, sucking lollipops and saying 'Who loves ya, baby?'
The 'Star Wars' theme began to play and, straight away, I began to bristle, not literally, writing down in my notepad that 'And the Cradle Will Rock' by Van Halen would have been much better than the theme from 'A New Hope'. The Singleton series of malts, added together, are the fourth biggest brand in the world, and Dufftown distillery's 'Sunray' and 'Tailfire' are named after fishing flies used for fishing in the river Spey, some eight miles away. The Sunray is matured using toasted oak while the Tailfire uses oloroso sherry, making it sweet and more-ish with a light taste and a light, fizzy nose. All of this is a world away from the unlamented 12 year old Dufftown that was so non-descript, it didn't even taste mostly of Scotch.

Balvenie Peated Cask 17 year old, at 43%abv, had been matured in casks that had previously held Islay whisky. This was delicious, with sweet, light smoke and some warm honey, the distillery's characteristic. A drop of water revealed more smoke which rose and fell on the palate.
WSD's exclusive 1991 Glenfarclas, at 53.8%abv, reviewed in May 2014, is a silky, luxurious dram though Mike did have to point out that the distillery does not want to be part of the new Dufftown region, even if they allowed Mike to bottle one of their family casks. To conclude with, Mike showed us the national anthem of Dufftown he had composed and, somewhere, the late Terry Pratchett was smiling as both he and I noticed the similarity of the anthem with that of Ankh-Morpork. All this helped Mike evade Commissioner Nayland-Smith though he did say that the world would hear from Fu Manchu again.

Tannochbrae Gala Dinner
Once again, an epic meal was served at the Tannochbrae restaurant, fitting for both connoisseurs of fine food and enormous gannets alike. Each course was paired with a whisky from Glenfarclas distillery with New Zealand's Matthew Porritt making his event debut. Three of the evening's five whiskies were at 43%abv. The famous '105', at 60%abv, was a fine start to the evening, being both smooth and sweet.
With that, Robin Laing took the opportunity to sing his 'Mercedes Benz' song with an added family cask verse and followed with a rendition of 'Bottle O' The Best' with its reference to Glenfarclas in a glass meaning you can throw the top away.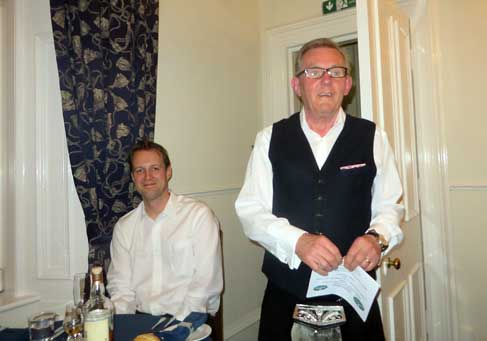 Alan of the Tannochbrae with Matthew of Glenfarclas
As we tasted the 12 year old, Matthew told us that he had been a taxman and was bored out of his mind in that line of work before finding this much more rewarding job. In some ways, this whisky was the find of the festival, with notes of lime citrus and raspberry ripple. Elegant and charming, it was an exceptionally easy whisky to drink. The 21 year old is apparently a favourite of both George Grant and Calum Fraser, production manager, Sweet and elegant, once again, this had after-dinner characteristics.

The 15 year old, at 46%abv, is, together with the 21 year old, the most popular of the range with the staff. The then owner, George Grant, picked this in 1968, preferring the whisky at this strength. There were apricots and dried fruit on the nose with honey, fruit and pancakes on the taste and an overall drying character, something that the four main whiskies had in common.

As Robin sang about special sipping whisky, we cleaned our palates with Glenfarclas 15 year old ice cream, something that all visitors to Dufftown should try at least once and should be available from the shop in Balvenie Street. Robin then sang of 'whisky and death' with a coffin made by the cooper before moving on to a new song with a working title of 'Slow as Molasses' about old whisky.
The 25 year old had raspberry ripple and fruit salad notes on the nose with one drop lightening the whisky to reveal sherbet. Matthew thinks that the 25 year old is 'the 15 year old, all grown up' and I reveled in the fact that, at last, I was having an after-dinner whisky after dinner, rather than before lunch, as so often happens on a tour. The taste was dry with notes of apricot, wedding cake and brandy butter with a long, chewy finish and the thought-provoking whisky went well with the thought-provoking music.

Whisky on the train with Steve Oliver
Sunday afternoon began with lunch at Dufftown Station before joining Steve on the train to Keith and back for some whisky. This was fun but did not lend itself to detailed note-taking and we began with 30 year old Invergordon grain whisky, at 59.6%abv, from Glasgow bottling company Hunter Laing. The smell and taste were both of warm toast and soft butter with the whisky having an exceptionally long finish. Some of the festival newcomers were particularly grabbed by this so I recommended they compare it to the Strathclyde grain whisky mentioned earlier in the report since the train was heading to a distillery where they could taste it. The younger whisky is excellent but the older one is worth the extra money.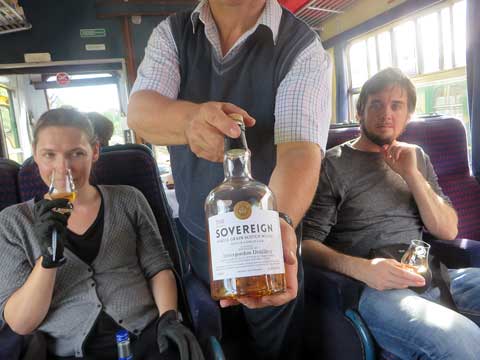 Sovereign Grain whisky 30 years old

From Texas, TX blended whisky, at 41%abv, put Norway's Elin in mind of sunscreen while partner Oyvind found it tropical, with notes of coconut and pineapple. The whisky was pleasant, making a great start but could have perhaps done with a higher bottling strength and more courage in their convictions from bottlers Firestone and Robertson. As we tasted, Steve gave us the cautionary tale of a whisky that had been matured in a mead cask which turned out to be the worst drink he'd had, making him grateful for the availability of a plant pot.
The CSE distillery bottling of Glen Keith, at 56.3%abv, had been matured in sherry casks so I broke open my last bar of Maya Gold. The nose had fruit salad chew bars and trifle with the whisky tasting of wedding cake and toffee sauce before a very soft finish. The previous skeptical Oyvind and Elin were won over, in spectacular fashion, by the combination of this whisky and Maya Gold chocolate.

Abandoning notes for the rest of the trip, the final three whiskies were a 3 year old Mackmyra Swedish whisky, at 57.2%abv, that was interesting but still obviously a work in progress, a creamy distillery bottling of Glen Els Ember wood-smoked, at 45.9%abv, from Germany's Hammerschiede distillery and a 12 year old G & M shop exclusive of Glen Elgin, at 50%abv that had been released ten days before.

Strength in depth from Morrison and Mackay

Having previously introduced Peter Mackay as 'probably the next James Bond, suave and debonair', Mike Lord brought his golden gun with him for a duel while Peter wisely began with the first of four 'Strictly Limited' releases bottled at 46%abv, a 2010 Glentauchers. This had been 64.7%abv at cask strength but the company thought it was much better at the lower strength. On the nose, I found wax, fudge, fruitcake and some light chewy toffee. It tasted of treacle toffee though it sweetened and lightened with water. This sherry cask version was one of a parcel of casks bought for the Old Perth Blended whisky. Interestingly, this release followed a four year old bottling that had apparently sold out very quickly.
Taken from a bourbon hogshead, a 1997 Dailuaine prompted me to dub it a 'Gold Label whisky'. There was light honey, cream and lemon meringue pie on the nose while Peter tasted stewed apples and Phil Yorke found fresh sponge as well as the apples. The spicy finish was very long.
A 1997 Westport blended malt, taken from two casks was delicious. Distilled by MacDonald and Muir, this Ross-shire whisky has a teaspoon of added Elgin whisky to avoid independently bottled single malt from the illustrious 'Sixteen Men' distillery coming on the market. The company had sold this in bulk, apparently. Silky, creamy and smooth, this had notes of fruit syrup and Fry's cream.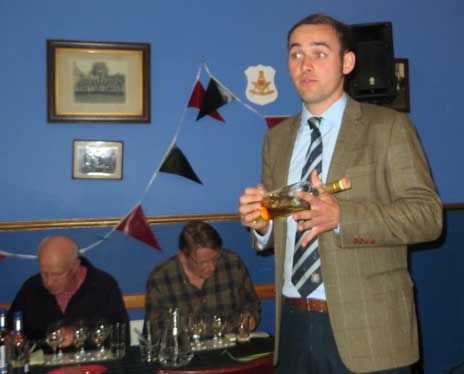 Peter Mackay

A 2000 Dalmore, from two first fill bourbon barrels, continued the company's series of experimental organic whiskies from the Whyte and Mackay stable. Indeed, at the time of writing, 'Strictly Limited' Fettercairn and Jura bottlings were still available. Delicate and sweet, the Dalmore had notes of cream and cream cheese. Organic barley apparently gives 50 litres less spirit per batch than inorganic though the taste is unchanged, apparently. However, catastrophic loss of volume means that the manager would certainly be sacked if this were a permanent policy.
A 26 year old Celebration of the Cask (COC) Glenburgie, at 48.5%abv, had lemon meringue pie on the nose while Andy Ellis got 'fruit salad sweets and was immediately congratulated by Moist Von Lipwig who said it was great to hear someone other than him say that. Peter waxed lyrical about such 'blending malts' being launched by the owners as single malts, something that, as a Ballantine's fan, I heartily concur with. Fittingly, the taste was very, very 'Ballantines' and the addition of 2.5 ml of water, from a pipette, put me in mind of what that blend might taste like at 21 year old, or more, without chil-filtration. The reader who obtains this and the aforementioned CSE bottling is invited to compare the two.

A 1995 COC Mortlach, at 55.5%abv, from a refill bourbon cask prompted Peter to add that there is no service history with whisky casks. As he waxed lyrical about the distillery character, I noted that, in a different way to the way that the Dailuaine was, this was a Johnnie Walker gold label whisky with lots of vanilla cream on the taste. Demonstrating his engineering knowledge, Peter talked of shell and tube heat exchangers used in the distillation and cooling of the whisky. An old Mortlach stillman tells the story that the copper in the stills is relatively inactive with the stillman describing them as 'bogging', something that apparently gives the spirit its character.
Music night with Robin Laing

Robin's six whiskies for the night were:
1988 Wemyss 'Toffee Apple Crisp', at 46%abv, single grain whisky from Invergordon distillery. This had toffee apples and bourbon on the nose while water softened and sweetened it to reveal sherbet fizziness.
Benromach 2006 Sassicaia finish, at 45%abv, had sherbet and wham bars on the nose with tastes of bourbon and wine. A drop of water revealed peat while smoke fully emerged on the finish to dominate.

Bruichladdich 2007 'Rockside Farm' Islay Barley, at 50%abv, smelled like crème brulee before going in the oven. There was a little bite on the taste while water revealed more cream and lemon sorbet notes. There were also notes of cream soda and Barr's lemonade followed by an understandably short finish. After the intermission, Robin and Moist speculated about the variations in taste between batches of Islay Barley from the Laddie. Indeed, Moist has been pictured presenting a 2006 bottling at his own tasting where he was unexpectedly the better dressed contestant on the night of a contest that no one present will ever forget, no matter how hard they try.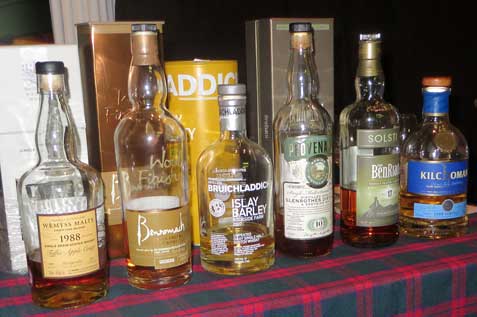 Robin's selection


Provenance Glenrothes 10 year old, at 46%abv, smelled of Bovril but was better to taste with Turkish Delight emerging as the Bovril faded away. There was strawberry trifle present also.
Benriach 17 year old Solstice, at 50%abv, had been matured in Tawny port. This second batch needed time to breath before it revealed fruit and port with hints of smoke. The taste had elegant smoke with an Islay-like quality softened by port. A mellow dram, this was ideal for a nightcap. Kilchoman 2008, reviewed earlier, was the last whisky of the evening.

The whiskies were only a part of the evening, however, as Robin returned to the Laddie's them of country and western, singing about 'Mercedes Benz' with verses about a first edition Black Art and an Orpheus Octomore. Robin had also been asked to sing 'Country Roads' while in Tokyo so he had retitled it 'Islay Roads'. After singing about 'Usquebaugh Baul', Robin said that responsible drinking means never leaving whisky in the glass and never buying whisky you don't intend to drink.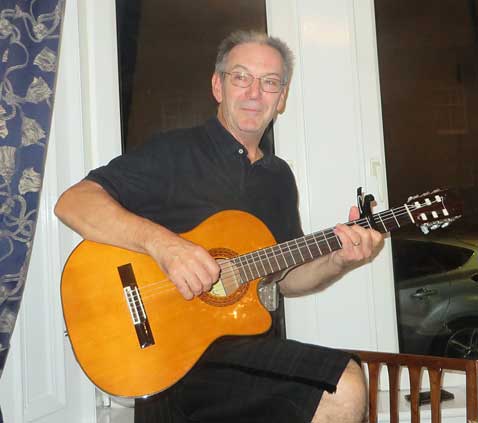 Robin in full flow

Wearing a kilt as usual, Robin told us of not having any boxers underneath, needing to borrow some from the WSD and, immediately, a rumour swept the hall that Robin would be replaced by Sharon Stone next year. Not just that but a further rumour spread that the only reason the lovely lady wasn't in Dufftown that evening was because she was too busy trying to teach Madonna some class. Admittedly, it was me that started the rumours but, nonetheless, rumours there were. Moving through his description of our whiskies, Robin reminisced about Arran's Sassicaia finish.

Later, Robin asked if there were any requests and, when the audience asked if he knew any Lady Gaga, he showed a poker face. Just before that, Robin had been talking about Arran and eagles though, all the same, my request for 'Hotel California' was, on reflection, just a bit daft.

As usual, highlights from Robin's performance are available on both Facebook and www.youtube.com.

Benromach: The Choice of Arthur Montford
Gordon and MacPhail's Richard Urquhart presented a vertical tasting of Benromach, beginning with some new make spirit that had hints of sweet smoke. Richard describes the distillery as 'meaningfully different'. Giving it some thought, I decided that the distillery is as different from others as Captain Slow's jacket is from Arthur Montford's sports jacket.

As an interesting aside, Richard noted that G&M had their own stocks of pre-1983 Benromach before they bought over the closed and gutted distillery in 1993. The latest batch of the widely available 'Organic', at 43%abv, was smooth and bourbony. In Durban, South Africa, Richard had encountered a lady who had accidentally walked into the session and was too embarrassed to leave. She had so enjoyed this whisky that she stayed and decided to marry Richard. (Leif Olav, festival regular from Norway and friend of Dufftown's cats, asked the question 'can you re-use organic casks and still be organic?' Apparently, you can.)

The 5 year old bottling is simply the old 'Traditional' bottling re-named. Living up to the description of 'meaningfully different', Benromach have introduced an age statement while other companies are bottling young whisky without age statement. There was some light smoke and hints of vanilla on the nose with the same again on the taste, together with citrus. A drop of water revealed some more smoke and cream.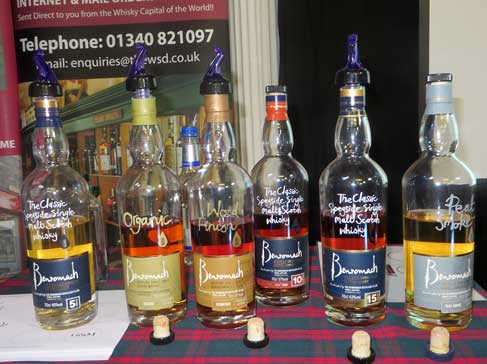 The Benromach selection
Audiences around the world differ hugely. In China, where Richard would be heading later, a tasting takes twice as long to do with everyone on their phone and autographs demanded by those present.
Released in the summer, the 15 year old, at 43%abv, had light toffee sauce on the nose. Warm smoke emerged alongside treacle and coffee. However, the treacle was, unlike some other whiskies, not thick enough to dance on the top of. To finish, the smoke faded, allowing sherry and fruit to come to the fore.
The second of the distillery's two wine finishes, the 2005 Hermitage, at 45%abv, had been matured for 18 months in the latter casks. There was fizzy sherbet, wine and raspberries on the nose with fruit syrup on the taste, which was also chewy. Water opened this, in contrast to the previous evening, where the Sassicaia had quietened with water. At this point, Richard noted that only G&M can use Sassicaia's name, so protective of its name is the wine company. Other whisky companies have used the name before but cannot any more. Mutual respect between suppliers is a recurring theme for G&M.
Of the distillery's range, Richard's favourite is the 10 year old but, since it is not new, we were not having it today. Richard believes that whiskies with age statements should be consistent while vintage releases should vary. Continuing with the idea of mutual respect, in response to an audience question, G&M's prized 21 and 25 year old Glen Grant are exclusive to the distillery.

Matured in first fill bourbon casks, the latest 'Peat Smoke', at 46%abv, smelled sweet and minty with smoked fish present. The vibrant taste allowed smoke to creep in, furtively before bourbon arrived at the finish to accompany the smoked fish.
No Boisterous Aberdonians needed for Berry Brothers and Rudd
Shrugging off the absence of Boisterous, his usual foil, Jonny MacMillan of the Great Whisky Company, distributors for BBR, decided that a new audience meant he could recycle his previous jokes and he included others he'd thought of in his car.
From a refill bourbon hogshead, free of David Cameron, a 2000 Glen Spey, at 46%abv, smelled of perfume and grass. Indeed the nose was delightful and I could have sat forever with it so I dubbed this whisky 'Scarlett Johansson' before noting fizzy sherbet, Parma violets and a winy, crisp finish. In all, it was reminiscent of what the old Flora and Fauna bottling might have been like if not for chil-filtration, dilution and caramel. The finish was short.
A 1988 Littlemill, at 46%abv, had peaches on the nose while Jonny found white chocolate and raspberry. There was cream, hints of wine and vanilla on the taste with a little smoke and pepper to end with. Jonny talked of the distillery's history, showing pictures of it after it had burned down. Leif Olav asked if someone had taken a photo with a phone and it caught fire, earning himself a round of applause.
As an aside, Jonny recounted the history of the Cutty Sark blended whisky, calculating that, for the volume of whisky passing through the Bahamas during prohibition, every man, woman and child would have had to drink 8.5 bottles per day, a colossal amount, given that Mark Watt did not live there, at the time.

Only available from the WSD in the UK, a 1988 Strathclyde, at 53%abv, had light bourbon, warm toast and butter on the nose. Jonny describes Strathclyde as the 'Mordor of Distilleries' and says 'don't feel guilty about trying it on the rocks'. Leif Olav found strawberry ice cream and rum while I tasted more bourbon, reckoning the whisky to be elegant and syrupy. The silky finish was long and warming.
As an aside, during his potted history of BBR, Jonny was moved to point out that digital scales were rare in the 1700's. After that, 1994 Aberlour, at 57.9%abv, smelled of syrup, honey and many, many sweets. Taken from a bourbon cask, the whisky opened with the addition of water to reveal fruit creams and boiled sweets with a slight spiciness to finish. All in all, a luxurious session whisky.
As we tasted a 1988 Speyburn, at 52.3%abv, Jonny showed graphics of what he calls 'whisky rain'. The story he was telling was what he called 'bollocks'. A German gentleman in the audience commented 'mmm' and was immediately dubbed the man from Del Monte by Jonny. I found fruit salad, peaches and some tropical fruits with this one. There was a slight hint of vanilla to taste and then water opened up the taste of New York cheesecake.
I skipped over a Caroni rum from Trinidad and Tobago, at 57%abv, though Stuart Kerr thought it tasted like sherry matured grain whisky. The distillery, from Speyside on the island of Tobago, had a pot still and a column still but shut in 2002. By contrast, Speyside in Jamaica is the murder capital of the country, making it somewhere to avoid, unlike Speyside in Scotland.

After a bonus dram of 1970 Ben Nevis single blend, reviewed in May 2015, Jonny bade us farewell, just as the sun set in magnificent fashion, with many present heading outside to photograph it.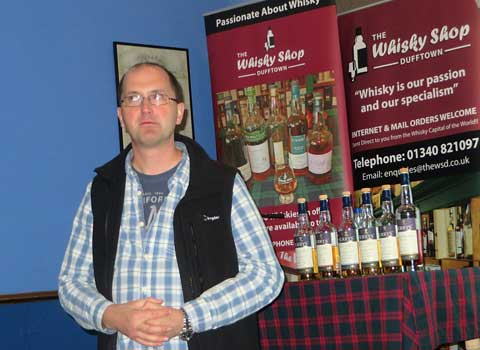 Mike ponders Victor Frankenstein
With that, I headed to the drams party where Mike was present, having escaped from his creator, Victor Frankenstein to announce that the latest festival had found the best whisky to accompany haggis was the previously reviewed Glen Scotia 15 and the best to go with bacon is Arran Lochranza, beating the previous winner Balvenie 14. The blind blends competition winner was Adelphi's Glenborrodale.
As the evening wore on, Vicky was presented with a guitar while it was announced that her daughter Kat had won the cocktail competition, by a mile, with her Darth Vader entry though, given the theme of this report, Mike will probably rename it 'Count Dooku'. About her cocktail, Kat says it has helped her recover from the unicorn invasion of Dundee and I'm sure all readers know what that feels like.

With that, the festival came to an end and so I'd like to thank everyone involved in organizing and running the festival and, in particular, Mike Lord and his wife Val, Vicky and Kirsten at the Whisky Shop, Warren, Gemma, Kat, Simon and the rest of the crew, Claus for the proofreading, Steve Oliver, the Tannochbrae, the Coffee Pot café and the ice cream shop in Balvenie Street.
I'm off to join Mike at his home on Summerisle where he will be burning a wicker man and those who miss it will be able to watch it on the Outer Hebrides Broadcasting Corporation. See you all in the spring.