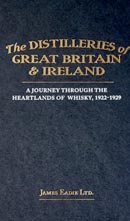 The Distilleries of Great Britain & Ireland:
A Journey Through The Heartlands Of Whisky, 1922-1929, James Eadie Ltd.
More than 10 years ago, I was given by Alexander Manson a copy of the Wine and Spirit Trade Record, when working on my book about the Glengarioch distillery.
The Wine and Spirit Trade record issued a series of reports from Scottish and Irish distilleries between 1922 and 1927. Since then, I only managed to a handful of these reports and planned to spend a couple of days at the British Library to find them. Therefore, I was delighted to discover that this book is the collection of all these reports. Each distillery is presented over a couple of page, in a style reminding me of Alfred Barnard's work.
James Eadie Ltd did a remarkable work, by digitalising the images from these reports, and copying the text in a nice layout.
With the books of A. Barnard and P. Maurice, this book provides an invaluable view of the distilleries over once century. The book is rather massive, weighing over 2 kg, with a nice solid cover and protective case. Limited to 1000 copies and available exclusively at https://www.royalmilewhiskies.com, this book is a must have for anyone interesting about the development of the whisky industry.
Rating: 5/5