Distillery in Focus:
Tamnavulin
Region: Speyside
Name: Tamnavulin ("mill on the hill" ).
Status: Active
Website:
http://www.whyteandmackay.co.uk/
Telephone: 01807 590285/442
E-Mail: No
Address: Ballindalloch Banffshire AB37 9JA
Visitor centre: No.
Owner: Whyte and Mackay (UB group)
Established in 1965
Stills: 3 Wash and 3 Spirit stills
Percentage of single malts: ?
Casks used for maturation: bourbon casks.
Contribute(d) to the following blends: Scots grey, Glenfoyle, Whyte & Mackay.

Regular Bottling:
Tamnavulin 12 YO, 40%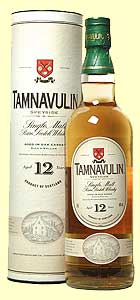 ---
History of Tamnavulin Distillery
Tamnavulin was built between 1965-6 by the Tamnavulin-Glenlivet Co. Ltd, a subsidiary of the Invergordon Distillers Group plc and changed of owner in 1993 when Whyte & Mackay bought Invergordon Distillers. The distillery was then mothballed in 1995 and resumed operations in 2007 after refurbishment, the same year Whyte & Mackay was taken over by United Spirit, a subsidiary of United Breweries of India. Between 1995 and 2007, the warehouse remained in use to store spirits from the Whyte & Mackay group. During the refurbishment, the wash still were replaced and the production was modified in order to create a heavier spirit. In 2009, the capacity of production was 3.7mio LPA.
| | |
| --- | --- |
| | |
| The washbacks, a mix of corten steel (left) and stainless steel (right) | Inside the still house (view from the top) |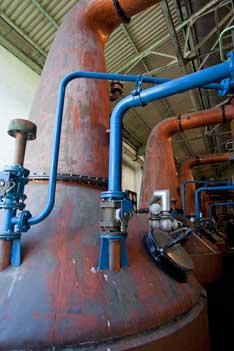 The stills before the 2007 refurbishment
Source: Distillery visit, The Scotch Whisky Book by Tom Bruce-Gardyne,The Making of Scotch whisky by John R. Hume & Michael S. Moss, and The Scotch Whisky Distilleries by Misako Udo
©P.Brossard 14 Sep. 09. Last update: 31 Oct 09