Distillery in Focus: Glenburgie
Region: Speyside
Name: Glenburgie. Former name: Kilnflat, Glenburry, Glenburgie-glenlivet
Status: Active
Website: www.maltwhiskydistilleries.com
Telephone: 01343 850258
E-Mail: N.A.
Address: By Alves, Forres, Morayshire IV36 0QY. Latitude 57 38° N, Longitude 3 29° W
Visitor centre: No.
Owner: Pernod-Ricard (Chivas Brothers ltd)
Established in 1829
Stills: 3 wash and 3 spirit stills
Casks used for maturation: Bourbon
Contribute(d) to the following blends: Ballantine's, Old Smuggler, Teachers, Ambassador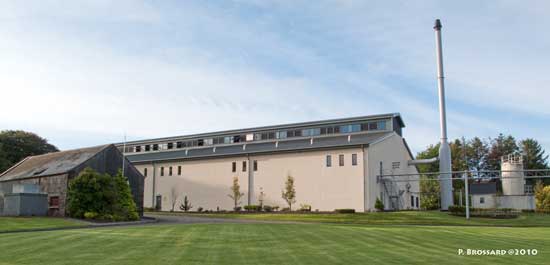 Regular Bottling:
Glenburgie 15 Years Cask Strength Edition
A 15 YO bottled at 46% has been bottled by its previous owner (Allied). Most of the production is used for Ballantine's (see distillery visit report).
For tasted whiskies, click here
---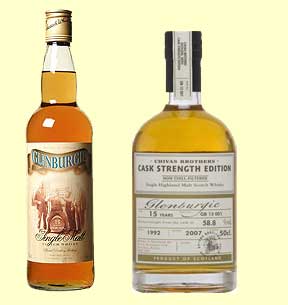 From left to right: The Glenburgie 15 YO bottled by Allied and the new 15 Cask Strength bottled by Chivas.
---
History of Glenburgie Distillery
Glenburgie distillery
The distillery was established in 1829 by William Paul as Kilnflat distillery, fell into disuse in the depressed years (1870s), before being revived in 1878 by Charles Key. In 1882, the distillery was registered under the name of Fraser & Grant and then under Alexander Fraser & Co in 1884. It was incorporated as a limited company in 1895 and liquidated in 1925. From 1925 until it sale to Hiram Walker, the distillery belonged to a consortium headed by the Elgin Lawyer Donald Low Mustard. The manager was Margaret Nicol. The distillery control was acquired by Hiram Walker in 1936 and transferred to their subsidiary J. & G. Stodart. In 1919, Alexander
Fraser & Co. Ltd was selling new Glenburgie whisky for 10s. 6d. per proof gallon to Train & McIntyre Ltd. The two Lomonds stills were added in 1958 to the two "Glenburgie" stills, the same year than the floor malting operations were stopped. The first Lomond stills were of half-size before being replaced a few months after by full size Lomond stills. The capacity was then doubled. The Lomond stills were replaced by traditional pot stills in 1981. During that period, the distillery was actually producing two different whiskies, Glenburgie, and another malt, known as Glencraig, which was named after Mr William Craig, production director of Ballantines at that time. He was actually one of the few men to have a single malt named after him. The old distillery was replaced by a new and modern one in 2004, and a new pair of stills was added (total: 3 pairs of stills). The capacity of the new distillery is 4.2 mio LPA.

Glenburgie distillery in 1937. Courtesy of Chivas Brothers.
| | |
| --- | --- |
| | |
| The mill at Glenburgie | General view of the mast tun and the still house |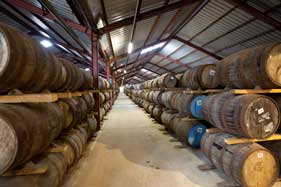 Inside one of the warehouse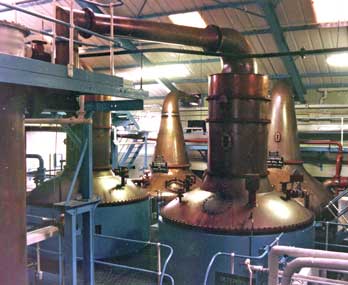 And the old still house with the Lomond stills in 1958 (courtesy of Chivas Brothers).
Source: Distillery visit,The Scotch Whisky Book by Tom Bruce-Gardyne,The Making of Scotch whisky by John R. Hume & Michael S. Moss, The Whisky distilleries of Scotland and Ireland by P. Morric, The Scotch whisky industry record by H. Charle Craig, e and The Scotch Whisky Distilleries by Misako Udo
Patrick B. © 15 Feb 2010

None so far