I
Lagavulin
I
Bruichladdich
I
Caol Ila
I
Port Ellen
I
Laphroaig
I
Bowmore
I
Jura
I
Kilchoman
I Ardbeg I
I Rating I Portfolio I Contact I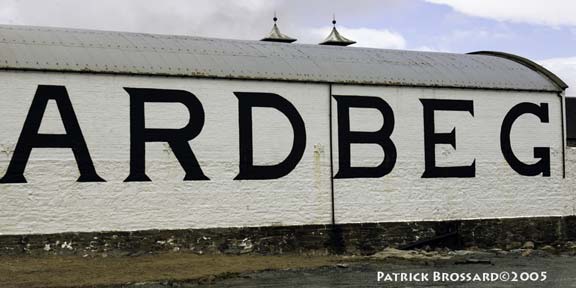 Ardbeg distillery was the last distillery to have its open day during the Feis Ile,not an easy task to end the festival after one crazy week of great activitie on the "overcrowded" island of Islay!
The rain was also present during most of the day and I arrived soaking wet at the distillery after 2 hours of biking under heavy showers, with almost 1 liter of water in each boot! Fortunately, I arrived a bit in advance at the distillery for the very early "Manager Tour" starting at 05.45! so that I could dry myself a bit in the still house.
At the 5.45 tour, the participants, with pretty small eyes, had Ardbeg whisky and warm coffee to wake us up!
| | |
| --- | --- |
| | |
| The early birds at Ardbeg at 05.45 in the morning. | Stuart Thomson was not much more awake than the rest of us but his annecdotes captured all the attention |
Stuart Thomson was not faring much better than most of us, but managed to guide us through the distillery with interesting annecdotes. He was not like the bruichladdich shopseller/showman, but more like a true storyteller.
At each stop, we had the opportunity to taste the whole range of Ardbegs, including the new make and we had a nice suprise from Jackie (Stuart's wife): some delicious grilled bacon. Like always, she was full of energy!
| | |
| --- | --- |
| | |
| Jackie T. is not only good at managing the kiln house, but also at grilling bacon and motivating everyone! | The nice riveted and coppered still of Ardbeg. |
After this tour, we patiently waited (and emptied a bottle of the Lord of the Isle) for the official distillery opening at 9.00. Several attractions and competitions were organized on the theme of this open day: Cuba.
Ardbeg staff was dressed in a green military outfit, heavily loaded with dangerous ammunition: Ardbeg whisky.
| | |
| --- | --- |
| | |
| Ardbeg open theme was Cuba and a blind whisky tasting was executed. | Ardbeg distillery was a strategic locations, being the only distillery with signs! |
Fortunately, sun replace the rain by midday and the warehouses were still full of whisky for the next coming years, including a fair stock of Ardbeg for the Committee! Happy us!
| | |
| --- | --- |
| | |
| Shortie has gained some weight since his apperance on Ardbeg's website and he was not scared by the cubanian's cow! | The last stock of Ardbeg from the pre-90s period: 4 sherry cask! But with the quality showned by the Very Young, the future of Ardbeg is in very good hands. |
The day was very long, but also very informative and much appreciated. Hope that Stuart has recovered from this strenuous week!