Whisky-live Paris 2007, Christie's, Paris, France, 22-24 September 2007
For the whisky-live in picture (including the whisky paradise evening), click here!
Presentation:
This was the fourth edition of the whisky live in Paris and the theme of this edition was "Collectors". For the first time, the venue was not in Palais Brongniart, but at Christie's. Christie's premises were perfect for this event and to highlight the presence of some remarkable bottles.
How does it work?
After having booked and paid the ticket (€40 for 1 day or €60 euros for 2 days) in advance and passed the front gate, where one received a glas (which one under no circumstance was allowed to keep, something the guards at the gate made sure of when one was leaving for the day), you can move through the different stands and get a dram free of charge of the bottle of your choice. In addition, vouchers for chocolates, a cup of tee and two random drams were given with the ticket. The dram which could be exchanged for a voucher was of a "Collectors Dram" such as, e.g., Yamazaki 1984, Springbank 1967 Prestonfield, Lagavulin 12 YO (white label) or Glendronach 1970 Dark sherry signatory vintage. As you will see from the list of whiskies available for tasting, the entrance fee is very correct.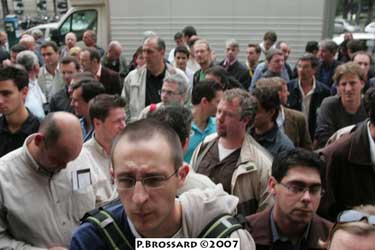 Some whisky enthusiasts desesperately trying to enter.
In addition to the whisky-live, some satellite events (also pre-paid events), such as Whisky Paradise (a tasting of some old Collectors bottles from Giuseppe Begnogni, who owns the world's largest whisky collection) or Glenfarclas Family Cask (vertical tasting of Glenfarclas from 1955 to 1990) were organized.
The whiskies:
The choice of whiskies was very large, with all the majors Scottish and American brands present. There were also some foreign whiskies presence (e.g., Wales with Penderyn, France with Armorik) and a strong representation of the Japanese distillers (Nikka and Suntory, including their different brands such a Yoichi or Yamazaki). Several independent bottlers were present such as Berry Bros & Rudd, Gordon & McPhail (G&M), Murray McDavid, signatory, Duncan Taylor (DT), Compass Box and La Part des Anges (PDA). Not only the regular range, e.g., 12, 15, and 18 YO were available, but also some exceptional bottles, such as the Macallan 1951 OB of the Fine and Rare collection or Lochside 1966 from Signatory. Douglas Laing was absent, and the French company Pernod-Ricard was rather discreet (with Aberlour, but not with the Glenlivet, Scapa, Glendronach and Longmorn).
The new products available at the whisky-live were:
- Aberlour 18 YO, 43% OB
- Auchentoshan 40 YO, OB
- Balvenie 14 YO Toasted oak, OB
- Balvenie 17 YO Sherryoak, OB
- Benriach 1978 single cask Tokaij finish, OB
- Benriach 1978 single cask Moscatel finish, OB
- Benriach 1984 heavily peated single cask Port Finish, OB
- Caol Ila 1975 Signatory
- Dalmore 1973, Cabernet Sauvignon finish, OB
- Glen Elgin 1975 BBR
- Glenfarclas 1994 Family Reserve OB
- Glen Grant 1970, DT
- Glenkinchie 12 YO, OB
- Glenkinchie 20 YO, OB
- Lagavulin 21 YO, OB
- Laphroaig 25 YO, 40% OB
- Lochside 1966 Signatory
- Miyagikyo 1989 Single Cask, OB
- Old Pulteney 1969, G&M
- Port Charlotte PC6 Madeira finish, OB
- Secret Still 1986 (Talisker), G&M
- Talisker 30 YO
- Tomatin 1967 Signatory
- Yoichi 1991 Single Cask

… and the exclusivities from La Maison du Whisky (LMDW):
- Ardmore 1990 LMDW
- Balblair 1985 Cask Strength OB
- Benromach 2000 OB
- Caperdonich 34 YO, DT
- Glenlivet 1965
- North Bristish 1962 Prestonfield
- Port Ellen 1982 Signatory

The tasting notes for most of the bottling mentioned above will be published in the forthcoming weeks.
… and some did not make it on time (or some were not made available since considered too "valuable"?)
- Ardbeg 1975 Single Cask for France (€645)
- Ardbeg 1974 Double Barrel (€14500 !!!)
- Clynelish 1971 Misson Cask Strength Murray McDavid
- Glen Grant 1958 G&M for LMDW (€385)
- Glen Keith 1967 G&M for LMDW
- Laphroaig 1980 Sherry OB (€659)
- Longmorn 1962 G&M (€220)
- Strathisla 1967 G&M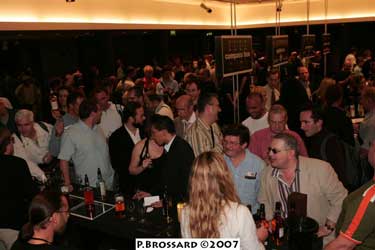 General Impression:
I attended the Whisky-live only on Saturday and the 6 hours spent there were intense but very rewarding. The room in the basement of the Christie's showrooms was a bit compact and one thing I missed was some stand selling food (e.g., sandwiches or salads). Other than that the organisers, La Maison du Whisky and Whisky-magazine, did an excellent job in gathering all these fine bottles in one place for the pleasure of the whisky enthusiasts such as myself. The premise was matching the quality of the bottles served during these two days, and was large enough to accommodate the 800 persons coming each day at this event. It was sometimes a bit packed, but with some patience, you could always reach the stand of your wish. The amount of whisky served was sufficient (about 1 cl) to sample the whisky appropriately, with a few exceptions, such as the Laphroaig 25 YO where I was served about 0.3 cl (and managed finally to get 0.5 after a request for some more.
Conclusion:
This whisky-live was very well organized, with the major brands present, and a large choice of whiskies (including some very expensive ones). I can only recommend any whisky enthusiasts to attend this event!
www.whisky-news.com ©25September 2007