Japanese whisky
Japanese whisky hit the news for the first time in 2001 with a Yoichi 10 YO Single Cask voted as Best of the Best by Whisky Magazine in 2001, but the first true awakening was with the Suntory Yamazaki 1984 winning the Malt Maniacs Awards and the Yoichi 20 YO 1987 winning the World Whiskies Awards in 2007. In spite of this success and repeated awards collected by Nikka and Suntory whiskies, Japanese whiskies, it took more time to be widely recognized by whisky enthusiast worldwide.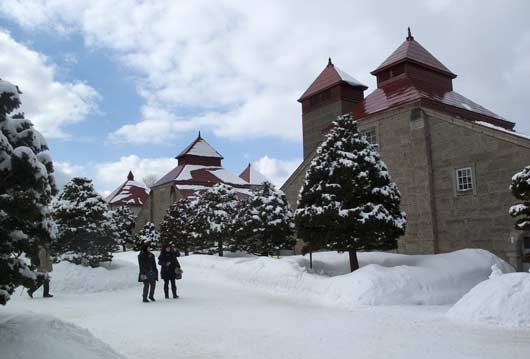 Yoichi distillery on Hokkaido
My personal experience with Japanese single malts
My first serious encounter with Japanese single malts started about at the time. It was in 2007 during the Whisky Live Paris where I tasted a fair range of Nikka products such as Yoichi and Myagikyo Single Casks, and Suntory products, such as the Hibiki 30 years old. My first Karuizawa followed this, with the 1971 in 2008. Since then, I tried a fair number of Japanese whiskies. I enjoy very much their smoothness, complexity, diversity and high quality and keep tasting them whenever I have the opportunity.
Finally, this year, in 2015, I had the opportunity of travelling to Japan and to visit a few distilleries (Yoichi, Yamazaki, Hakushu and Fuji-Gotemba) to better understand the making of these fine products.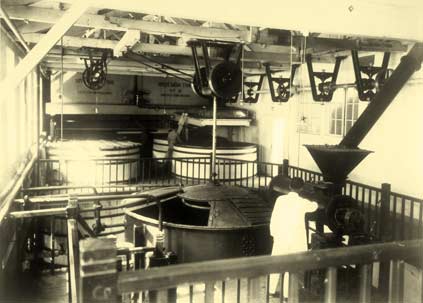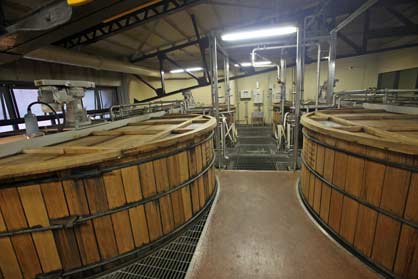 Since the early days of the whisky making in Japan, whisky making in Japan as evolved (Yamazaki distillery in the 1920s, courtesy of Suntory, on the top and in 2015 bottom)
Japanese whiskies in Western Europe
Japanese single malts remained confidential in Europe for many years, before receiving a steadily and increasing interest over the last 2-3 years, as Japanese whiskies continued to gather awards and more whisky enthusiasts tasting these whiskies. The work of pioneers such as La Maison du Whisky and Number One Drinks company was an important drive.
The attraction to Japanese whiskies is such that since a few months, finding Japanese whiskies is becoming very challenging, with aged expression being sold out in most shops, not only in Japan, but in the rest of the world as well.
The Japanese whisky producers did not anticipate this success abroad!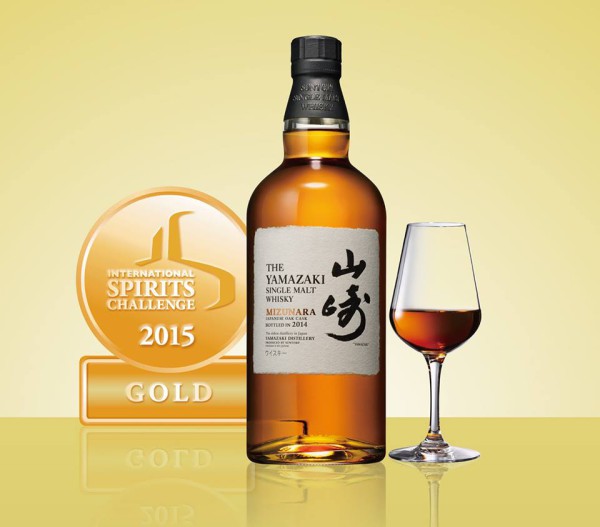 At the last International Sprits Awards, Kirin, Suntory and Nikka gathered 32 medals, including 14 gold medals
And success at home as well
With the fashion of Highballs (whisky mixed with sparkling water and ice) since about 2010 in Japan, supplies were getting tight at home and abroad.
With the broadcast between 2014 and 2015 of the TV serie "Massan", a serie about the life of Masataka Taketsuru, the founder of modern whisky in Japan on the national channel NHK, whisky became more popular in Japan, with Japanese getting also more curious about premium products.
Suntory anticipated partially this success by increasing the price of their products, as well as introducing the "Distillers' Reserve", non-aged statements whiskies, and more recently, the new Hibiki Harmony.
The stocks of aged whiskies from Suntory are running very low, with aged versions sold out in every single shop I visited in Japan this year, and available in limited quantities (by allocation) in Europe for the last two years.
Nikka reacted this year by distributing their whiskies by allocation. This was not enough and at the end of May, they announced the discontinuation of most of their age statement versions of their single malts and pure malts (e.g., Yoichi and Miagikyo 10, 12, 15 and 20 YO, Takesturu 17 YO). It won't last very long, before all these age statements Nikka will be sold out.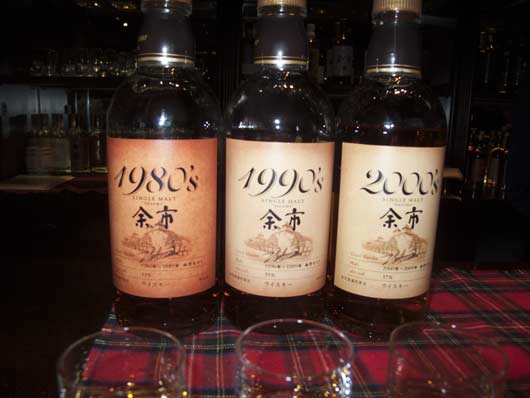 Introduced some months ago to replace the single cask sold only at the distillery, the 1980s from the Yoichi Decades serie is already sold out.
The Lost Decade in Japan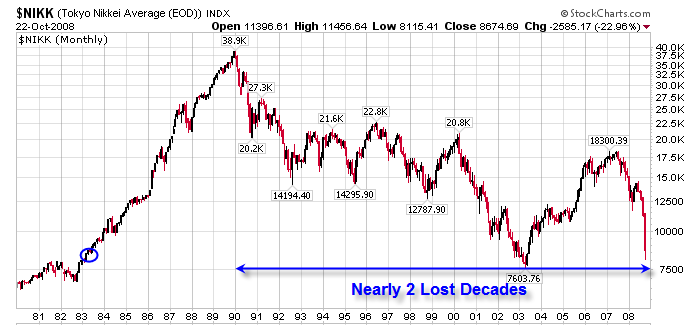 The lost decade: Japan stock exchange declined for almost 20 years since the early 1990s (http://www.minyanville.com/)
The Japanese whiskies experienced a whisky crisis in the 1990 during the "lost decade", when the Japanese economy collapsed, with the economy mildly recovering during the first decade of the second millennium. During this period, Japanese whisky was mainly sold domestically and was strongly affected by the economic situation, forcing the whisky producers to strongly reduce their production. The recovery during the last decade was stronger than expected and with low stocks accumulated during this period, limited supplies in aged Japanese whiskies will certainly last for probably a good decade.
Lets talk about whisky making
In Scotland, blends are made by vatting whiskies (grain and/or malts) from different distilleries. This practice does not apply to Japan, where producers are not selling or trading their production with competitors. Therefore, in order to generate a diverse range of flavours, whisky manufacturers are using different type of casks (mainly bourbon casks, as well sherry , virgin oak (mainly Nikka) or Mizunara cask, as well as some odd wine, fortified wine or casks having previously held other spirits), different type of barley (peating levels, from unpeated to heavily peated), type of stills (e.g., Coffey, column, pot stills, or doubler, see my reports here and here for more details), and very importantly, diverse type of yeasts. One characteristic shared by most Japanese whiskies is their smoothness and balanced. According to diverse producers, the long fermentation associated with diverse type of yeast is the reason for this smoothness.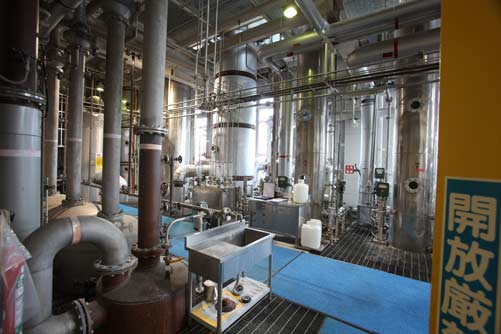 A view of the different types of still for grain whisky at Fuji-Gotemba distillery, with the continuous column stills on the right and the long neck still on the left. A kettle (or doubler) is also present in this still room, and the traditionnal copper pot stills in the adjacent still room.
Too pricey?
Whisky enthusiasts quite often complain about the prices of Japanese single malts. Are these prices justified?
I do not whish to argue too much about this point, but considering the quality of the products, their prices are a reflection of the care brought by the manufacturer in the making of whiskies, including the use of fine European sherry casks, expensive Mizunara (Japanese) oak cask and the high price of the energy in Japan. Furthermore, by comparison, a Yamazaki 18 YO is priced at comparable level to a Macallan 18 YO…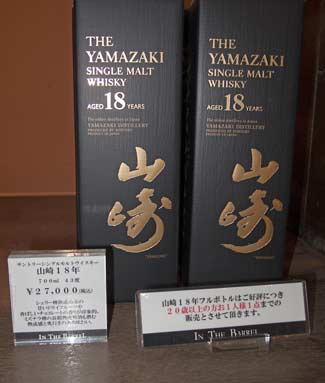 At 27,000 Yens (about 240 euros) at Hakushu distillery, the Yamazki is not cheap, but sold out almost everywhere. Whisky enthusiast are ready to pay for a high quality product.
Make your choice and get a wee taste of Japanese whiskies!
Slainte
Patrick