"Hyperpremium" whiskies: no limits to the greed?
Last day, I received an e-mail about new products releases, with one product catching my attention: Macallan 42 Year Old Rarest 1969 Decanter from Duncan Taylor, with a price of £12,000 !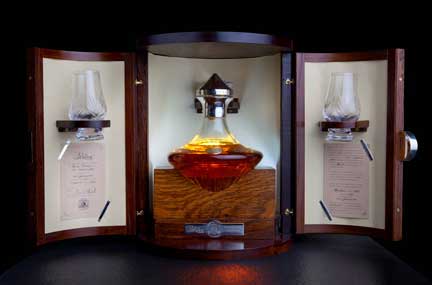 The new Macallan 42 Year Old Rarest 1969 from Duncan Taylor
Well, another pricey malt whisky that most of us will not been able to afford (at least myself).
Dalmore and Glenfiddich are fighting against Macallan for the title of world's most expensive single malt, and last year, Gordon & MacPhail was the first independent bottler to join the train of the "hyperpremium" whiskies (whiskies selling over £10,000 if not over £100,000).
Old Dalmore are exceptional whiskies and the ones sold in the £100,000 price range (e.g., Dalmore 62 or 64 Year Old) and those whiskies includes whisky distilled in the 19th Century, thus making the whisky exceptional not only from its organoleptic profile, but also from the historical perspective, by the fact, that the number of decanters (we are not talking anymore of "bottles") is very low and that potential buyers are asking for more.
Glenfiddich is now following the same trend with Macallan, symbol of prestige, especially in Eastern Europe and Asia.
In 2010, Gordon & MacPhail released the World oldest single malt bottled, a 70 Year Old Mortlach at a price of £15,000. A rather hefty price tag for a non-original bottling, but thanks to the title of "World's oldest single malt" and probably due to the high quality of the content, the bottles sold off unexpectedly well, and it was followed by another 70 Year Old whisky, a 1940 Glenlivet. Gordon & MacPhail is the oldest continuously operating independent bottler and dispose of an outstanding stock of old whiskies, stocking even rarer cask than the distilleries themselves. An additional impressive feature with those Gordon & MacPhail bottlings is that they are single cask bottles that remained above the minimal legal strength of 40% and all distilled before the end of the Second World War.
And what about Duncan Taylor?
Over the years, Duncan Taylor has been releasing some excellent whiskies, in particular a large range of 1966 and 1968 Bowmore whiskies. This Macallan is their first try in this exclusive and financially very interesting segment of the whisky business.
Well, the hyperpremium whisky market is financially the most rewarding, but also a selective one that needs a combination of quality and historical value to justify its price.
In the case of the Rarest Macallan, I have several doubts, especially when reading the description of the product on the singlemaltsdirect website: "Rarest Macallan represents the peak of the distiller's art and stands as a glowing testament to the knowledge and skill that informs Duncan Taylor's rigorous cask selection process".
Macallan is indeed a prestigious name but what are the other justifications for its price? Duncan Taylor has been releasing in the past 1969 Macallan for about £250 and 42 years old malts for about the same price.
So how do explain the price jump from £250 to £12,000? The only reasonable explanation that I could find is the decanter, but at circa £11,500, this is indeed a very expensive one!
But wait… I might be to simple minded: the reason is in their e-mail: "The market for Investment Whisky is continuing to outperform other alternative investments and commodities, according to whisky valuation experts. Four year figures, from 2008 to the end of 2011, reveals that an investment in the top 10 performing whiskies achieved a gain of more than 400%. An investment in the top 100 would have returned a 245% gain, whilst the top 250 would have returned 180%."
Gold, which has been a red hot performer and popular alternative to stocks and bonds, rose "just" 146% over the same period, while diamonds hardly appreciated, merely 10%. Suddenly fine whiskies are looking pretty attractive - even if you don't drink them."
This is an investment ! and drinking the whisky is optional (of note, the top refers to whiskies such as the black Bowmore, but a gain of more than 400% is very limited (see my article on whisky collections)
Whisky companies are trying to increase their profits by expending in the "hyper" luxury segment at almost any cost. If one company manages to sell a whisky at £15,000, why not me? If the product offers a combination of an exceptional quality of the content (and not of the container) with a historical feature (e.g., distilled during the Second World War or World's oldest whisky), then you might attract some potential buyers who might want to buy them as a business gift or some very fortunate whisky enthusiasts for drinking.
To some extend, it might be good promote whisky as an exclusive luxury product (and gift), but if too many companies are trying to jump in the wagon with more "mundane" whiskies at crazy priced, this might be rather detrimental to the whole…
These whisky companies should not forget to bottle excellent whiskies at good value to maintain a strong customer base that are the main drivers for the reputation of a whisky brand over a long term.
I sometimes have the impression that the whisky marketing department forget that whisky is not a short term, but a long-term business. Ardbeg shot on their two feet with their double barrel (still for sale) and Duncan Taylor might follow the same fate… but I could be eventually wrong …
Slainte
Patrick
www.whisky-news.com ©30Apr 2012