Interview of Fred H. Laing from Douglas Laing & Co
Douglas Laing & Co (www.douglaslaing.com) was founded in 1949 and celebrated their 60th Anniversary in 2009. Blenders at the start (King of Scots and John Player Special), they started to bottle single malts in 1999 with their Old Malt Cask (OMC) range and quickly achieved recognition by whisky aficionados with their old Ardbeg and Brora bottlings, as well as from other closed distilleries such as Port Ellen or North Port. I had the chance to meet and discuss with Fred and Stuart Laing during some whisky events, including the Whisky Schiff in Zürich in Switzerland and Fred H. Laing kindly accepted to answer some of my questions.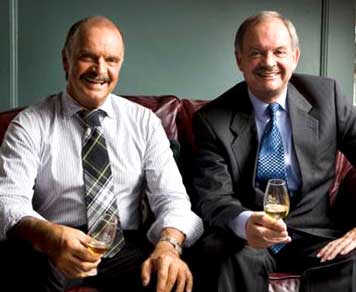 Fred (left) and Stewart (right) Laing of Douglas Laing & Co.

©Douglas Laing & Co.
Whisky-news (WN): Currently, what is the importance of single malts for Douglas Laing compared to the blends? Has it changed significantly over the past 5 years?
Douglas Laing & Co (DL): Over the last 10 years our Malts have become for commercial reasons and personal reasons much more important than we ever anticipated. Commercially OMC, PRV [Provenance] and BIG PEAT are doing substantial business for us – something we had not anticipated when moving into this sector. Personally, it is much more similar to the style of doing business we experienced back in the 1960s when my brother and I joined our father in the Whisky Trade when we used to have much more time to meet Clients and End Consumers. With blend business that tends to be sales and negotiation carried out with professional buyers only in which Accountants have much more say than they should! Every year, specifically over the last 5 years our Malt business has become extremely important.
…….
WN: Could you please explain what the relation is between Douglas Laing & Co and McGibbons, your sister group?
DL: As you know my father was called Fred Douglas Laing and my mother before her marriage to him was Morag McGibbon Hamilton. Her side of the family were from Islay and, in fact, a lot of her family were buried in the round kirk graveyard in Bowmore with a history that old Douglas McGibbon worked at the long closed Loch Indaal Distillery (though not a management level). Back in the 60s and 70s my father developed the McGibbons Special Reserve Blend under the Douglas McGibbon and Company name which he gave to Stewart and I to "practise" with (rather than have us disturb his KING OF SCOTS and HOUSE OF PEERS business). With the McGibbons golf club and golf bag which you can still see on our website, sales of that brand in the late 80s expanded so fast in the Far East golfing community that it lead to us receiving the v.
…….
WN: And the relation between Douglas Laing & Co and Langside distillers?
DL: Everyday going to work my father (back in the 1950s and 60s) would drive past the site of the Battle of Langside in Glasgow which involved Mary Queen of Scots and her supporters. Simply put, a new French customer required a brand for his market and my father thought Langside was a great name and so the "Distillers" was added to what is essentially a trading name only. Stewart and I are 50/50 shareholders in Douglas Laing and we jointly own these 2 or 3 other subsidiary/sister companies.
…….
WN: Your current range of single malts includes the Old Malt Cask, Provenance, old & rare (Platinum), Premier Barrel, Clan Denny and Douglas of Drumlanrig. Which one is the most important?
DL: In terms of the Malt business, OMC is our biggest player followed by PROVENANCE and, in fact, probably BIG PEAT has suddenly come into the business at no. 3 position with the PREMIER BARREL Ceramic Decanter bringing up the rear.
…….
WN: Could you please explain the history behind the Old Malt Cask range and why you have decided to reduced it to 50%?
DL: Through the 70s and 80s DLC [Douglas Laing & co] carried out much of our business in the Travel Retail market and domestic markets of the Far East to a point where we largely negated any business in Europe, the USA or our older markets of South America. When these Tiger Economies had their financial problems in the early 90s we were massively exposed with great stocks of whisky reserved for our 25 years old KING OF SCOTS decanters, our 30 year old Eatons blend which we offered in crystal and ceramic decanters and we even had a 35 year old Sir Walter Raleigh blend. So we had blend constituents but no market for them and decided we had to turn our valuable stock into cash developing the OMC accordingly – which launched coincidentally at a time when we must acknowledge 2 major players (in the shape of Gordon McPhail and Signatory) had been educating the consumers on the strength of such specialist Malts when we appeared with great stocks and attractive new packaging. That was in 1999 – our 50th Anniversary which steered us in the direction of 50% strength in the bottle coupled with the fact that our old friend, Jack Milroy, of Milroys of Soho always told us that the old school regarded this as the "golden strength". Rather than have our Importers work out different duty rates for cask strength bottlings, if we imported 18 or 19 different bottlings for us, we felt it would be commercially attractive for the Importer to know the regularity of duty rate he would pay and the consumer would know how much water to add to our regular strength if he felt it was necessary ... so 50% it was, and has remained so.
…….
WN: How do you purchase and select your casks? Directly from the distillers or via brokers?
DL: As we are blenders and bottlers we have an ongoing filling programme with many of the Distilleries with whom my father initially worked back in the 50s. Our stocks are so good that we can also use them for exchanges with friends in the business. So answering your second question on this subject we actually are carrying stocks of Malt and Grain Whiskies from one or two hours old up to 45 years of age.
…….
WN: Where do you mature your whisky?
DL: If we can continue to mature our stocks at the Distillery that is our preference. Sometimes, however, the warehouses there are so small that we are asked after year 3-5 to move out the stocks to other holding warehouses in the central belt. Our own warehouse is only for bottling and cannot carry large stock.
…….
WN: How do you determine when a cask is ready for bottling and how do you define if the cask is going to be bottled for your blends, the Old Malt Cask Range or any other range?
DL: We do not necessarily replace any of our Malt bottlings of one Distillery at a particular age with the same one when it sells out. The decision is based on quality reasons which we determine when approving different casks, perhaps for blending purposes or in general when we are seeking to update cased Malt stock. We set aside younger cask samples for younger PROVENANCE or DOUGLAS range. If it is older and meets our expectations a cask can be bottled under the OMC label but I believe the important difference with DLC is that if that cask is not good enough we always have a second home for it in our blend programme. We are not dependant, therefore, on what is available from brokers and have a greater say/control in what we offer.
…….
WN: What is the strategy of Douglas Laing regarding wood finishes?
DL: Until recently we studiously avoided wood finishes unless they were naturally part of our stockholding. (Like our Laphroaig Sherry Casks at 20 years of age). Now, however, as we sell all around the world with different Importers who might be rum or wine producers we will occasionally ask to buy some good barrels from them that we might consider using. Rather than being too scientific and selecting particular whiskies to be dropped into these casks we carry this out at random looking for a Serendipity choice selection. Yes we have had problems with that when a 21 year old Caol Ila reacted very badly to rum finishing but that cask was put into a 20 year old blend and more often than not, this random strategy seems to work for us.
…….
WN: Approximately how many casks do you own?
DL: This is one of the questions that a privately owned company will not respond to, sorry. Confusing this issue is the fact that Stewart and I own casks in our own name beyond the casks owned by the Company.
…….
WN: Over the years, you have been bottling an impressive amount of Port Ellen, as well as many casks from the 1960s. Will this slow down in the near future?
DL: We do not now have so many casks left from the 1960s – which had previously been used in the 80s and the 90s for our Blends. As with Port Ellen obviously the stock we have is finite and the higher prices we must charge does anyway slow sales down. Port Ellen has totally been removed from our blending programme and is reserved only for bottling as a Malt.
…….
WN: Nowadays, I presume it is more difficult to source new casks? What has been the change over the last 5 years?
DL: No – we continue to protect our future with new filling programmes with Distilleries of our choice, so it is not so difficult (particularly if you are Scottish, have been in the Whisky industry for 60 years and are members of the Scotch Whisky Association and are Keepers of the Quaich, etc). Some years we will fill more of one Distillery and less of another and, of course, there is also the financial restraint as we can only invest what we can afford in such filling programmes.
…….
WN: In 2009, you have been releasing quite a few old Laphroaig sherry matured whiskies, while the distillers themselves do not have any more such old casks. How come?
DL: The Laphroiag sherry matured stock we have is a very small quantity and it is purely by concidence that they are sherried. As for the old stock, looking at the records this was a very fortunate exchange of casks, which took place many years ago when one of our business friends was short of another Distillery at 12 years of age. That Laphroaig exchange is now proving very beneficial for us.
…….
WN: Since a few years, Douglas Laing seems to be more present at whisky fairs. Is it just an impression?
DL: In fact it would be very easy for us to spend every weekend from September of one year through to May of the next year at Whisky Shows but we must restrict ourselves because our sales and marketing team is small and we cannot be in all markets at all times. We try to do as many Shows as possible whilst still enjoying an active private life where I can take skiing holidays, tennis vacations or just be at home with my wife and family.
…….
WN: We are now in 2010. What is now the biggest challenge for Douglas Laing & Co?
DL: I certainly see no threats to DLC on the horizon – in fact I see many opportunities ahead for us to continue supplying different and interesting whiskies – blends, single casks and vattings and I am optimistic about the future. The only real challenge for me is whether later this year I will still be fit enough to get an international cap playing squash for Scotland in the over 60s age group!!
......
Dear Fred Laing, thank you very much for kindly accepting to answer my questions. I wish you all the best and plenty of success in 2010!
Patrick B. 05 Jan 2010 ©Whisky-news.com